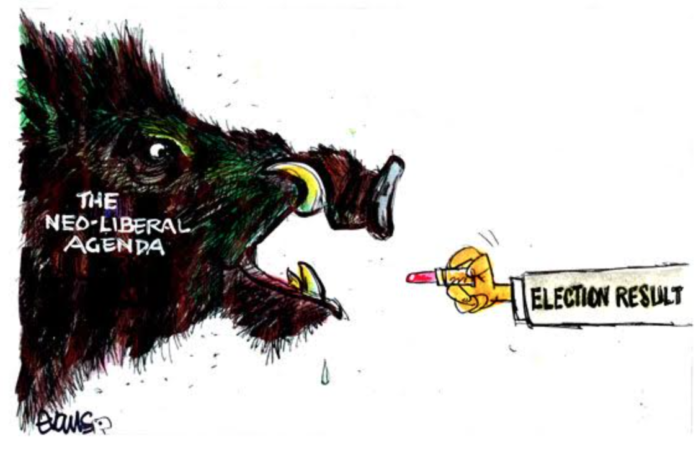 What's fascinating about the National Party Autopsy is that NO ONE has pointed out that this result marks the death spiral of the Party and that the Boomer dominance over political influence is now finally ended!
Equally, no one seems to have noticed that Jacinda's last handbrake was Winston, now her handbrake is all the landed gentry of NZ!
How does she keep getting bigger handbrakes?
By 2023 the entire country will be one giant handbrake!
By artificially inflating the needs of the new National voters interests over Jacinda's own tribe, she is telling the landlords of NZ she won't do anything to harm them yet the mentally ill, the homeless, the working poor, the beneficiaries, the renters the prisoners, the poor and the disabled – their interests come AFTER the National Party landlords???
TDB Recommends NewzEngine.com
Ultimately, none of this really matters. In the words of the greatest living NZ Unionist, Robert Reid…
…THIS is the real issues in NZ.
We think the masquerade of representative democracy puts us the people in control – it doesn't! The Wellington Neoliberal Bureaucratic Elite stops transformative change.
A Democracy changes the Government.
A Revolution changes the State.
We need a revolution from an election.
The foundations of the 35 year neoliberal experiment in NZ have been exposed and found to be cracked to their core, with the climate crisis demanding a radical change, this pandemic is the perfect time to challenge the religious orthodoxy of free market dogma.
This is a unique challenge for the NZ Left ever since Identity Politics over took class politics as the dominant theory on our side of the political divide. It means currently that the Left in NZ are intellectually better prepared to organise a WoC Mommy Blogger Trans Ally free the nipple petition on Action Station than they are to debate the hegemonic structure of neoliberalism.
This has left the Left intellectually ill prepared to debate the failures of the free market economy and the solutions we must adopt to get out of this.
Labour are notoriously timid when it comes to challenging the neoliberal hegemonic structure because they were the Party that unleashed this far right experiment upon us and the scars of that debate are still raw in Labour's psyche, luckily for us the economic depression alongside the meltdown of the climate crisis will be so deep and damaging that even Cautious Jacinda and Extra Cautious Grant have no choice but to reform and rebuild.
History is watching and no handbrake will stop that.
Increasingly having independent opinion in a mainstream media environment which mostly echo one another has become more important than ever, so if you value having an independent voice going into this pandemic and 2020 election – please donate here.
If you can't contribute but want to help, please always feel free to share our blogs on social media.