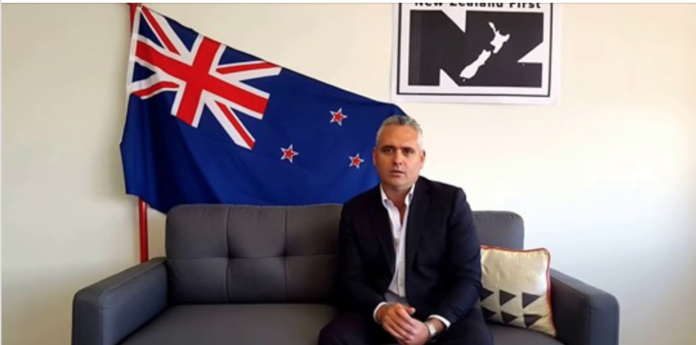 "The Public believe that when politicians get into parliament they should keep their word."
(Winston Peters July 30th 2020 TVNZ News)
Yes, they do and keeping politicians accountable is the role of fourth estate journalism. Hence my recent post about James Shaw's decision against Green policy to allocate over $11million to a private school and why, today, I am featuring a 30 sec video of Fletcher Tabuteau the Deputy Leader of NZ First uttering the pre-election words "We can't sign a document that has ISDS in it".
What is ISDS? It stands for the Investor State Dispute Settlement provision found in international trade agreements which allows foreign investors to sue governments (such as our own) in overseas tribunals if they lose profits because of a law change. ISIS tribunals are not courts, their decisions can cost countries many millions of dollars and there is no appeal against them.
In short it is a device that allows Multi-National Corporations and Big Money to plunder our economy and we lose our sovereign right to make our own laws in our own land.
The proposed Trans-Pacific Partnership Agreement contained these odious provisions and speaking out against them was an important strand in NZ First's policy while in opposition.
TDB Recommends NewzEngine.com
Tabuteau even presented a private members Bill (which was defeated) denouncing ISDS provisions in such trade agreements.
It's history now that after the 2017 election NZ First went into coalition with Labour and the Greens to form our current government. It is also history that after Trump was elected President of the USA on a policy of America First, that he pulled the United States out of the TPPA and the 11 remaining members subsequently decided to push on with the rebranded Comprehensive and Progressive Trans Pacific Partnership (CPTPP) free trade agreement.
While it is true that NZ First were active in trying (unsuccessfully) to get ISDS provisions removed from the CPTPP agreement, the fact remains they voted to sign it.
So now financial investors and corporations based in at least 4 of the countries covered by the CPTPP agreement – Japan, Canada, Singapore, and Mexico- are now able to sue our government using the very dodgy ISDS tribunal mechanism.
Moreover, instead of refusing to sign the CPTPP on principle as the Greens did, NZ First reneged on what their Trade spokesperson and now Associate Trade Minister Fletcher Tabuteau had told voters prior to the election namely "We can't sign a document that has ISDS in it."
While filming at parliament grounds in March of 2018 I happened to meet Amanda Vickers who was a former NZ First campaign manager and a once loyal party supporter. She told me on camera she felt 'betrayed' by her party and guilty about what they had done. (You can watch the piece I recorded for The People' Voice for New Zealand Public Television here: )
Instead of shrinking from politics in the last 3 years however Amanda has become more active. For example, I recently watched a 3-minute video, for example, in which she has edited together NZ First pre-election and post-election statements on ISDS plus some commentary by Prof. Jane Kelsey on TV3's breakfast show.
You can find that compilation of what Amanda calls "Back Flip" NZ First statements here:
After watching the clip I decided, in my fourth estate way, to email the link to Fletcher Tabuteau MP and ask him for either a Skype interview with me or to arrange an on-screen debate between himself and Amanda Vickers so he could answer the 'betrayal' charge.
In fact I ended up emailing and texting Tabuteau several times before he finally refused my offer and instead sent me a written statement saying he was proud of what his party had done and pointed out that the "new agreement" had 22 provisions of the original TPPA suspended.
I'd ask you to note the word "suspended" because these clauses could be reactivated if, say, the USA under their next President decided they would like to join the CPTPP.
He then went on to state:
.
"The most significant revisions were in the investment and intellectual property (IP) chapters. For example, in the CPTPP investment chapter, investors' ability to litigate disputes under investment agreements and investment authorizations—which are used mostly for mining and oil investments—are now more limited relative to TPP and we further carved out separate provisions with some member countries."
"More limited?" Perhaps but the fact remains NZ First signed a document that gives multinationals in at least 4 of the larger economies the right to sue NZ adopting policies and laws on mining or many other social or environmental purposes where they affect their corporate profits. Moreover, while not signing future agreements which contain ISDS clauses may be a policy MFAT is now following it is not Law.
And so while Fletcher Tabuteau clearly thinks he and his party did the right thing in signing the CPTPP, Trade expert Professor Jane Kelsey , Amanda Vickers and many others see it as U-turn on what he and his party said while in opposition and a disastrous decision we will come to regret.
As I say, Tabuteau has refused discuss NZ First's position with me on camera or openly debate Amanda Vickers about it.
So Mr. Peters is quite right , the pubic do expect politicians to keep their word.
They also expect them to be accountable and front up for interviews or debates – especially when seeking re-election.
Bryan Bruce is one of NZs most respected documentary makers and public intellectuals who has tirelessly exposed NZs neoliberal economic settings as the main cause for social issues.