jfc at the "it's just an interesting series of facts" line pic.twitter.com/vl15YyjVZX

— Justin Hu (@justin_hu_) August 12, 2020
If National are going to be so irresponsible as to openly insinuate a conspiracy at the same time fringe political leaders are also calling on their members to protest on the streets without masks…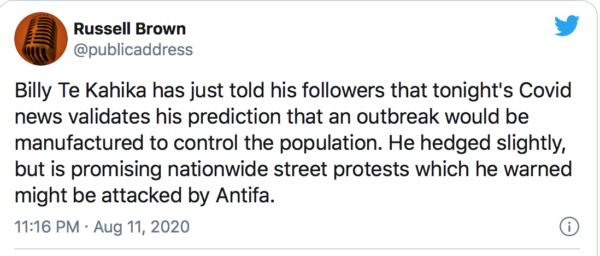 …then National have lost the moral high ground to postpone the election.
TDB Recommends NewzEngine.com
They are not trying to hold the Government to account as the loyal Opposition, they are openly feeding conspiracy theories that risk destabilising civil society.
What National are doing now is incredibly dangerous.
Increasingly having independent opinion in a mainstream media environment which mostly echo one another has become more important than ever, so if you value having an independent voice going into this pandemic and 2020 election – please donate here.
If you can't contribute but want to help, please always feel free to share our blogs on social media.