Nikki Kaye wrongly describes Paul Goldsmith as Māori as pressure over National's diversity grows
New deputy National leader Nikki Kaye described front bench MP Paul Goldsmith as Māori when defending the diversity of the party's new front bench.
But this was news to Goldsmith, who told journalists minutes later that while he had Māori connections his family had "Māori connections" but he was not Māori himself.
National's new leaders were criticised by some Labour MPs after unveiling their new 14-member front bench on Monday – which only features one non-white MP: Paula Bennett at rank 13.
When the best you have to defend the white loaf of bread and gallon of milk the National Party top dozen represents is 'But Paul Goldsmith is a Māori', you know you are in trouble.
TDB Recommends NewzEngine.com
I mean, Paul Goldsmith puts the cracker into caucasian.
Paul Goldsmith is so white he's pink volcanic salt on bruschetta with artisan bread while Creed plays in the background white.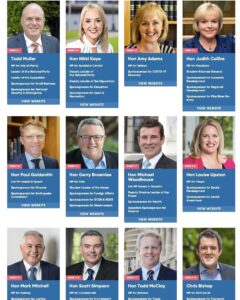 Folks, come on.
Let's just be brutally honest here. The reason the top dozen are a lighter shade of beige is because what the National Party cares most about is white ambition.
Remember, this coup was driven out of desperation and fear by Backbenchers who saw themselves losing their jobs, this isn't a great re-prioritising of National values or new policies, this is self interest masquerading as leadership and nothing says 'me first me first  me first' quite like the National Party.
That their top dozen are all ambitious white people is as unsurprising as learning Trumps home library is an empty shelf littered with old KFC buckets.
Now we shouldn't blame National for being honest, but we should punish them at the ballot box, because surely the strength of modern New Zealand is in its diversity, is in its broad representation and in its multiculturalism.
A vote for National is a vote for the selfishness of naked ambition.
It's a vote in the year 2020 for the NZ of 1950.
Increasingly having independent opinion in a mainstream media environment which mostly echo one another has become more important than ever, so if you value having an independent voice going into this pandemic and 2020 election – please donate here.
If you can't contribute but want to help, please always feel free to share our blogs on social media.