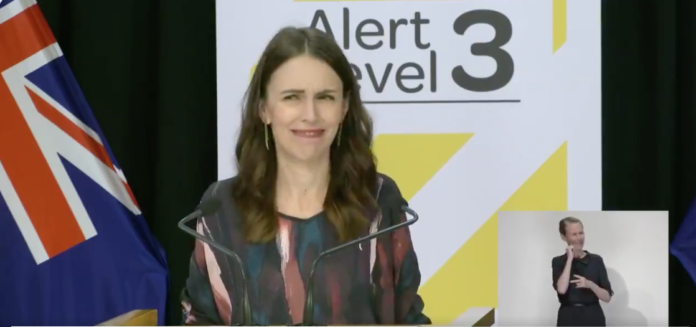 Look, I don't want to waste any more time talking about Tova O'Brien's special kind of journalism, I wrote about it last week!
But her jaw dropping accusation yesterday that the Ministry of Health was lying and manipulating the true number of those impacted by the pandemic was so outside even her 'journalistic' standards that it requires a specific focus.
Again, let me state clearly that a lot of the criticism that gets thrown at Tova is unfair and the usual garden variety misogyny that any confident woman attracts from shallow men with inferiority complexes.
It is unfair criticism that says more about the person making it than receiving it.
However, as I've previously pointed out, Tova's awful 'gotcha' journalism from the Paddy Gower school of reporters is usually so misjudged it comes across as a total mystery to anyone other than Tova what the actual 'gotcha' is.
TDB Recommends NewzEngine.com
Yesterdays 'gotcha' wasn't just the usual ego wank however, it was down right dangerous.
Let me be clear, IF and that is a giant IF, IF the Ministry of Health has been purposely lying and manipulating the true extent of the pandemic, then that is the political story of the decade and almost everyone inside the Ministry of Health in a senior position would need to be sacked by the end of the week.
But you would only ever make that allegation IF and only IF you had serious evidence and proof that such a despicable conspiracy had been planned.
So here's the question, note the look on the face of the Prime Minister…
Shit Tova Says #67 @NewshubNZ pic.twitter.com/K5IW2nDyqv

— Locky (@LockyDoesTweets) May 12, 2020
Let me get this completely fucking straight, Tova O'Brien, the political editor of one of the largest news networks in this country straight up alleged that the Ministry of Health was deliberately misleading to make the data look better!!!!
In the middle of a pandemic where public faith in the Public Health Authorities is sacrosanct, Newshub's Political Editor alleged the Ministry of Health was deliberately misleading the public????
And what exactly was Tova basing this extraordinary allegation on?
A bullshit nothing story by her own Network…
Coronavirus: Ministry of Health denies it misled Kiwis after COVID-19 hospital case numbers higher than reported
Each day at 1pm, we're told how many people are in hospital with COVID-19 – but Newshub has discovered that often there are more people in hospital with the virus than we're told.
…Data Guru Russell Brown was very quick to shoot this claim of conspiracy down…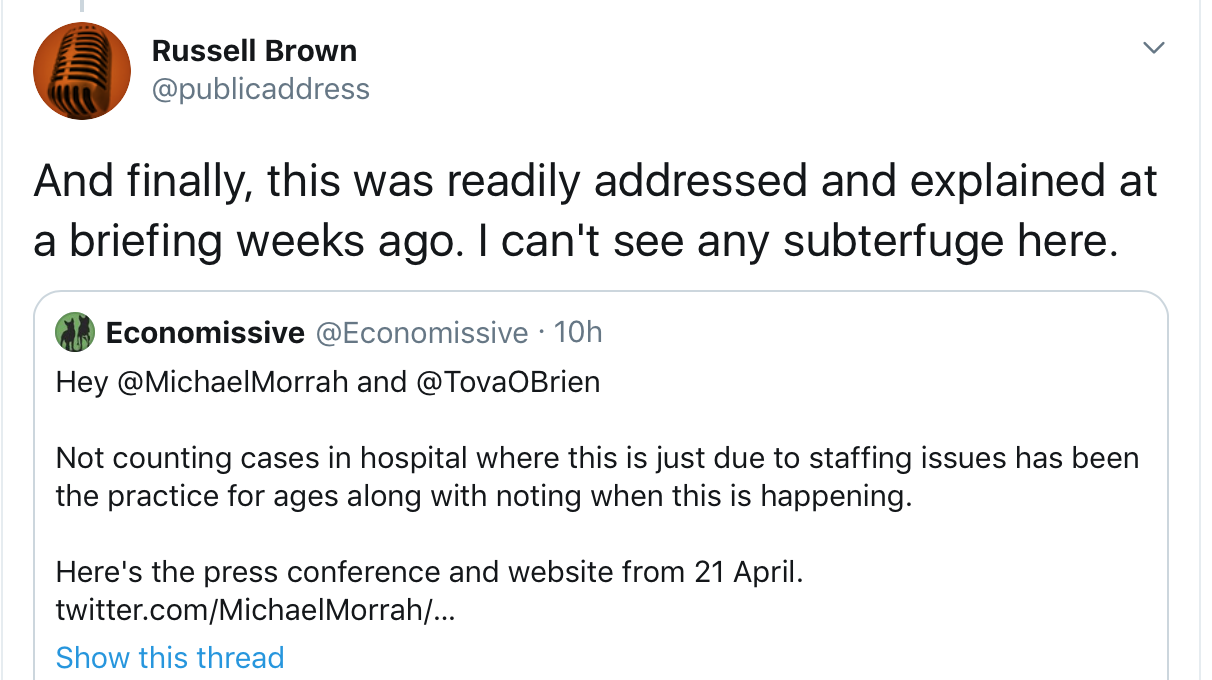 …now, Russell can be a cantankerous prick at the best of times and as welcoming as late stage cancer, but he's rarely ever wrong. This 'evidence' that the MoH were deliberately misleading the public was foreshadowed weeks ago, this isn't even a bloody story! The MoH told journalists that they wouldn't count patients who were hospitalised due to staffing problems at rest homes and yet here is Tova alleging the MoH are deliberately misleading the public at a time when the public desperately need to believe the MoH!
That's akin to telling the family at Christmas Dinner that Dad molested you!
I mean speak your truth sister, but time and place + actual evidence eh?
This is an appalling mistake by Newhub, there is no conspiracy and there is no deliberate attempt to mislead, the MoH clearly told journalists weeks ago that they wouldn't count those hospitalised because of rest home staffing issues.
Again, IF there had been evidence at a senior level of a conspiracy to hide the true extent of the pandemic, it would be the investigative news story of the year, but a handful of rest home evacuees does not a conspiracy make!
Look, everyone has been under a lot of stress, it's been a hard 2 months, but alleging the Ministry of Health is deliberately misleading the public in the middle of a pandemic with no actual fucking evidence of that is bordering on criminal negligence.
I think it's time someone from head office sat down to a lunch with Tova and very kindly suggested she have a months holiday, because this is Whaleoil level political journalism here, this is Spinoff alleging a sexual assault and defaming senior members inside the Labour Party level political journalism, this is Andrea Vance + Fairfax Feminist Journalists insinuating the Prime Minister not only knew about a sexual assault but covered it up level political journalism!
And journalists wonder why their industry is so maligned.
The only way this could be a worse day at the office for Newshub's standard of journalism would be if that office was in the Twin Towers on 9/11.
Increasingly having independent opinion in a mainstream media environment which mostly echo one another has become more important than ever, so if you value having an independent voice going into this pandemic and 2020 election – please donate here.
If you can't contribute but want to help, please always feel free to share our blogs on social media.