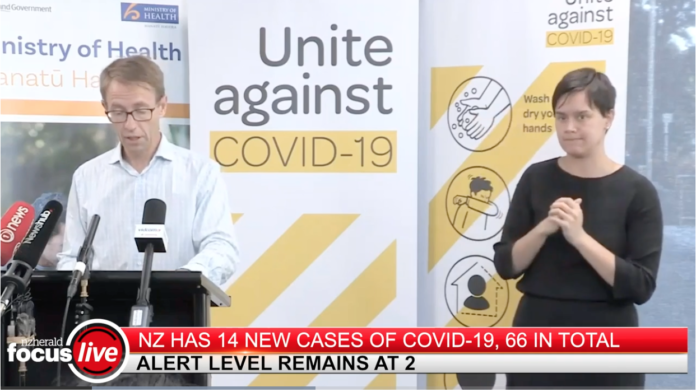 Covid 19 coronavirus: Front-line health workers and other medical staff want alert level 4 now
Some front-line health workers are petitioning the Government to activate Covid-19 alert level 4 immediately.
The petition's author, Dr Kelvin Ward, said raising the alert to the highest possible level was the only way for New Zealand to ensure it survives the virus with minimal impact.
After carefully calculating the impact, this Government have set the expectations of 4 levels of response.
TDB Recommends NewzEngine.com
We are currently at Level 2.
There is a 'Level 5' that isn't explicitly spelt out here, and that is the declaration of martial law.
NZ today needs to move to level 3 as the populace are brought into preparation for what is to come.
Calling for NZ to follow Singapore, Taiwan and Hong Kong to shut down and move immediately to Level 4 won't work because they are authoritarian regimes while NZ is a liberal progressive democracy.
The naked truth is that we don't have the military to force compliance the way they do.
In NZ, the public have to be brought with the Government to level 4 not forced at gun point.
Jacinda and this Government are being guided by the best science and public health advice, but they also operate within a Democracy, and moving to Level 4 without the evidence of community transfer will cause an enormous backlash by a freaked out and frightened public.
I understand the risks and danger to us, I've been calling for this pandemic to be treated as the threat it is since January, but within that paradigm of a Democracy without an enormous military to force the will of the Government, we need to bring NZers with us to an agreed Level 4 or else  be prepared to start implementing full Martial Law and the suspension of all civil rights.
Who amongst us will agree to that?
Let me be clear, I am frustrated and bloody angry that we haven't moved faster, TDB was warning of this pandemic when the vast majority of the woke activist base were screaming it was xenophobic, and I believe we will be at Level 4 very shortly, but panicking now and jumping straight to it could easily provoke more problems than it solves.
Jacinda has set extraordinary levels of response and what the evidential threshold is required for those responses, we need the public to trust in their Government right now, and that means adhering to that evidence. If we want to get to Level 4 faster, we need to start immediately talking to our whanau and friends and fellow NZers and urgently inform them of the danger we are in so that when the Government does move to Level 4, there is broad buy in.
These are frightening times, we can't allow that fear to inspire decisions that the public simply isn't prepared for. We will ask them to shut their businesses, suspend their livelihoods and suffer for an enemy they can't see yet without the military force to compel that sacrifice and without resorting to Martial Law.
Level 3 needs to be adopted today so that Level 4 will be acceptable before Friday so we avoid 'Level 5'.
Increasingly having independent opinion in a mainstream media environment which mostly echo one another has become more important than ever, so if you value having an independent voice going into this pandemic and 2020 election – please donate here.
If you can't contribute but want to help, please always feel free to share our blogs on social media.
TDB Team 2020.