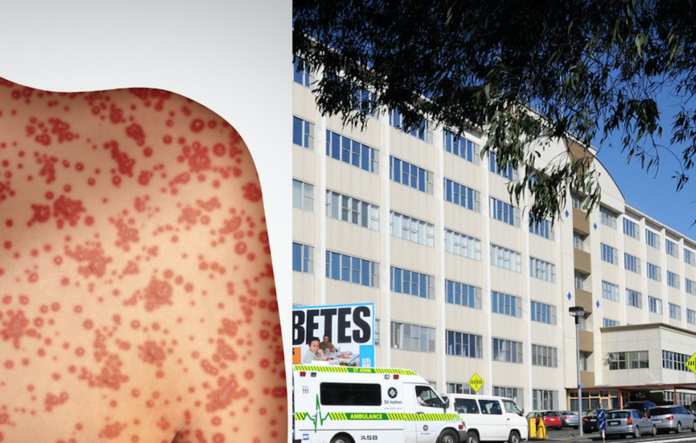 It has already been widely reported that NZ ignored advice to stop the measles epidemic erupting, but the official report is now out and it is so far more damning than anyone imagined…
Government inaction left door open to measles outbreak: Ministry of Health report
Measles outbreaks that put New Zealand children in intensive care before likely spreading to Samoa where children died could have been avoided if the Government heeded expert advice and closed immunity gaps fuelled by a racist health system.
That conclusion is outlined in a damning Ministry of Health report, obtained by the Weekend Herald as part of an investigation into how Government inaction left the door open to last year's outbreak of the preventable disease.
It's thought measles spread with travellers to Samoa – a situation that dismays scientists, including Dr Helen Petousis-Harris, a vaccinologist at the University of Auckland.
TDB Recommends NewzEngine.com
"Exporting a disease to a country with fragmented health care is something to be ashamed of," she said of that probability, judged highly likely by government officials.
This week, the Weekend Herald visited a Samoan village where at least 10 children died in a catastrophe that savaged the country late last year and claimed 83 lives.
…this is a double blow to Samoa and another damaging stain on NZ's mana, because this measles epidemic that we exported there due to underfunding in our own system…
"Outbreaks have been fuelled by the immunity gap in the New Zealand population," the ministry report warned.
"No funding has been available nationally to support supplementary immunisation activities to increase immunity against measles."
…comes after the horror incompetence that plagued NZ when we accidentally unleashed the influenza virus onto Samoa and killed over a quarter of the entire population because of our ineptitude.
We leant nothing in a 100 years and the way we allowed the immunity gap to create this epidemic should be a nation wide shame.
The Labour Government blame National for an underfunded system, National blame the Labour Government for failing to hold up the standards.
Both are wrong.
Fundamentally the issue of our failing immunity is a wider backlash reaction by beneficiaries and the poor to having any contact whatsoever with authorities, even when those authorities are supposedly doing it  for their benefit.
I covered this phenomenon when looking at why benefit numbers are up under Labour…
Let's honestly talk about why benefit numbers and food grants are going up under Labour
In 2016, John Key was in a bit of a pickle.
The nation had just witnessed on prime time TV, New Zealanders living in cars and there was outrage that in the Land of the Long White Lie, our tender sense of egalitarianism should be spoilt by seeing fellow citizens living in such squalor.
The property speculation bubble that made the middle classes feel so rich was helping create this obscene homelessness pressure alongside National's refusal to build any new state houses (preferring to sell them) and the meth hysteria that Paula Bennett was pushing that saw hundreds kicked out onto the street.
It came as a shock to see the fruits of that spiteful harvest erupt onto our TV screens and New Zealanders demanded something to be done.
So John Key was frantically trying to do something. He announced that the situation was under control because Government agencies had tagged along with the Salvation Army  and those people needing help would be shortly receiving that help.
Less than half a day after John Key made that statement, the Salvation Army posted a furious response stating that the Prime Minister was lying and that no state agents whatsoever had tagged along.
What the Salvation Army knew that John Key did not not, was that if the vulnerable whom they service suspected for a millisecond that the hated and cruel agents of the Government were tagging along, then those vulnerable communities would flee in fear.
This is the horror of the neoliberal welfare state, interconnected 'welfare' agencies who have only draconian policies to employ. People would prefer to live in their cars than open themselves to those spiteful state actors.
From WINZ to Oranga Tamariki, State Housing and ultimately the Police, vulnerable people run as fast as they can away from the G Man and his 'help'.
They know once you are in their system, they will rape your dignity and rip your rights away.
…despite immunisation being free, those on the bottom of the heap lack the financial resource to get to the Drs and they avoid any contact. To be proactive our immunisation regime needed to be out in those communities and going where those communities congregate and doing the vaccinations in pop-up clinics. Because that would require extra resource, it became a 'nice to have' rather than an essential plank in NZ public health.
This all makes for grim reading when trying to work out how our infrastructure will deal with something like the Wuhan virus.
Someone should be held accountable for this  abomination of a measles outbreak, but just like the failed mental health system or the State House meth hysteria or abuse in State care – this is the public service who prioritise their welfare over the welfare of the vulnerable they are supposed to protect.