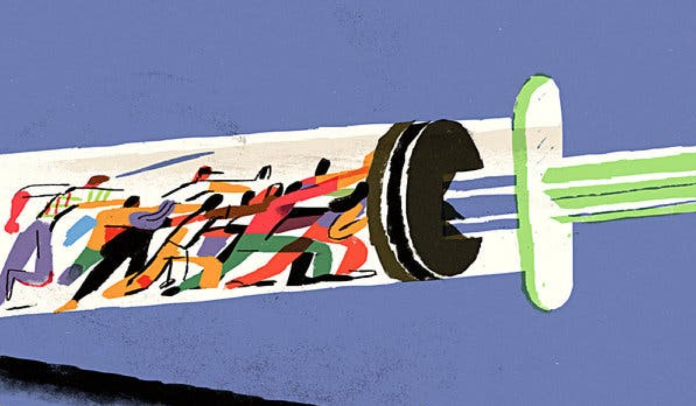 Around 20 years ago a British scientist named Wakefield led a study of twelve people that seemed to suggest a relationship between the MMR vaccine and autism.  The study was soon shown to be flawed, and by itself was a mere blip in the ocean. It is, after all, well-established that systems of vaccination have had remarkable health effects on the human population over the past seventy years.
However, somehow the Wakefield study became entangled with a whole range of other discourses about the potential harm carried out by the state against the people.  By the turn of the century, state dicta had lost much of their authority in some quarters. This is not surprising. The rise of the neoliberal state meant that the state withdrew (through disruption, loss of funding or privatisation) from many of the beneficial services previously offered to the people.  Successive governments wrongly believed that the marketplace would, left to itself, more efficiently provide most things that people needed. As a result, there was an understandable loss of faith by the people in the reduced and diminished state sector.
Vaccination was not to be privatised, of course. Although privatisation has nibbled around the edges of the health system, the need for systematic coverage of vaccination – vax-equality, if you like – meant that it could not be left to the marketplace.  Even in the US, with its privatised health system, free vaccinations are available for children who are not covered by other schemes.
But, first slowly and then faster, a lack of faith in state systems has grown among the people. Once trusted systems, especially health and education, have been supplemented by wealthier families with privatised elements – health insurance, private schools (or, more usually, large supplements paid to state schools as 'donations') and external providers (e.g. after-school tutors).
This has affected attitudes overall.  The state is less trusted. This has reached its apogee in the USA, where the head of the state, President Trump, constantly snipes at the very state he heads, and urges the people not to trust their leaders. He might as well rant: "DON'T TRUST ME".
TDB Recommends NewzEngine.com
The problem is, if you can't get your messages from the leadership, where do you go to find out things?  The rise of the internet is well-documented as a source of both excellent and terrible advice and information.  There are plenty of anti-vax messages available on the internet if you want to read about those arguments. They are often compelling arguments of actual harm caused to children, allegedly, by vaccination. They are scary.
But most messages on the first several Google pages are the results of studies that show that such harm is not caused by vaccination. These are well-researched studies and well-written fact-sheets from organisations such as the World Health Organisation. While your judgement might be affected by loss of faith in organisations, the written material is still impressive.
I was interested to hear my friend Siouxsie Wiles on the radio yesterday talking about word of mouth.  I have also been thinking about this a lot recently, and have written about it before. The reality is, a single message from another person – whether that person be a trusted friend or a casual acquaintance – can have more effect, at a sensitive time, than all the excellent public health messages in the world.  And, moreover, this effect has been enhanced as the reputation of the state has been eroded by neo-liberalism.
The other important factor is that the threat from infectious diseases for which vaccines are available had dramatically reduced by the time the current generation of parents (Gens X and Y) had their children. Poliomyelitis, Tuberculosis and Measles in particular, which were all huge issues for previous generations, have all but disappeared due to public vaccination campaigns.
Thus, today's parents are primed and programmed to listen to people say that there is doubt about immunization programmes, that they may be harmful to the children and information is being kept from them.  Such messages are as, or more, likely to be circulated among well-educated people. In the current climate, it is not surprising that they have led to a reduction in immunization rates.
And so the inevitable has happened.  It is lucky, certainly, that it is Measles and not Polio (which has also not been eradicated) that has broken out. Although lucky is not the word because sixty people have died in Samoa. Had we still had mass immunization in New Zealand, the epidemic of 2019 would not have happened in Auckland and someone would not have carried the disease to Samoa with such terrible results.
In her interview, Siouxsie concluded that if word of mouth is so crucial, that we all have a responsibility to spread the message as widely as possible that immunization is not only safe but crucial to our society and to the health of our children. It is important that a lesson is learned, today and for the future, from the tragic deaths and disabilities caused by Measles.
The underlying problem of a lack of faith in the state will take longer to fix.
Dr Liz Gordon is a researcher and a barrister, with interests in destroying neo-liberalism in all its forms and moving towards a socially just society.  She usually blogs on justice, social welfare and education topics.