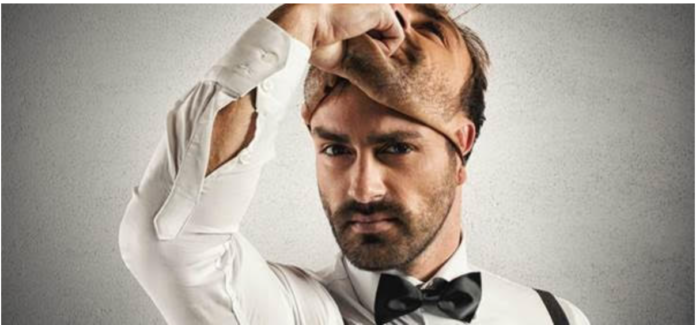 WILL ANYBODY IN the Labour Party learn anything from this latest debacle? It seems doubtful, especially coming so soon after the 2018 Summer School Scandal. Nigel Haworth, who didn't so much fall on his sword this morning (11/9/19) as get thrust very roughly into it, has gone, but the malady lingers on.
What Labour is suffering from is a disease that is easy to diagnose but hard to explain. The Ancient Greeks called it hubris – roughly defined as: "excessive pride and/or over-confidence". That's fine, as far as it goes, but a better sense of the word's meaning is gleaned by listing its synonyms:arrogance, conceitedness, haughtiness, pride, vanity, self-importance, pomposity, superciliousness, hauteur. Those afflicted by the fatal flaw of hubrisharbour unfaltering feelings of superiority over all those lesser breeds with whom they are forced to have dealings. It is usually fatal.
The time-line of this latest scandal, helpfully pulled together by the journalists at The Spinoff, reveals just how seriously infected Labour has become by the hubris disease. Throughout the crooked course of this tawdry saga every one of the synonyms listed above has been in evidence; and each character failing appears to have occasioned a corresponding failure in performance. That's the awful thing about hubris: its way of leading the sufferer into terrible misjudgements and mistakes. Wonderful for driving forward the action in Ancient Greek theatre. Not so helpful in politics.
It wouldn't be so bad if Labour had a lot to feel excessively prideful and over-confident about. But they don't. The party's record since 2008 has been one of ever-worsening failure – calibrated by the steady decline in Labour's Party Vote up until 2017. And who was the person who rescued the party's fortunes that fateful year? It most certainly wasn't Nigel Haworth; or the Labour Caucus; or the clowns in the Leader's Office. No, it was Jacinda Ardern wot won it. Except, of course, not even that is true. The person wot won it for Labour in 2017 was Winston Peters.
And yet the hauteur of Labour MPs and their party-dwelling apparatchiks remains undiminished. They still evince utter disdain for all those "lesser breeds without the law".
Rudyard Kipling's line is especially apt in this context, because it is the Labour Party's movers-and-shakers understanding of what constitutes "the law" that lies at the very heart of their hubris.
Jacinda, herself, must have come into contact with it during her brief stint as one of Tony Blair's bright young things in the early-2000s. The key question for any Blairite was whether or not so-and-so "gets it". Gets what? Simple: the whole "New Labour", "Neoliberal", "Post-Thatcher" – call it what you will – "project". You were either smart enough (and ambitious enough) to get that the days of old-fashioned social-democracy (don't even mention the word 'socialism'!) were over, and that capitalism had won the battle of ideas hands-down, or you weren't. If you didn't "get" this – if you still don't "get it" – then you are no bloody use to anybody who takes politics seriously.
TDB Recommends NewzEngine.com
Putting all this back into a New Zealand context, the "getting-it" test goes all the way back to Rogernomics. It's not so much a matter of having to sign-up to everything Roger Douglas and his fellow free-marketeers did. It was more a case of, to make your way forward in the post-1984 Labour Party, you had to make it absolutely clear to all the people who mattered that you had no intention of un-doing it.
That this commitment to the neoliberal status quo must instantly set the movers-and-shakers at odds with a pretty big chunk of their party's membership; an even larger chunk of its trade union affiliates; and what is still, almost certainly, a majority of Labour's most loyal voters, only serves to strengthen the perception they have of themselves as a special elite. Among the lesser breeds, they'll talk up a social-democratic storm – promising them everything from 100,000 affordable houses to the end of child poverty. But, among themselves – among the ones who get it – the objectives, and the rules of the game, are very different.
And yet, these are the rules the young complainants in this latest scandal have had to negotiate their way through: a task made all the more difficult and distressing by the fact that nobody told them what they were. They did not understand that the invitation to come forward with their personal experiences of sexual misconduct was never meant to be taken seriously. They did not grasp that the prime objective of the Labour Party is not to build a better, fairer world, but to win the next election. Or, that the people to be protected within the party are not its younger and most idealistic members, but its most skilled electoral technicians; the paid staffers who know their way around the ever-more-complex circuitry of political power.
These complainants, however, have proved to be fast learners of the elite's unwritten rules. (Telling their stories to Paula Bennett and The Spinoff proved a masterstroke!) What was supposed to have been "managed" out of sight and off-camera, has been hurled bodily into the media's unforgiving glare. Suddenly, the vast abyss that separates the idealistic from the hubristic Labour Party (the Labour Party that "gets it") has been revealed in all its Nietzschean darkness and danger.
So, talk fast Jacinda. You're talking for your political life.