Bridges and Brownlee to visit India and China
Leader of the Opposition Simon Bridges and National's Foreign Affairs spokesperson Gerry Brownlee will depart today to visit India and China.
"National understands the importance of trade and building relationships with our international partners.
"During this visit we will meet and talk with New Zealand businesses, hear about new trade opportunities and promote trade between our countries," Mr Bridges says.
I don't know man.
TDB Recommends NewzEngine.com
Can National be trusted when they go to China?
With so many allegations of corruption and personal business relationships between high ranking National Party members and the latest claims of a $150 000 donation after a nudge nudge wink wink meeting alongside the attempt by a Chinese Businessmen to buy two Chinese candidates onto the Party List, by visiting China without chaperones, aren't National a meth addict being left alone in a dealers house with a fresh glass pipe full of P sitting on the coffee table?
While you are mulling over that, read this…
In China they will be accompanied by Jian Yang and will visit Shanghai, Beijing and Xiamen. They will attend the 21st China International Fair for Investment and Trade (CIFIT) where they will open the New Zealand Pavilion. Mr Bridges will also speak at The Belt and Road Agricultural Products and Material (E-Business) Trading Fair and address the New Zealand Studies Centre, Xiamen University.
…wait, what? While in China they are being accompanied by Jian Yang? The same Jian Yang who is accused of being a Chinese Spy inside the National Party Caucus?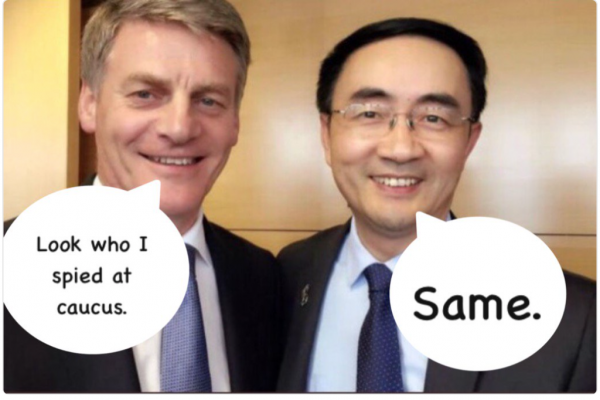 Let me get this straight, National, with all the baggage that accompanies being a front for Chinese Business interests, are in China and being accompanied by a National Party MP who is alleged to be a Chinese spy???
China will know what Simon Bridges is thinking before Yang tells him what to think.
This is like letting Donald Trump go into a feminist library with a flame thrower. You know at some point he's going to burn that library down, just as you know National will come away from this tour supporting any action China wishes to take against the traitorous whore dogs in Hong Kong.
I just don't think we can trust National in China without a parent or guardian.