One could argue that allowing less descretion by our Authorities would be a good thing when you look at examples as awful as this…
Elderly man who entered suicide pact with wife but didn't die faces possible five years in jail
Alone, his hands clasped in his lap, the diminutive 85-year-old man sat in the back of Napier District Court on Wednesday morning as others came and went from the seats around him.
Eventually his name was called. He appeared in the dock after a man accused of drink driving and before a man accused of supplying cannabis. He stood calmly as his lawyer entered a plea of guilty to a charge of Section 180 of the Crimes Act.
This section covers suicide pacts and states that when two or more people enter into a suicide pact and one of them does not die, then they are liable to a term of imprisonment for a term of up to five years.
In this man's case he and his wife had been married for about 23 years. She was very ill and the couple decided to take their lives together.
On the afternoon of April 5 last year they typed and hand-wrote a number of notes outlining their intentions and addressed them to the coroner, police and their children. They also placed a letter outside a neighbour's house with the intention that he would find it the next morning.
The man found the note and rang police, who entered the couple's house and found the pair lying in bed beside each other. He was found to still be alive.
TDB Recommends NewzEngine.com
After pleading guilty on Wednesday the man was remanded at large until October for sentencing.
…what arsehole Bureaucrat thought prosecuting an elderly widower who survived a suicide pact was the right path to take in this terribly sad case?
We see time and time again that discretion seems to be abused by Wellington Bureaucrats so trying to limit that to remove the bigotry and bias that make WINZ and MSD such toxic cultures might seem like a great idea, the problem is that life never fits squarely into the box ticking process so we hope public servants are trained well enough to recognise injustice rather than cause it.
So the temptation to allow AI to take over is great, but what if the AI is merely empowering the bigotry of bias rather than defeating it?
The Wellington Orac at the most recent PSA AGM.
Oranga Tamariki is big data powered, tick enough boxes with the Wellington Orac and you are guilty of future crimes and can have your child removed.
These perverse impacts have been running corrections for 20 years…
Why a pastor who abused children served half as much prison time as a low-level cannabis dealer
Philip David Wallace was a small-time Dunedin drug dealer. When he was asked for a few tinnies of cannabis and some ritalin, he was more than happy to oblige. He soon learned his mistake: he had just sold to an undercover police officer. 
Neil Rischbieter​ was an Auckland pastor who, over the course of several years, repeatedly sexually abused two girls aged between 12 and 16. In one case, he took advantage of the young girl's emotional vulnerability while her mother was dying of cancer.
They received almost identical sentences. For Wallace, it was two years and three months in prison. For Rischbieter, slightly less: two years and two months. 
When Wallace came up for parole, it was declined almost instantly. The board ruling was about as definitive as it can get: "The man can and will reoffend."
When Rischbieter came up for his parole hearing, the result was different. He was released this month, barely halfway through his sentence. The parole board ruling said he was "considered to be at low risk".
…these considerations are being decided by AI technology that the Government agencies have been pouring millions into implementing across all social services.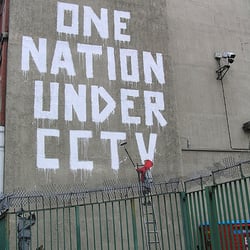 Look at the manner in which the CCTV empire in Auckland has been radically expanded without the Privacy Commissioner even being aware of it…
Privacy Commissioner in dark over advanced CCTV plan for Auckland
The agency aims to combine four separate systems in the city into one, with more than 6000 cameras by 2024 and the ability to expand to 8000.
Police will have much more access to the real-time footage.
Auckland Transport recently reviewed its rules around camera operations, including privacy.
However, Privacy Commissioner John Edwards said the agency did not consult him about that review, though it did back in 2014 and 2015.
…we don't need more CCTV cameras at Train stations, we need staff who will intervene rather than avoid confrontations. 
Look at how quickly Police now want to use facial recognition software to attach to that CCTV empire…
Police open to using facial recognition from Auckland Transport CCTV cameras
Even though they have just bought new software to analyse images better, it still can't cope with facial recognition off live CCTV footage.
Auckland authorities have been working quietly for months to unify the city's CCTV systems, boost camera numbers from about 5000 to more than 6000 – with an upper cap set by technology for 8000 – and let police access more of the live camera feeds.
The new cameras are capable of facial recognition but Auckland Transport (AT) said this function was not used.
However, police are interested in it.
"Police does not currently have the ability to run facial recognition off live CCTV cameras," a police spokesperson said in a statement.
"However, we would always be open to using new and developing technologies in the future, balanced against relevant legislation."
…would we trust Police with face recognition software across a CCTV empire of 8000 cameras? Would they attach that to an AI programme that can spot future criminals?
The speed and power of mass surveillance combined with the immediate decision making abilities of AI removes people from the process in a way that concerns us when it's a robot terminator, the solution is a public service that is robust enough with internal checks and balances that implement values and doesn't foreshadow bias, but that is expensive.
Far cheaper to allow AI to decide those things in a second, even if it's simply promoting the very bigotry it seeks to replace.