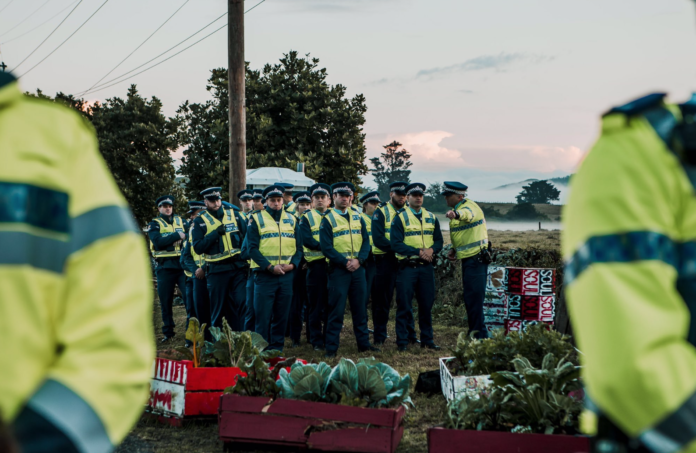 It should surprise no one that Labour tried to kill off any questions about Ihumātao while Jacinda is in Tokelau…
Prime Minister Jacinda Ardern tried to prevent media asking about Ihumātao
Jacinda Ardern has personally tried to prevent media from asking about the Ihumātao dispute while on a charm offensive in the Pacific.
Her staff threatened journalists with restricted access to the PM if they did, forcing her Beehive team to intervene from Wellington. 
After crisis calls from the capital, media were allowed a second shot.
TDB Recommends NewzEngine.com
…her staff are fucking idiots and I say that as someone who knows them.
Here was what Labour said before they were in power…
…so their sudden cowardice is eye rolling. The truth is that Labour are frightened by what has erupted at Ihumātao for a number of reasons.
Firstly, it doesn't look good for an indigenous land protest to explode while Jacinda is touring other Pacific Islands and making promises to them while neglecting her own first nation peoples but secondly, Labour fear what is happening at Ihumātao because it crosses that most sacred of NZ lies, that we have great race relations.
Settler Nation NZ won't accept what is happening at Ihumatao because private property that has been stolen from Māori never being returned is the central plank of our economy. Despite Māori losing 95% of their land within a century and almost being wiped out as a race, we tell ourselves 'well, we aren't as bad as Australia' as if that fucking means something.
We hold up correct pronunciation of the Te Reo as more important than the actual deconstruction of racism. We shrug when Oranga Tamariki steal Māori babies, we shrug when the justice system is proven to be racist, we shrug when mental health services fail Māori, we shrug when the health system fails Māori.
"That's their fault", we tell ourselves, "At least we aren't as bad as Australia".
We have ignored the truth that stealing Māori land is the core economic strength of our nation and we have lied to ourselves that our comparison with Australia is somehow a means to ignore everything else.
"We beat our indigenous people once a week, Australia does it daily, aren't we great" is the mentality.
This lie is sacred to us because it allows Settler Nation NZ to live guilt free on stolen land without any legal threat to that privilege. We hold up the joke settlement process and the pittance paid out in compensation as our ultimate proof of race relations superiority and we scream 'one law for all' at any attempt to challenge that narrative.
NZ is a deeply racist country with deeply racist institutions that create deeply racist outcomes, when you screw around with Settler Nation mythology you create a lynch mob of angry ruddy necked white people wanting the revenge only an outright military genocide can create.
Don Brash triggered that lynch mob with his Orewa Speech, the question is who will try and trigger it now for their own political power?