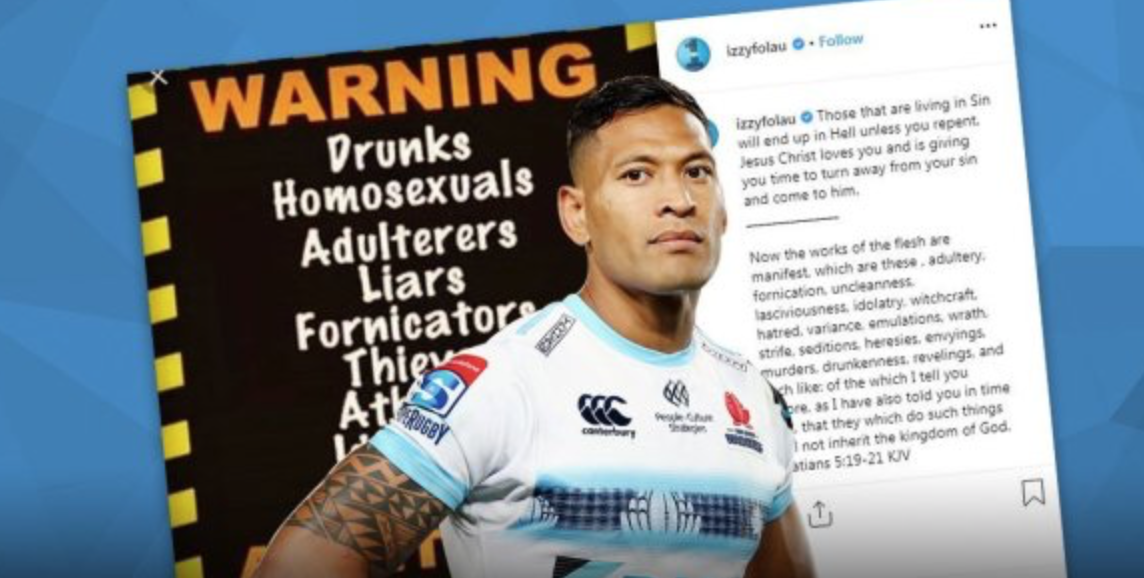 Go Fund Me recently closed Israel Folau's page but it appears that he is still keen to use other people's money to pay for his legal fight with Rugby Australia.  In my opinion it is morally wrong for a person of means to ask for charity to fund a personal campaign.  The interesting point is why do I feel this way?
I think it is because I am a Gen Xer, born in the last generation that was expected to grow up and be self-reliant. However, I know that if we are going to be beat climate change it will be led by the enlightened, empathetic Millennial Generation.  The role of my generation at this time is to provide a link with the past and to bear witness to some of the character traits that can steel them for that tough fight.
And this is why I am interested in the Folau saga, not because I care about him, but rather because it provides a wonderful situation for discussing important moral ideas that our generations seem to have very different perspectives about.  The discussion starts with this question – Why does a rich celebrity asking other people to fund their legal battle excite such a negative reaction?
First, because it is narcissistic. A person with the financial means to fund their own battle asking for other people's money demonstrates that the rich person feels that they have a 'right' to maintain a comfortable life and that others have a corresponding 'duty' to pay for them to keep that comfortable life.  The person asking for the money must feel that they are very special to make such a claim?  That feeling of entitlement used to be called narcissism and it has never been a praiseworthy quality.
The second point is about how respect is earned. We earn respect by carrying our share, for accepting the burden of performing important tasks.  With regard to rugby, Folau can be respected, he is a formidable rugby player sharing his team's burden.  He has earned respect on the field by working hard and taking risks.  But with regard to his legal battle he has faltered at a moral hurdle.  He has strong Christian beliefs and took a big risk to promote them.  That risk backfired and he was sacked by Rugby Australia.  In the old days he would have sold one or two of his houses and fought the legal battle on his own. His decision, his responsibility but in this case he doesn't feel he should bear that burden.  Establishing the Go Fund Me page clearly indicates that instead of going without he feels others should shoulder the burden of his decision.
TDB Recommends NewzEngine.com
Which leads to the third point, which is about self-reliance. This term relates to personal responsibility and decision-making.  If someone is self-reliant then they have sufficient personal responsibility to accept that their decision-making has consequences and further that the person responsible for that decision is them!
When Mr Folau was told by Rugby Australia not to make posts about gay people going to Hell he had free agency to decide what to do next.  He choose to make more posts and in this writer's opinion asking for other people to cover legal costs (when you have significant financial resources) is like getting your parents to pay your credit card debt.  Being grown-up used to be defined by being self-reliant or able to accept responsibility for your actions and manage the consequences by yourself.
Mr Folau is not alone there are lots of people in modern society making similar claims; from the German model Catalin Onc asking for money to fund his world trip while living at home funded by his mother, to the large number of people in their thirties across the world moving back home with their parents. It seems that we no longer see being self-reliant as a virtue.
It is tough to watch. Generation X were the 'latch kids'. We were the first generation that's mothers routinely went out to work. We were expected to fend for ourselves after school. We grew up generally un-supervised and were forced to be self-reliant.  We value this quality and when a person does not display it is hard to respect them.
Why do Gen Xers place such a value on self-reliance? Because self-reliance and self-determination are inextricably linked. A person that is self-reliant has the capacity to speak truth to power with moral authority.  A self-reliant person is not bludging or living off the goodwill of others. A self-reliant person's moral statements have authority because the person is accepting responsibility for the risk associated with their conviction.  A person with powerful moral authority can be self-determined, able to challenge orthodoxies and established power.
Like any large corporate or government; social media companies fear self-reliant people because they are able to determine their own pathways. Being self-reliant means that you don't have accept peer pressure or rely on how others to determine your path in life. Scary stuff for the people that make their money and retain power in society by making people less self-reliant and more dependent on their services and the endorsements they provide through social media platforms.
Generation X probably aren't going to change the world.  We are 'slackers', self-reliant but cynical and disengaged.  It will be the Millennials that will save the world.  But only if they can see through the social engineering that keeps them weak and compliant. Encouraging them to falter under pressure or look for external support, unable to accept risk or responsibility.  Instead, imagine the power of the Millennial Generation's engagement and empathy steeled by self-reliance.  It might just save us.
Ben Morgan
A free-thinking, Gen X aspiring to write. Seeing some bad places means I value love and reason more than most. 
Particularly interested in moral and constitutional issues and encouraging a more reasoned civic discourse.