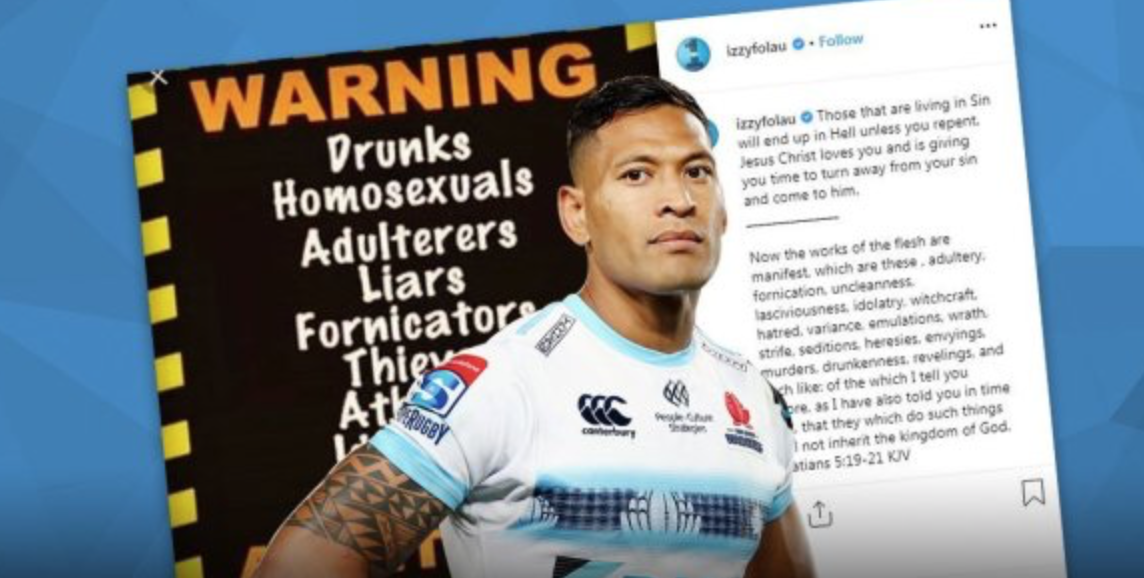 The Israel Folau saga took a strange twist last week when he set up a 'Go Fund Me' page aiming to raise $ 3 million to pay for a legal challenge against Rugby Australia's decision to rescind his contract.
Rugby Australia, his employer did not feel that his social media statements about gay people burning in Hell were representative of their organisation's values. After requesting that he stop, Rugby Australia was disappointed when he didn't and sacked him.
Folau's position might have been defensible, his views while not progressive are shared by many in the community and the issue does highlight questions about freedom of speech. Folau is entitled to have personal religious beliefs, even objectionable ones, however the debate is about whether he has the right to express them freely. Particularly, when his rugby skills give him a large social media following.
The 'woke' will argue that Folau doesn't have right to share his opinion. No-one in a prominent position like Folau should express an opinion that is different to the progressive orthodoxy. His statements are an 'aggression' against an oppressed, victimised minority. That a person in his position of social influence must restrict their expression only to what is right and proper.  The 'woke' are outraged and indignant – "How dare someone express an opinion that is hurtful to others" they mutter into their chardonnay.
TDB Recommends NewzEngine.com
Well a sad fact is the most religion is pretty hurtful.  Every religion demonises people that behave in ways that are not 'right'.  Religion's general lack of humanity is often overlooked. Neither of New Zealand's largest religions; Christianity and Islam have been particularly kind to homosexuals.  A strange position challenged by the atheist, essayist Christopher Hitchens who asked – "If God didn't want people to be gay why did he make so many gay?"  A simple, human question, that religious dogma struggles to answer, unless religion is actually about power and control or the 'good' telling the 'bad' what to do. Perhaps Folau's statements are simply another example of the age old hobby of righteous people judging others.   The fact that Folau has raised more than half a million dollars in week demonstrates that he is not alone in his opinions,
The point we should all note though is the similarity between the 'woke' response and Folau's Christian supporters. Both of whom are essentially self-righteous people keen to tell other people how to live their lives.
In my humble opinion (a cynical Gen X) we should despise both sides and instead look at two more important issues. First, who the fuck is Israel Folau?  I know this is heresy but… he is just a rugby player. He is not educated outside of his Mormon religious education.  He has not served the wider community or contributed significantly to anything outside of rugby and the Church of the Latter Day Saints. Why do we accord him such a prominent position in the social discourse?  Perhaps if we just ignored his hateful commentary he would just go away?
But this brings us to the next point. Social media and the democratisation of moral debate.  Social media now allows everybody to enter the civic discourse no matter how uneducated or uninformed.  We see the same trend with anti-vaxers and anti-1080 protesters using flawed science to state irrational and unreasonable positions.  Folau's position as professional athlete does mean that he has a large social media audience and he can influence a large number of people.  This is the first time in history that people with so little competence can so powerfully enter the civic discourse.  Folau hasn't been elected, he hasn't written books or spent years developing and testing his moral position in academic discourse. Instead he is that First Fifteen star (we all remember) mollycoddled through high school and then into a professional sports contract.  He has no concept that power, like large social media influence should be tempered with responsibility.
And power without responsibility is a symptom of narcissism. This beautiful word with an ugly meaning is the real issue.  Modern social media provides an outlet for the expansive narcissism prevalent in our society. When Folau posts his thoughtless self-entitled rants he as indulgent and narcissistic as any 'woke' cry baby whinging about how hurtful Jordan Peterson is, or how Don Brash should not be allowed to speak on a university campus. Narcissism is the belief that your idea is always better, that the opponent cannot have redeemable aspect and that there is no better way than yours.
The proof of Folau's narcissism is that a person earning more in year than most will earn in a lifetime, who owns a number or properties across Australia is bludging money using a Go Fund Me page.  It's actually funny. An uneducated, muscular six foot four athlete is not our normal lazy stereotype of a whinging Millennial but the 'proof is in the pudding' and it is clear that Folau believes his work is so important that we should all support it because he is a martyr for Christians everywhere.
Well he isn't. He is really a spoiled child with a large media platform.  And our response should not be to demonise him because this only serves to promote his position and encourage him. It confirms his fantasy that he is a Christian soldier fighting the good fight.  Instead we have duty to do what his parents and teacher haven't and teach him that he is not the centre of the world.  Instead he needs to grow up and if he really believes in his position commit his own resources to it.  Until he is willing to do that we should put him in the corner and ignore him.
Ben Morgan is a free-thinking, Gen X aspiring to write. Seeing some bad places means I value love and reason more than most.  Particularly interested in moral and constitutional issues and encouraging a more reasoned civic discourse.