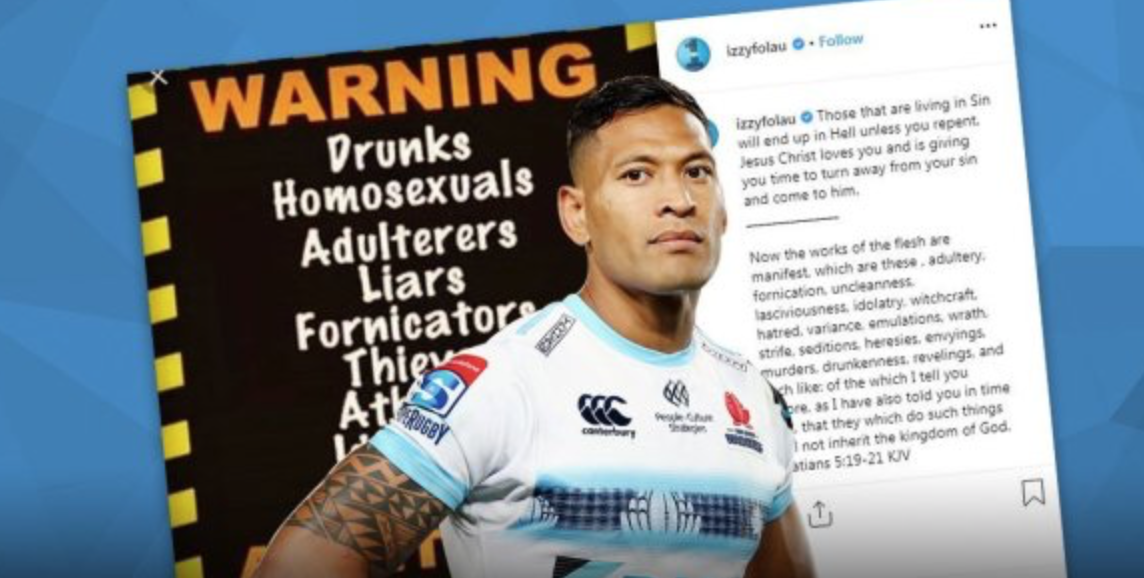 I think you have every right to take a swing at Israel Folau but dragging his wife into it seems like the least progressive or liberal thing to do. I remember the rainbow community used to win its respect by its open & inclusive definition of love – this seems a bit lynch mobish…
ANZ Bank distances itself from Maria Folau's 'views'

The ANZ bank has released a statement distancing itself from Maria Folau and her husband's views, although the financial institution has denied contacting New Zealand's Silver Ferns netball team to condemn the star.

The Silver Ferns and Adelaide Thunderbirds player hasn't made a statement regarding her husband's social media posts which resulted in his sacking from the Wallabies, yet the bank has taken a proactive approach in trying to protect their brand.

ANZ is the largest sponsor of New Zealand's domestic netball competition.
I'm not sure 'we are greedy pricks with an obscene lust for cash but we'd never offend the gays' is much of an ethical high horse for ANZ to ride in on – I mean your average Edge Radio Listener will buy it, but shouldn't a bank aim higher than a breakfast Radio Show standards?
It's funny how the ANZs woke call out of Folau's wife mirrors the hypocrisy of many woke anti free speech activists on twitter so let's give their marketing team a round of applause for at least being authentic.
I won't be sated until there is an Action Station petition.
TDB Recommends NewzEngine.com
The overwhelming vibe I get from our woke comrades venting rage on social media at Folau's embarrassingly large cyber donations is jealousy they can't generate that momentum & naked hatred that others would disagree with them & donate in the first place .-
I don't think we on the progressive Left are winning hearts & minds on this one.