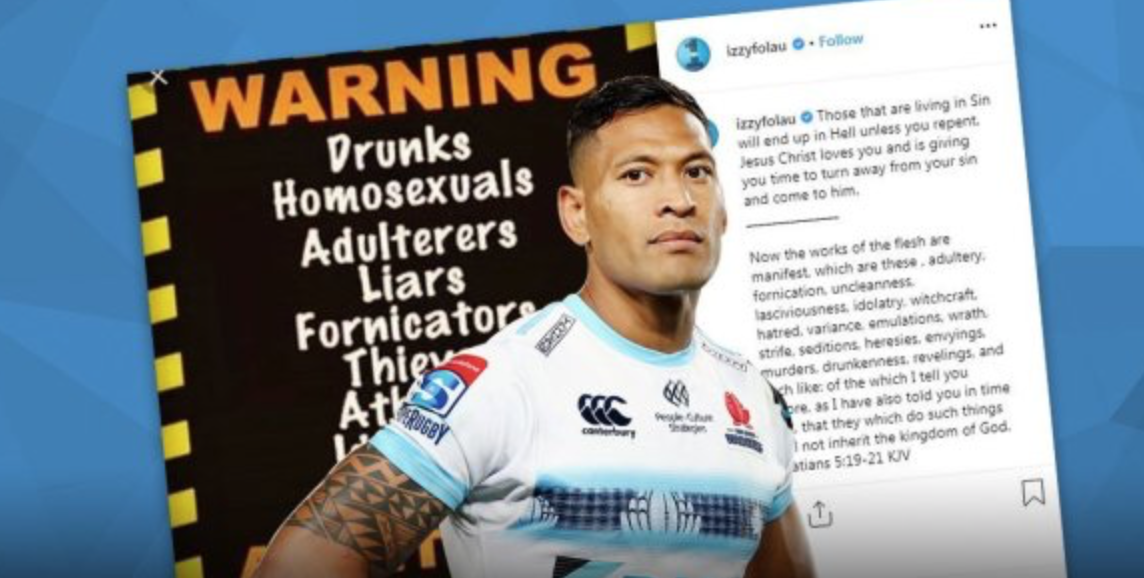 The manner in which Australian Rugby have mishandled the Folau fiasco was always going to bite them in the arse – fragile Christians will almost certainly pledge $3m to his audacious go fund me campaign because this is a culture war now.
His contract didn't prohibit his religious rights and his case in front of the Fair Work Commission could cost Australian Rugby an enormous amount.
I would argue that Folau's Instagram post was stupid speech (as opposed to hate speech) and it also seems a little hollow for Qantas to attack Folau, because they are partnered to Qatar Airways and Emirates. Qatar imprisons  homosexual acts, and the UAE punishes homosexuality with the death penalty.
It's easy to scream at a Pacific Island Rugby player over conservative religious opinions on social media but far harder to stand up to actual state sponsored repression against gay communities.
TDB Recommends NewzEngine.com
In the age of subjective rage where the policing of micro aggressions trumps all objective reality, sacking Folau is a tiny win, however the backlash amongst those young men who see him as a hero will probably outweigh whatever point is supposed to be made here.
Liberal progressive democracies are supposed to be able to withstand and tolerate opinions that are offensive, buckling and proclaiming hate speech to everything we disagree with is likely to end in a cluster fuck of counter productive outcomes.
The totalitarian joy so many of the woke seem to be exhibiting in their online celebration at the sacking of a Pacific Island religious conservative rugby player seems like low hanging fruit at its most ironic and metaphorical.
Look, I adore the rainbow community and have zero time for Rugby and even less time for religious freaks, and I feel for those who were offended  by this guys weird views on homosexuals, drunks, adulterers, liars, fornicators, thieves, atheists & idolators, but mocking him would have been a far better outcome than this meltdown or actually simply point out he is misreading the Bible.
The Pride Parade in NZ was a woke war and that didn't end well. I think the same trigger free sensitivities are gong to damage  Australian Rugby.
Every time you complain about Folau's go fund me campaign a fragile Christian donates – this is who we are now – this is what we are now.