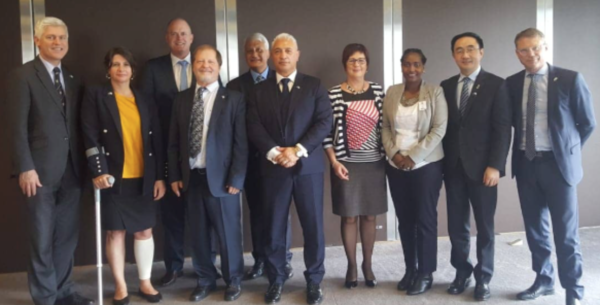 The NZ Friends of Israel, helping to fund the Rapture in the Valley of Armageddon since forever.  
Ummmmmm. Do we really want a Christian Zionist being the tail wagging a National dog?
Alfred Ngaro forming his own religious right wing party and using the MMP coat-tailing rule by winning Botany is a genuine threat to progressives and anyone who likes to read.
With conservative Christian Pacific Islanders feeling alienated by the Israel Folau backlash, Euthanasia, Abortion and cannabis reform, Ngaro is guaranteed at least 4%.
TDB Recommends NewzEngine.com
Ngaro of course is a graceless nightmare….
Firstly Ngaro is a particularly nasty political operator. I saw him at a public meeting blame the Glen Innes community for the many social problems which have bedevilled all New Zealand's low-income communities and use that to justify National social cleansing the area for the rich.

Later he told me "state housing creates dependency" as his sound bite to justify driving low-income families from their state homes.

There must be another side to Ngaro but I've never seen a hint of it elsewhere.

Secondly Ngaro is a Christian Zionist who, like Israel Folau, believes the Old Testament is the literal word of God and a factual account of the history of the Jewish people as opposed to an "origin myth" which most human tribes from the beginning of time have developed to give their people a sense of pride, self-belief and unity in the face of adversity.
…there was that time he allegedly punched a teacher in the head…
National Party MP Alfred Ngaro allegedly punched an atheist teacher at his son's school for not bowing his head during a prayer.

Ngaro, a list MP and former chairman of the Tamaki College Board of Trustees, was last week dragged into the Employment Relations Authority dispute between Tamaki College and former art teacher Christopher Scott Roy.
…and let's not forget him threatening Willie Jackson…
Lloyd Burr: Alfred Ngaro's threat to Willie Jackson was worse than just a brain fart

Alfred Ngaro's threat that non-government organisations shouldn't bite the hand that feeds is extraordinary.

Not just because of his complete lack of judgement, or the fact he did it on stage in front of hundreds of National Party members, or because it shows cracks in the party's extreme culture of discipline.

It's extraordinary because he didn't back down from his comments until he was forced to.

It was much more than just a brain fart or a case of misspeaking.

On Sunday, Newshub interviewed Mr Ngaro at National's northern region conference about the sentiments in his Saturday speech, and the threat to dissenting NGOs was still there.

First though, a quick recap: the Associate Housing Minister was giving a presentation at the Auckland conference when he said NGOs like the Salvation Army and Willie Jackson's Urban Māori Authority shouldn't "take with one hand and fight with the other".

In other words, he was saying if NGOs who receive government funding criticise the Government's housing approach, they risk losing that funding.
…so Alfred is a very Old Testament kinda guy.
Brothers & Sisters.
Despite the overwhelming meaninglessness of this unprepared Government, Labour + Greens + NZFirst are lights years more preferable than a Judith Collins led National Party returned to power with a fanatical religious zealot holding power.
We cant allow ourselves to go backwards.
Simon ruling out doing any Botany deal could actually end up being the thing that finally kills his leadership. If National are mid 40s and this Christian lynch mob at 4%, all Judith needs to whisper is she would cut a Botany deal and the Caucus sensing victory would dump Bridges before the election.
Judith Collins teaming up with Alfred Ngaro would be like Cersei Lancaster joining the Night King.