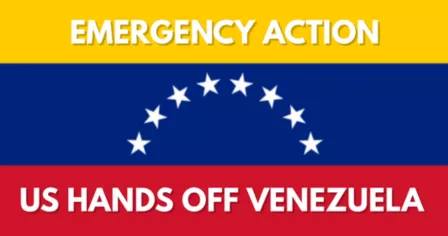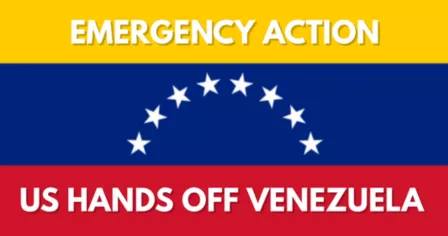 Global Peace and Justice Auckland is asking for individuals and organisations to endorse the following appeal:
We encourage all supporters of peace and justice to join the international day of action on Saturday, March 16 against the US government's effort to engineer a coup in Venezuela and a new devastating war there.
The aggressive policy against Venezuela repeats the ugly pattern of wars for regime change in the oil-rich countries of Iraq and Libya. National Security Advisor John Bolton is reading from the same script, declaring a "troika of tyranny" in Latin America (like the "axis of evil") as a precursor for regime change first in Venezuela, and then Cuba and Nicaragua. Trump has always said that the "mistake" of the Middle East wars was that the U.S. didn't "take the oil."
The White House aims to overthrow the government of President Nicolás Maduro and replace him with Juan Guaidó. Guaidó is a U.S.-trained operative who was unknown to the vast majority of Venezuelans before he proclaimed himself president — at Vice President Mike Pence's urging. Although Guaidó has the backing of US President Trump, the CIA, and the Republican and Democratic Party leaderships alike, huge numbers of Venezuelans have marched to reject this coup and defend their independence.
TDB Recommends NewzEngine.com
The New Zealand government should continue to resist pressure to support the coup attempts in Venezuela but also speak out against the economic and political warfare being waged against the people of Venezuela.
On March 16, the people of the world will come together to say:
U.S. hands off Venezuela!
NO to the coup — the U.S. does not have the right to select other country's leaders!
NO to the sanctions, oil embargo and economic war on Venezuela that aims to cause suffering for ordinary people in the country.
NO to intervention and war from the U.S. and their proxies in the region
To add your name email mike@unite.org.nz
Hands Off Venezuela Aotearoa Facebook Page
https://www.facebook.com/Hands-Off-Venezuela-Aotearoa-295947577698168/
Initial Signers:
Mike Treen, Global Peace and Justice Auckland
David Robie, media educator, Pacific Media Centre
Robert Reid, President, FIRST Union
EA Espinoza , Senior Social Worker, The Salvation Army, Auckland.
Rev. Chris Sullivan, Catholic Deacon
John Minto, political activist, Christchurch
Joe Carolan, Unite Union
Pania Newton, Ihumatao
Greg Presland, Waitakere Labour Party
Joe Gallagher, Senior Organiser, Etu
Roger Fowler, chair, Kia Ora Gaza
Ben Rosamond, Organise Aotearoa Secretary and NZEI field officer, Auckland
Anu Kaloti, Migrant Workers Association
Ben Peterson, Unions Wellington Convenor.
Danni Wilkinson, Love Aotearoa Hate Racism
Elliot Crossan, Socialist Aotearoa
Kara Dennison, Physiotherapist, Auckland
Felipe Forero, Team Leader Aotearoa Latin American Community Incorporated
Sebastian Vidal Bustamante, Filmmaker
Mary Ellen OConnor, Writer and retired teacher, Nelson
Victor Billot, TEU member at Otago University\
Diego Lewin, Auckland
Bronwyn Summers, Christchurch
David MacClement, Kawau Island
Sarah Thompson, Organiser, FIRST Union
Sher Singh, Organiser, Etu
Robin Wilson-Whiting, Organiser FIRST Union
James Robb, Teacher, Auckland
Gillian Magee, Regional Industrial Administrator, FIRST Union
Leslie and Marian Bravery. Christchurch
Len Richards, retired trade unionist.
Martin and Lois Griffiths, Christchurch.
Gem Pritchard,  Industrial Support Officer, FIRST Union.