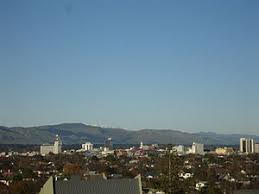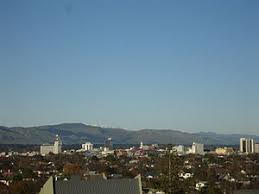 I arrived in Palmerston North on 3 September 1972 aged 16. I came with my boyfriend, later first husband, who lived and worked in the little North Island city.  
Coming from the glitz of London in the early 1970s, Palmerston North appeared very old-fashioned to me.  But it was a safe city and easy to live in. Getting jobs was easy, even for under-qualified poms. Eventually, when I found my way to Massey University, that city was the gateway to opportunity for me, shaping my whole life.
But Palmerston North and its surrounds, including the highly undeveloped beach haunts of Foxton and Himatangi, have long suffered under a cloud of being old-fashioned, non-progressive and terrible places to be.  It was therefore very interesting to return this week, in lovely weather, to visit friends.
First, to start with the obvious.  The place is stunningly beautiful. Green and flat, with the Tararua ranges popping up in the background. The Esplanade and Rose Garden are very special.  Things grow really well in Palmerston North (it rains quite a lot, but there is virtually never a frost).
TDB Recommends NewzEngine.com
Second, it can be generally said that large-scale developments have passed the city by, but nevertheless there are some great spaces.  The Art Gallery is fabulous. This time it was showing its own collection in multi media. One room had four walls all showing the art (different images on different walls, changing at different paces – wow).  Centrepoint Theatre has been going forever and still is (well done).
The square is much maligned but at night is a beautiful and well-lit space.  When I lived there, it was the haunt of young glue sniffers, but appears to have moved on. It could do with perhaps a café or two, a little gift shop, something like that.
In other ways it is a city frozen in time and always struggling a little financially.  There is little new building in the central city, although some re-purposing has taken place.  The big white elephant – the huge concrete bunker that is the City Council building – is still there and still houses the Council.  It is hard to know what to do with such an eyesore. It is slightly better painted than not, but still. Perhaps cover it in murals?
We caught a bus down the coast to meet a friend in Otaki. Driving past Himatangi and Foxton beaches, I perceived that there appeared to be little new building.  What seemed quaint and a bit backward when I was younger, though, now looks like an untouched paradise. Levin remains much the same too, with a wide range of lifestyles there.
Otaki Beach is a quirky, arty place with a very vibrant community. They hold the Maoriland Film Festival each March, celebrating indigenous film-making.  The beach is beautiful, of course, and houses are reasonably priced (again, not a huge amount of new development).
We drove down to meet a friend at the old Fisherman's Table restaurant at Paekakariki, which has been there as long as I have.  It used to be an up-market establishment but is now relatively cheap. We sat on the deck with stunning views of the sea and Kapiti Island, and we were in paradise.  With medium size meals at $17.95 and an all-you-can-eat salad bar, we had a lovely meal and watched a southerly front roll in, clouding up the Island, only making it more beautiful and mysterious.
Then to Wellington down the coastal road and then many new roads and the expressway.  Once past Paekakariki, everything is new development. We flashed past Paremata and the wonderful, historic, boatsheds there, and on into Wellington.  My heart leapt as we came over the bridge at the bottom of the Ngauranga Gorge and revealed the beauty of Wellington Harbour. I wondered if the thousands of people who commute down that road every day even notice how fabulous it is.
I have found new beauties within Aotearoa during this summer. Such a beautiful natural environment. I have also seen cow-poo rivers and streams, poverty, racism and social inequality, of course.  These are for another day, another blog.
Dr Liz Gordon began her working life as a university lecturer at Massey and the Canterbury universities. She spent six years as an Alliance MP, before starting her own research company, Pukeko Research.  Her work is in the fields of justice, law, education and sociology (poverty and inequality). She is the president of Pillars, a charity that works for the children of prisoners, a prison volunteer, and is on the board of several other organisations. Her mission is to see New Zealand freed from the shackles of neo-liberalism before she dies (hopefully well before!).