In a Democracy, the role of the Fourth Estate is there to hold the political establishment and the powerful to account.
Right now with the Summer season upon us and newsrooms are run by Millennial's who are sourcing 'news' from their social media feeds.
Right now, the NZ Herald is giving more prominence to a 'news' story about Clarke Gayford's fucking fish than the State creating fake social media accounts to illegally spy on NZers. Here is the front page…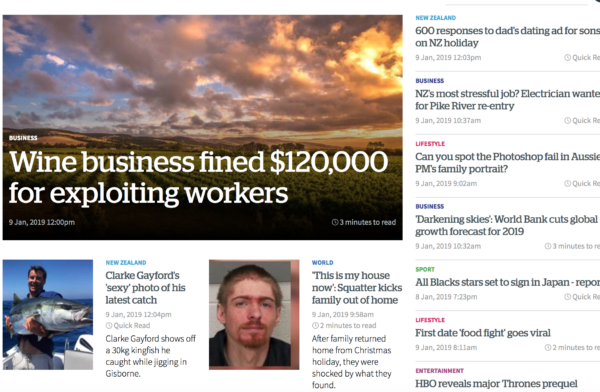 …and here is the Politics page…
TDB Recommends NewzEngine.com
…right now the State has been busted using deception and lies to spy on NZers and our media are burying THEIR OWN STORY exposing this in favour of Clarke catching a fucking fish!
We are witnessing an obscene abuse of power, in September 2017  the PM launches an inquiry into corporate spy use in State sector yet by December 2017, a mere 2 months after the Prime Minister of NZ has made her views explicitly clear that this type of behaviour was an affront to our democracy, MBIE signs a contract with ZX Security Ltd to provide advanced social media training to create fake social media profiles and illegally spy on NZers.
So who is running this country? The democratically elected representatives or unelected Wellington elites?
The public service is stacked with neoliberal acolytes who don't care that there has been change of Government. That is a terrifying revelation that demands attention, yet what are the NZ Herald leading with?
Clarke catching a fucking fish!