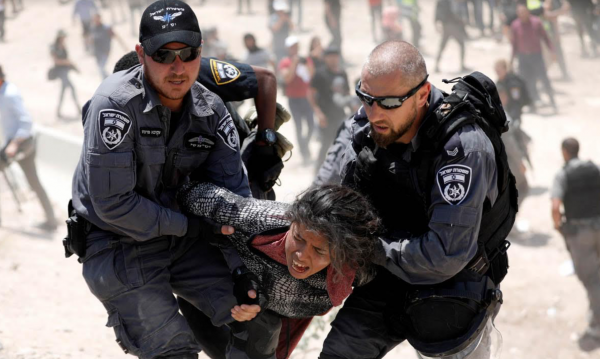 There are many examples that could be told about Israel's cruel , sadistic to quote Noam Chomsky, treatment of Palestinians: the documented 1948 Deir Yassin massacre, assassinations, demolishing houses and even villages, stealing total control of water resources, destroying orchards, killing fishermen, massive use of 'administrative detention', abuse of prisoners including children. Amira Hass has written, actually we heard in person when she came to Dunedin, that every single day Palestinians experience cruelty in some form. Humiliation is a favourite tactic of the Israeli police and IDF. And of course there is the still ongoing killing of Gazan Palestinians: including journalists, medics, children.
There is so much that could be said, so much ,that it seems as if it  has become normalised, not worth mentioning by mainstream media.
Yet, sometimes, not very often,  just sometimes, a story manages to attract the world's attention. Videos of cruelty get widespread exposure. Sometimes, even overseas political officials take notice.  Such is the case of the plight of the West Bank Bedouin  village, Khan al Ahmar, under demolition orders.
British MPs, 18 of them, have been persuaded by CAABU, Council for Arab British Understanding to visit Palestine. They have gone public with what they've learned. Richard Burden MP, Chair of the Britain-Palestine All Party Parliamentary Group secured and spoke to an Urgent Question on the demolition of Khan al Ahmar. The Minister that Burden refers to, is Alistair Burt, Foreign Office Minister.  I have highlighted parts of the following quote from Burden :
"As we speak, bulldozers are flattening the village of Khan al-Ahmar and destroying its school, which was built with international donor support, and which provides education for about 170 Bedouin children from five different communities. The village of Abu Nuwar is also being destroyed today.

People who live in these villages threaten no one. Their crime is to have homes on land that Israel wants, in order to expand the illegal settlements of Kfar Adumim and Ma'ale Adumim. To speak plainly, this is state-sponsored theft: a theft that will cut the west bank in two, making a contiguous Palestinian state near-impossible and the prospects of a two-state solution still more remote. More importantly, as the Minister said, the forcible transfer of the villagers of Khan al-Ahmar and Abu Nuwar contravenes international humanitarian law. It is a war crime.

As the Minister also said, he—along with over 100 Members of this House and peers, and about 300 international public figures—has repeatedly urged the Government of Israel not to go ahead with the demolitions. Now that they have ignored those calls, the question is whether the commission of this war crime will have any consequence. If not, why will Mr Netanyahu believe other than that war crimes can continue with impunity? What practical action do the UK Government propose to take to hold those responsible for this war crime to account, and is it not time finally to outlaw commercial dealings by UK firms with illegal settlements in the West Bank?"
Interest is being shown not just in Britain.
Together with activists from a California based NGO, Rebuilding Alliances, a spokesman for Khan Al Ahmar, Eid Jahalin met with 29 members of Congress, Republicans and Democrats. Eid Jahalin told them  the story of his village and showed a short video. Some of the American Congress members said they intended to visit Khan al Ahmar.
A delegation of American rabbis and rabbinical students visited the village, very recently, on a Friday, when many Palestinians had come to pray, as a sign of solidarity. The Americans promised to share what they learned when they got home, with their local communities and with their congressional representatives.
Europeans too are concerned about the situation . Officials from Ireland, France, Belgium, Denmark, Sweden, Italy, Norway, Finland and Switzerland have been to  Khan Al Ahmar.
So much outside attention has been shown and so much outside pressure has been exerted , that the High Court justice on duty  has issued a temporary injunction against further demolition. Israeli officials have been caught off guard by the unprecedented determination by EU officials, responding to pleas from  Palestinian and Israeli human rights activists, to show their disapproval.
Certainly the story of the 'car tire' ecofriendly school built with local volunteer labour  has struck a chord. Martin and I and maybe other Kiwis too, have visited that school . 
Is it possible that the village will be saved? Judging by Israel's past actions that seems unlikely. But one should never give up hope.  Certainly the pressure from grass roots activists, helped by Israeli rights activists, in Britain, the EU, and the US on their politicians and their media needs to continue and increase.  
What about NZ? How can we persuade NZ to speak out? What are our polticians afraid of?
I have a request..a request to everyone , to watch two very short videos and then ask others including religious leaders, union leaders, politicians, anyone you are in contact with,  to do the same.
One, is the video that was  shown to the American Congress members. 
The other was made by Jewish Voice for Peace. It is this video that has gone viral!
The only reason Martin and I were able to visit  Khan al Ahmar several years ago , was because our visit was arranged   by Israeli activists . They deserve our support.
New Zealand has a good reputation internationally. Let's be worthy of it.
Lois and Martin Griffiths are human rights activists.