Of course Israel has been committing war crimes in Gaza! Is anybody surprised!
What they are doing is not new. Take for example, the 2014 massacres: the use of white phosphorus, the use of DIME, the bombing of mosques, schools, hospitals. War crimes. The bombing of power stations, of sanitation facilities. War crimes.
Now the massacre of civilian protesters, gathered near the prison boundary to remind the world that they are refugees who want to return to their ancestral homes, as promised in 1948 by UN Resolution 194.
What is the latest number of deaths ? The one I read of most recently was that of an 8-month old who died from tear gas inhalation. The tear gas being used is something different from 'normal' tear gas. No one has been able to analyze its composition.
Thousands of people, men, women and children have been wounded. But that doesn't tell the whole story. What does "wounded" picture in your mind?
Reports from Palestinian doctors and from MSF (Médecins Sans Frontières ) volunteer doctors, is that they are shocked by what they are seeing.
The following information is from an 19 April 2018 report from MSF.
        The huge majority of patients – mainly young men, but also some women and children – have unusually        severe wounds to the lower extremities. MSF medical teams note the injuries include an extreme level of destruction to bones and soft tissue, and large exit wounds that can be the size of a fist.

"Half of the more than 500 patients we have admitted in our clinics have injuries where the bullet has literally destroyed tissue after having pulverized the bone", said Marie-Elisabeth Ingres, Head of Mission of MSF in Palestine. "These patients will need to have very complex surgical operations and most of them will have disabilities for life."

Managing these injuries is very difficult. Apart from regular nursing care, patients will often need additional surgery, and undergo a very long process of physiotherapy and rehabilitation. A lot of patients will keep functional deficiencies for the rest of their life. Some patients may yet need amputation if not provided with sufficient care in Gaza and if they don't manage to get the necessary authorisation to be treated outside of the strip.
Horrific injuries are being caused by the IDF using what are called 'exploding' bullets, or 'dum dum' bullets or sometimes, 'butterfly' bullets. They explode within the body guarenteeing horrendous injuries. These two photos illustrate the effect. These bullets were prohibited by the Hague Treaty of 1899.
We hear of numbers of people killed or wounded, maybe seriously disabled for life. Palestinians want the world to understand that they are not just numbers. They are sons and daughters, husbands and wives, mother and fathers, brothers and sisters.  They have names and faces. They want to live with freedom and dignity.
Some of the  young men want to play football, like young men in normal countries are able to . Take for instance Mohammed Khalil.
Mohammed Khalil, who played for a football club in the Gaza Strip, was  shot by an Israeli soldier as he protested near the border. He was filming events with his cell phone when he was shot and now fears he will never play again.
He  needs knee replacement surgery in order to even be able to walk again.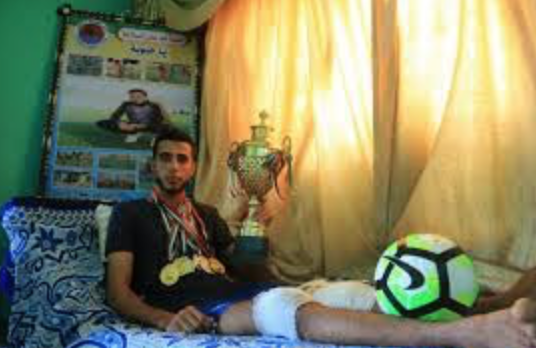 Turkey and South Africa have expelled their Israeli Ambassadors. Ireland and Belgium have  summoned their Israeli Ambassadors.
So why doesn't New Zealand summon the Israeli Ambassador? Are we more indifferent to atrocities being committed? Also, as others have pointed out,  the Working Holidays Scheme for young Israelis should be stopped.
Action to be truly effective will have to come from global civil society, following the BDS (boycott, divest, sanction) movement.  There are decent people around the world who want a stop to Israel's impunity. We should show solidarity with them . Solidarity , for example, with the American NGO JVP , Jewish Voice for Peace.
And charges of war crimes must be taken to the ICC.
If only!
Lois Griffiths is a human rights activist