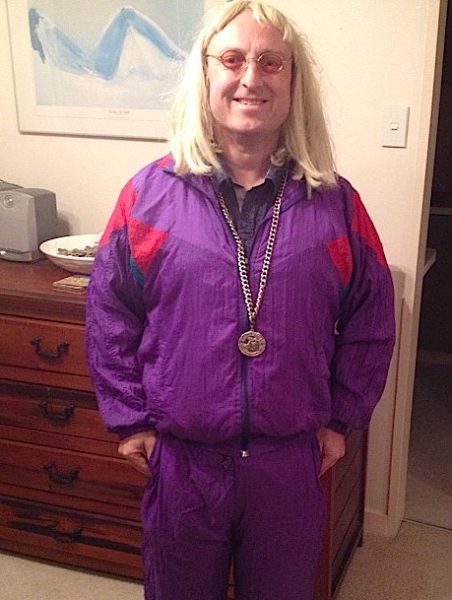 National Party Blogger David Farrar in his fancy dress costume as pedophile Jimmy Savile 
The backlash against Labour's 'victim led' solution only builds while managing to enrage every voting parent while those impacted are only getting support after a month.
'Victim led' can't mean this.
Leaving four 16 year olds to make decisions for themselves and just cutting the 20 year old loose seems like a terrible way to deal with all of this while claiming it's 'victim led'.
Some have claimed that allowing the 16 year olds agency like this is the right thing to do.
Bullshit.
If there is concern of self harm, privacy concerns can be over ridden so there are exceptions to this rule, Andrew should have done that.
Surely the 16 year olds needed to have their parents informed immediately, full legal options explained plus wrap around counselling services. The 20 year old in question also should have had counselling offered.
What happened instead? A 'victim led' approach was adopted without any external advice, Police weren't originally suggested and no aid was offered until almost a month later and only after a complaint was made on social media that Labour weren't doing anything.
Timeline of events

• February 9: Prime Minister Jacinda Ardern speaks at the opening of Young Labour's "Summer School" camp in Waihi.

• February 10: A 20-year-old man allegedly sexually harasses or assaults four 16-year-olds – two males and two females – during a camp event.

• February 11: The man is thrown out and the victims offered support. Shortly after Labour's general secretary Andrew Kirton is informed.

• March 3: Follow-up offer of professional help offered to victims, according to Kirton.

• March 4: Energy Minister Megan Woods receives complaint about lack of response by Young Labour and contacts Kirton, who says the matter is being dealt with "appropriately". Woods does not raise with Ardern or anyone else.

• March 12: Newsroom publishes the allegations and Ardern is blindsided by media questions. The party issues a statement saying it is "extremely disappointed" about the incident and launches a review.

• March 13: Ardern accepts the party was too slow to offer support but says she won't sack Kirton, who later reveals he's been told a second incident at another camp years earlier.

• Yesterday: Kirton says one of the teens has made a complaint to police.
How was any of this best practice or 'victim led'?
Beyond the immediate safety and mental health issues of those impacted by this is the political dimension and on this front there can be no forgiveness.
Kirton is the General Secretary of the Labour Party, he had every obligation to inform Jacinda so that she could not be blindsided by the media! It is outrageous that she was put in that position and it was painful to watch Jacinda get clobbered like that.
Now also consider the political backlash here – Kirton is telling every single voting parent in NZ that if their 16 year old was indecently assaulted at an official  Labour Party function, he wouldn't tell them because he was following  'victim led' approach???
That is political suicide.
This needs cauterising. If Andrew is sacked today it looks like Labour have taken back control of the situation, if he is allowed to stay on until the media hound him out it will look like a crisis and with a new allegation of an indecent assault made and one of the 16 year olds going to Police, this isn't going away.
Sack Kirton yesterday.
As for the National Party and their mouthpieces suddenly becoming feminists standing up for woman, should we remind everyone of their infamous Young Nat 'Princess Party' from Dirty Politics…
Here's one such excerpt from the source material that deserves further attention:
April 25, 2011
————————-
Simon Lusk, 4/26, 12:01am

i wasnt going to say that in case your email gets read
————————-
Cameron Slater, 4/26, 12:02am

my email doesn't get read

lol

Apparently Pinko is the main driving force behind the Princess party
————————-
Simon Lusk, 4/26, 12:03am

well i was going to say i have cleared the field for you, given you the most likely targets and will get them drunk for you
————————-
Cameron Slater, 4/26, 12:03am

he has invited [REDACTED] to it and to the one the next night
————————-
Simon Lusk, 4/26, 12:03am

righto, good cleint recruitment

he asked if he can bring neil miller, which i said yes to
————————-
Cameron Slater, 4/26, 12:04am

she likes threesomes so it could be promising for her and a young nat
————————-
Simon Lusk, 4/26, 12:05am

i'd try [REDACTED] she is filthy

not many young nats coming, i told jordan i didnt want them because they are retards
————————-
Cameron Slater, 4/26, 12:05am

just dirty girls who flip it up
————————-
Simon Lusk, 4/26, 12:06am

thats the plan, and i have carefully kept the balance of princesses to guys uneven

make sure [REDACTED] knows not to come without a full princess outfit and a bottle of bubbly
————————-
Cameron Slater, 4/26, 12:08am

i better go book a fucking moneky suit
…there's no moral high ground for anyone here and the only thing everyone needs to learn is that sexual harassment is epidemic and that everyone must align to these new realities in a post #metoo world.