Let's just remind everyone of the statement the NZDF made at the time they were accused of a war crime..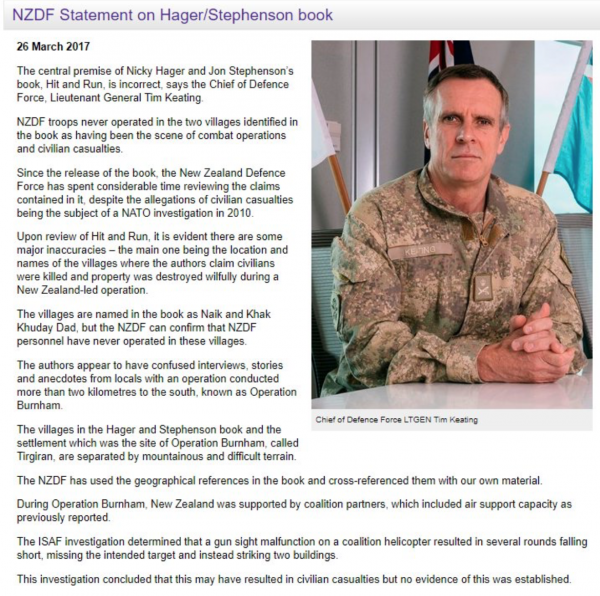 …turns out that was all a lie…
Now, a year later, the Ombudsman has ordered the Defence Force to release more information, including on the subject of whether the photos in the book were the same location where the NZSAS was operating that night (22 August 2010). The Defence Force has finally admitted that the "three photographs in the book are of Tirgiran Village", the NZDF's name for the place where the SAS conducted the raid.

Hit and Run co-author Nicky Hager said the Chief of Defence Force Tim Keating had tried to divert attention away from the issue of civilian casualties by claiming the book was not about a raid the SAS had conducted.

"It was simply a diversion. This seems extremely unprofessional behaviour from a senior military officer," Mr Hager said. "I believe that the impulse to hide the NZDF's mistakes led the Chief of Defence Force knowingly to mislead the media and the public."

The NZDF had jumped on an error in two of the book's illustrations, which marked the location of the raid incorrectly in the roadless mountains. But the rest of the book – the text, the photos and the lists of casualties – was correct. Mr Hager publicly acknowledged the map error and a new edition of the book was published soon after with the illustration errors corrected. But the Defence Force continued to use the map error to say that the whole book was wrong.
…so the NZDF knowingly misled the public by manufacturing doubt months before the 2017 election for possible war crimes that John Key had personally signed off on.
Isn't it time for the NZ Media to start doing their job now Jon Stephenson and Nicky Hager have done all the hard work?