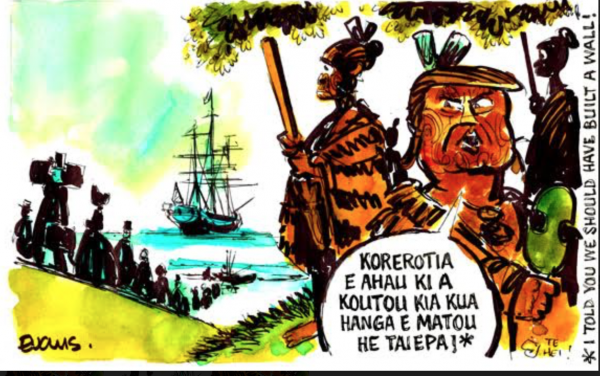 I make this following criticism of Te Reo posturing as some one who can't personally speak Māori (I mangle the english language badly enough and I don't want to mutilate that beautiful tongue) and who enrolled his daughter into a Te Reo immersion class because as a New Zealander, the treasure of Te Reo is a gift that is part of her birth right.
Here she is in last years Kapa Haka performance…
…so those things noted, for me the current level of Te Reo posturing from smug pronunciation on Radio New Zealand to Macron policing to Millennial's swamping introduction to Te Reo classes as an aesthetic seems to miss the point and starts becoming middle class wank.
TDB Recommends NewzEngine.com
Is it good enough in 2018 to champion Te Reo when the structural injustice of colonialism is so prevalent and apparent?
Māori are 380% more likely to be convicted of a crime, 200% more likely to die from heart disease & suicide. Māori are paid 18% less and 34% leave school without a qualification. Māori at 15% of the population make up over 50% of the 10 000 prison population. They are arrested at a higher percentage, feature in the worst education and social stats and make up a huge proportion of those living in poverty.
After losing 95% of their land and economic base in less than a century and overcoming almost being wiped out by disease and muskets, Māori have been cheated by the Treaty.
I believe that the majority of white New Zealanders live in a constant state of wilful ignorance when it comes to racism in this country. The facts of how racist our system really is are glaring in the statistical outcomes, and have come under investigation by the UN but still we have the Don Brash's of this country screaming Māori privilege.
The NZ Herald's first editorial ever was calling on white settlers to go to war with Māori and remember their attempt to promote 'non conflict Waitangi Day news'…
…it took 136 years to get an apology for Parihaka, who will apologise for the racist failures of NZ since the Treaty?
Knowing your Te Reo is simply cultural appropriation if it isn't coupled with the same level of effort in cementing into place the power dynamics laid out in the Treaty
For me, I love the Treaty because of the relationship of responsibility it immediately sets up between the Crown and its people. I believe the sense of ownership in the Treaty needs to be expanded to all NZers and not just Māori because it sets out the obligations of the Crown to protect the rights of its people. We deserve as a nation to entrench the Treaty as the basis of our constitution so we can force Governments to protect our rights rather than strip us of them.
Pakeha want to gloss over the theft and confiscation of indigenous lands because it's a shameful denial of the promise of a Treaty between two peoples and when you consider the paltry compensation that has been paid back to Maori via the Waitangi Tribunal, it's a mere $1.4 Billion.
$1.4 Billion for confiscating the majority of NZ??? What is most egregious is that some Pakeha have the audacity to claim that pathetic reparation is a 'gravy train'.
Hilariously enough, NZ is up for $6.8billion in damages from the Kim Dotcom case and if successful would mean he gets paid back over 4 times as much as has been paid out for the entire confiscation of the country.
We should be thankful that Māori have been so generous in their forgiveness of this atrocity. Watch the fury of pakeha having to mow their berms to appreciate how one sided our preciousness of ownership is in this country.
What does actual power sharing look like and how can Pakeha feel empowered rather than resentful?
One of the problems with NZ politics is that we have a unicameral Parliament, that means we just have one chamber with no upper house. This means NZs Parliament is one of the most powerful Parliaments in the world. It allows for legislation to be read straight into law and is one of the reasons why the neoliberal revolution was so ruthless and impossible to reverse.
I think one solution to the Waitangi Tribunal ruling is to consider a NZ Parliament Upper House that has 50-50 representation between Maori and Pakeha. If Sovereignty was never signed away, then the Government of today has a responsibility beyond paltry compensation for past injustices , it must provide real power sharing solutions.
Having a 50-50 Upper House with the power to delay legislation that was not in the best interests of the Nation when it comes to Treaty issues would stop Government's from fire sales of national assets, prevent things like the Foreshore and Seabed legislation from becoming law and prevent water rights from benefitting corporations.
An Upper House would be seen as a guardian of the Treaty for the maintenance of public well being over private gain, it would show real power sharing and for Pakeha, it would represent a political body that protect their public interests as much as Māori interests.
Speaking Te Reo without also committing to actual political power seems to me to be middle class wank.