Overnight the US Senate inched closer to granting the NSA a mass surveillance Death Star by ending debate on the FISA Amendments Reauthorization Act.
The Senate vote tightened in the evening hours, as the Senate's privacy hawks worked to drum up support for further debate around the surveillance bill, opening the door for amendments that could limit the government's ability to use the loophole to surveil American citizens without first obtaining a warrant. Unfortunately for privacy reformers and anti-surveillance lawmakers, the Senate just voted to close that door, moving a bill forward to extend Section 702 surveillance for six more years. A full vote on the bill, which is widely expected to pass, could happen as soon as mid-week.
Effectively it allows the NSA to use key words for mass surveillance of all communications and it allows for warrantless spying on US citizens.
It shreds any pretence of privacy and gives vast powers to the FBI who would under this legislation be able to search any NSA database without a warrant.
Democrats helped the NSA gain this victory as well…
TDB Recommends NewzEngine.com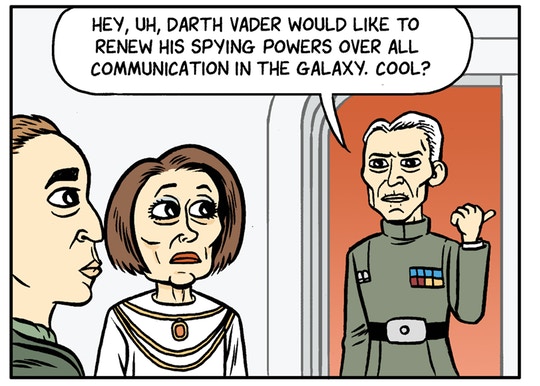 It is an enormous blow to civil liberties and cements vast unchecked powers to the Deep State. With NZ reliant upon America for it's own 5 Eyes mass surveillance powers, it is entirely possible and probable that NZ communications would be included in this wide spread net.
This is 1984 without the charm.