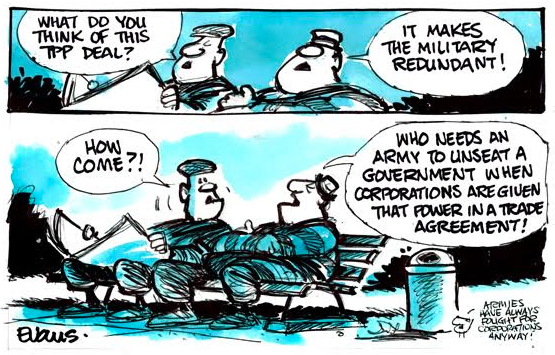 It's like watching a car crash in slow motion.
Jacinda Ardern driving the battered vehicle of the New Zealand state, fuelled and powered by corporate henchmen and steered by their political representatives, down the narrow, one-way street of neo-liberal capitalism into another brick wall. It will emerge, more battered and shattered, with the chassis crumpled but most importantly for its corporate pit crew, it will be barely roadworthy. This act of self-destruction by Ardern will lower the barriers to further corporate plunder of the New Zealand economy.
Labour has always supported the TPPA but in the face of mounting public opposition it attacked the secrecy around the negotiations rather than the agreement itself. Under leader Andrew Little, Labour said it wanted to change the agreement to allow it to stop foreign speculators from buying New Zealand homes. But this was the extent of their criticism. In the background was Labour MP Phil Goff (the most right-wing Labour MP since Roger Douglas resigned) who was being kept informed of progress in the negotiations by National's Tim Groser and carried the official "we support this" line.
(Daily Blog readers will remember Labour gave Goff permission to cross the floor in support of legislation backing the TPPA while Labour flustered about foreign house buyers)
Labour says it supports free trade and therefore supports the TPPA. But it's not a free trade agreement. It is a bill of rights for foreign corporations to loot national economies. The economic benefit to New Zealand is just a billion dollars per annum by 2030.
Labour has defined its opposition to TPPA on the basis of stopping foreign speculators buying New Zealand homes. In doing so it ignores the neo-liberal project the agreement represents. It ignores the threats to New Zealand's ability to regulate our economy in future. It sets aside concerns about the ISDS (Investor State Disputes Settlement) process whereby foreign corporations can sue the New Zealand government if laws are passed which, directly or indirectly, constrain corporate profits.
Such is the level of public opposition to this extension of power to foreign corporations that should Ardern carry on sleepwalking to the signing the TPPA it will forever blight her Prime Ministership.
It's unfortunate for her that it has come so early in her leadership but that's what politics has dished her up.  
This is Jacinda Ardern's foreshore and seabed moment.