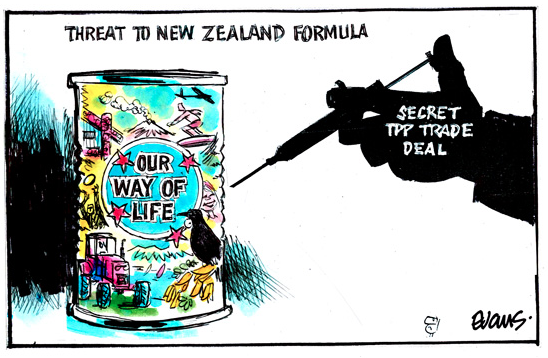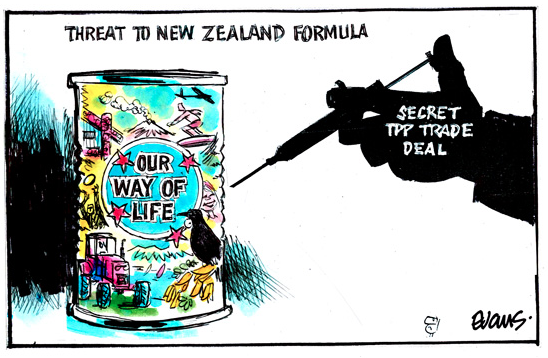 Many will, like me, be disappointed that there is no commitment on the TPPA in Labour's agreements with New Zealand First and the Greens.
To date, Labour has confirmed that it will seek to amend New Zealand's investment schedule to allow the ban on non-residents buying residential property. In response to a question yesterday, Jacinda Ardern said the question of foreign investor's rights to sue the government in controversial offshore tribunals, known as the investor-state dispute settlement (ISDS), is still being discussed.
Q: [re position on TPPA] 

A: I found a huge amount of consensus, actually in talks with NZ First around our position on TPP and TPP-11.  And that consensus particularly sits around our view on banning foreign overseas buyers from purchasing existing homes, and also ongoing concerns with ISDS clauses.  We'll go into negotiations with that view in mind, of course we don't want to undermine our negotiating position, but it was very clear from the talks that we have the same concerns, but at the same time we both support increasing exports and export growth for New Zealand, and representing those who are exporting to the best of our abilities. 
Q: Will you walk away from the deal if you are not able to get those concessions?

A: I'm not undermining our negotiating position by answering that question. 
Winston Peters said the same when he announced he was choosing Labour.
That's not strong enough for some of us. But we should also not panic. This is a time to remind all three parties in Government – especially Labour – that they said in their select committee minority reports that they would not vote in favour of ratifying the original TPPA. It is also an opportunity for them to build and sustain a sense of legitimacy and credibility, as well as optimism and enthusiasm, among those who voted for change.
TDB Recommends NewzEngine.com
Beyond that, we need to remind the rest of the country that the world is changing. The TPPA model is no longer the norm; it is increasingly the outlier.
Supporters of the deal with warn the Government against revisiting the deal, because trade ministers or leaders from the remaining 11 TPPA countries are supposed to decide its future when they meet from 9-12 November on the margins of APEC in Da Nang, Vietnam.
In reality, there is no such urgency. The pressure to conclude the deal is politically driven and artificial. It's almost inconceivable that the TPPA-11 can be sorted before the Vietnam meeting.
Next Monday officials from the eleven remaining TPPA parties will reconvene in Japan. They will continue working through a list of 50 items that different countries want to put on ice unless and until the US re-joins. Relatively few of those items have been settled.
Some countries reportedly want to go further and change aspects of the text. New Zealand under National, with Japan and Australia, previously said that reopening text was impossible. A newly elected New Zealand government has every right to reverse that position, and insist on meeting its commitments to the people who voted for it and serving the interests of the country.
The new Government should also insist on taking its time for the kind of detailed economic and employment analyses, health impact assessments, and proper processes of public consultation they said was needed for the original TPPA.
It is common among negotiating countries for new governments to take some time to review their position after an election. The Obama administration did it, Canada did it, Japan took some time to decide how to respond to Trump's withdrawal.
Let's remember what the parties that make up the current Government said.
Labour objected that the economic evidence produced by National was based on 'a wildly optimistic scenario', whose assumptions 'are not credible, nor are they a basis for any responsible government to proceed in signing a binding agreement with consequences as far reaching as the TPPA.'  There was a potential for job losses as jobs were offshored to lower cost centres.
They said National should have 'adopted a model of rigorous consultation with opposition parties, academia, unions, and business, [and] commissioned modelling and developed policy responses to address concerns about employment, income distribution, and public health impacts.' Labour explicitly joined with other submitters and opposition parties in calling for new studies that addressed those questions.
Of course, National ignored them, and proceeded with the TPPA-11 without even bothering to update its flawed National Interest Analysis to take account of the US exit.
On top of this came Labour's concerns about sovereignty: 'The Labour Party believes the ability to act in the interests of New Zealand residents and citizens is a principle that builds faith in participative democracy. Unnecessary weakening of sovereign State powers achieves the opposite. … The current laissez-faire economic approach to economic management speaks to a level of resignation about an expected long-term decline in our nation's financial security.' Signing away the right to ban non-resident foreign investors from purchasing residential property was one element of that.
The Greens went further, condemning the TPPA as 'a regressive document reflecting the ideological excesses of late-20th-century free-market neo-liberalism'. 
New Zealand First led the demands to abandon ISDS and it still seems committed to that position. These days, that's hardly a radical position. Despite its current protests, Business New Zealand told the OECD in 2012 that ISDS wasn't necessary where other parties had sound judicial systems. We don't have it in the investment protocol with Australia and it wasn't in the P-4 that supposedly formed the basis of the TPPA.
Other countries with which New Zealand wants to negotiate, like India and Mercosur, have jettisoned ISDS and developed their own alternatives. The EU has a proposal for a standing investment court, although that's more of a trap as it leaves in place the pro-investor rules that ISDS is the mechanism to enforce.
Most significantly, the US equivalent of a trade minister, Robert Lighthizer, has slammed the US corporate lobby for expecting special protections and ISDS in these agreements, when they should be taking insurance to protect their profits. If the US did want to re-join the TPPA in the foreseeable future, its current position would be to demand the removal of ISDS!
So there are numerous views among countries, large and small, about how to deal with investment in 'trade' agreements, if at all. The new Government has ample room to choose its own path.
If there was to be one message to the new government it is to reiterate Labour's final sentence in the select committee report:
The TPPA will have ramifications for generations of New Zealanders. For their sake, we should not so lightly enter into an agreement which may exacerbate long-term challenges for our economy, workforce, and society. 
These words should be written in neon lights above the entrance to the beehive.