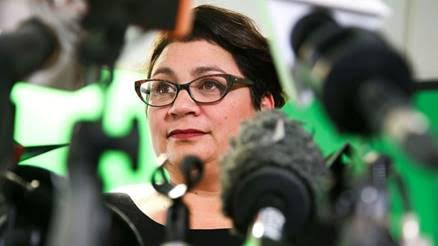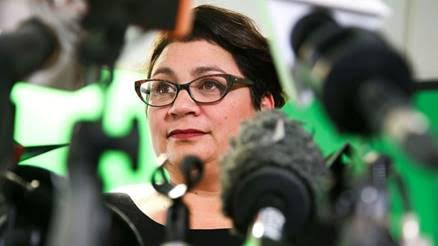 IT WAS SHORTLY AFTER MARAMA DAVIDSON'S impassioned appeal to Metiria Turei's devastated supporters, that the "Avenge Metiria" meme made its first appearance. No one's entirely sure who started it, but pretty soon it was all over social media. Then the ideas for action started pouring in to the Green Party HQ. Though expressed in a multitude of ways, the message was clear: "If Metiria is to be avenged, then we have to get her supporters to the polls!"
Over the next few days, dozens of IamMetiria volunteers began texting their friends and neighbours with news that "Avenge Metiria" meetings were being organised all over the country. Posters featuring Metiria's image started going up in all the major cities (and even in some provincial towns) saying, simply: "Don't mourn – organise!"
The meetings attracted hundreds of people. Among their very first decisions was a vote to ban the mainstream news media from all further "Avenge Metiria" gatherings. Some wag even sent a message to the television networks: "Stay healthy, guys – stay away!" Gang members offered to provide "security" for the rapidly growing movement's leading organisers.
When Marama Davidson announced that the Greens would accept an invitation to address the rally being organised by the South Auckland chapter of "Avenge Metiria", it soon became clear that the turnout would be huge. And when word spread that Metiria, herself, would be speaking, the organisers were forced to secure a bigger venue – a much bigger venue.
TDB Recommends NewzEngine.com
Metiria's speech, carried live on social media, was electrifying. Freed from the constraints of her co-leadership role and with nothing left to lose, she spoke from the heart about the need for those who had been silenced by poverty and bureaucratic oppression to find their voices. To take on the system with the objects it feared the most – their votes.
"Don't do it to avenge me!", she cried, "Do it to avenge yourselves! Do it to avenge all those New Zealanders whom the greedy and the cruel have driven into the shadow world of poverty and despair. For the ones still living in the dark. For these lost souls, I am asking every one of you here tonight to become a light-giver. Never forget, the best way to avenge the wrongs of the past is by seizing control of the future!"
On Election Night 2017, puzzled political scientists reported a huge increase in voter turnout. For the first time since 1984, more than 90 percent of registered voters had cast a ballot. Equally confounded were the mainstream news media's leading political journalists. All of whom were at a loss to explain the unprecedented level of support for the Green Party.
"The polls gave us no inkling of this", complained one baffled pundit. "We simply had no idea it was happening!"
As it became clear that the Greens and Labour were racking-up an historic landslide victory, a new meme mysteriously appeared on social media – and almost instantly went viral.
"Metiria Is Avenged!"