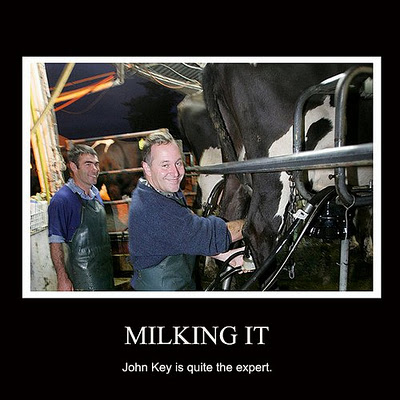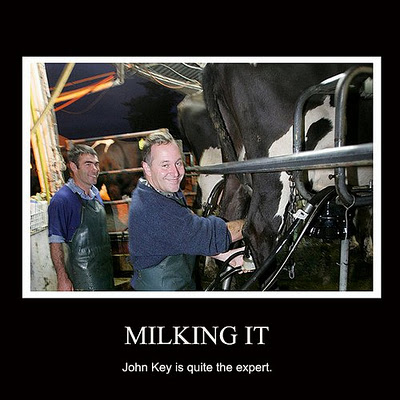 No. Way.
The bloody Farmers win AGAIN?
Not only did they get our state owned energy assets privatised (including taxpayer sweetners for those wealthy enough to buy shares) so that they could get a $400 million dollar irrigation slush fund.
Not only are they ruining the water quality of our rivers with their pollution.
TDB Recommends NewzEngine.com
Not only are they attacking scientists and activists for pointing out their pollution.
Not only are they complaining about even handed media attention with boycotts.
Not only are they pumping the media full of TV Dairy propaganda adverts that are in total denial of the facts.
Not only are they having our water stolen for their benefit.
Not only are they contributing to the very climate change that is now creating more and more catastrophic weather events.
Not only are they refusing to look at more sustainable forming practices in favour of intensification.
Not only all that – but they've bloody forced the Government to back track on immigration tightening because Farming is addicted to cheap imported labour to cope with the debt demands dairyification of their farms requires?!?
Before she died a criminal because of Peter Dunne spitefully making her one, Helen Kelly would constantly point out the horrific work conditions farmers were demanding from workers. Farmers claim NZers don't want the jobs and that's why we need to hire foreign migrants, which is as large a falsehood as Richie fucking McCaw bulging with all that faux pride that we can mass produce milk powder for fucking china as if it's the greatest technological and cultural development of the last 10 000 fucking years.
Kiwi's don't want the jobs, because as Helen Kelly pointed out, they are awful hideous jobs which are paid a pittance. Complaining as the farming industry does about NZers not wanting to be serfs in a rural feudal state doesn't justify importing desperate and impoverished workers from other countries.
It means Farmers are exploiting the situation and that their business model is deeply damaged to rely so much on taxpayer irrigation subsides, cheap imported labour and massive debt requirements for the dairyification process.
National has always been the political expression of bankers, farmers and wealthy businessmen, watching them warp our economic, environmental and social landscape as grotesquely as they are to help their farmer mates out should remind us all how badly National need to be replaced in September.