When I was a kid, around 12 I guess, my father was a newsreader on Radio Windy. The news would come out of a clunky teletype machine in a long roll of paper. Circled with a line through it was the news not to be broadcast on the air. Dad assigned me the task of reading these items.
He wanted me to check that New Zealanders weren't missing out on important information because it might affect the station's advertisers, or wasn't aligned with its politics. Most of that news was simply Eurocentric and not releveant to our small island nation, or it wasn't as newsworthy as the stories marked to be read on the radio. But occasionally I'd find something interesting, and despite the direction not to, dad would read it on air. He never got fired for this and I took a few lessons with me from the experience.
One, that it was better to ask forgiveness than permission. After the fact there wasn't much the powers that be could do about it, unless they really did want to escalate to firing him. Two, that there was plenty going on in the world we never got to hear about and the reasons for that mattered. Because thirdly, there really was a slant to the media, and that bias was generally skewed in favour of those with money. I learned that if you truly want to know what's going on with a story, follow the money. Fourthly, I found out that there were good people, who cared about the truth, working in newsrooms.
That was often how they got there. It was cruical to them that people got the news that was important and they wanted to ensure everyone had access to information about the world they lived in.
I want to continue that legacy. It's important to me to write the truth. When writing about Donald Trump, that's harder than you might think. I've cross checked, verified references and I read so many articles trying to either confirm or deny things that seem impossibly mad and I have thought must be satire, but after hours of research, I find, no, the President of the United States acutally said . "You know, I'm automatically attracted to beautiful — I just start kissing them. It's like a magnet. Just kiss. I don't even wait. And when you're a star, they let you do it. You can do anything….Grab them by the pussy. You can do anything."
I think people must know from that quote alone he's a misogynist, he doesn't care about consent, and when a female minor accuses him of rape, that it doesn't seem such a leap when he says things like this. But then I hear people justifying his unjustifiable positions and it makes me crazy.
Desipite the time and effort I spend on finding out what is fake news, alt facts, outright lies, or indeed, what is actually accurate, I often see that what I report is not believed. His supporters won't believe a word said against him. Then there are those who uniformly mistrust anything reported by what they refer to as the MSM, (mainstream media) which appears to include everything not written on random blogs with or without evidence. But while readers may believe Trump over me, I wonder why they don't believe what he is capable of when he is pretty clear about it. For instance, he doesn't care what I write because firstly I'm a woman, and our entire gender don't rate too highly judging by his words and actions, and he says himself "You know, it really doesn't matter what the media write as long as you've got a young, and beautiful piece of ass."
While I realise that many news outlets are owned by the same few rich people whose interests are certainly protected by some of the editors and reporters in their employ, I refuse to belive that every single person who works in the mainstream media is in on a global conspiracy to lie about Donald Trump.
I don't need to believe other reporters either, there are plenty of hideous, wrong-headed, racist, mysogenistic and made up nonsense stated by the current POTUS that can be seen online, in his speeches, in his tweets. So I don't think he is racist because CNN have told me he is, I believe it because he said "When Mexico sends its people, they're not sending the best. They're not sending you, they're sending people that have lots of problems and they're bringing those problems with us. They're bringing drugs. They're bringing crime. They're rapists… And some, I assume, are good people."
So the idea that his ban is a Muslim ban rather than a travel ban is no leap.
If he was worried about terrorists he'd have a problem with Saudi Arabia rather than selling them more arms than anyone has in the history of the world.
No, I'm not able to verify every story first hand. I don't live in the United States, and I do not have direct access to Donald Trump, therefore the reports of others informs my opinion. Reports that often show footage of Trump's actual words and deeds and discuss real laws that have impact on people all over the world.
Trump himself relies on the mistrust of the media by his supporters, and one of the most dangerous things he is doing is negating the news about him. By lying and saying that news that criticises him is fake, he starts a debate about the reliability of sources that bring us the world. By setting up the media as an opposition party, he does what all despots do, he blinds us all to any opposing or critical view of his actions in order that his rule be unquestioned.
I've seen what that looks like. When I was in Indonesia a wailing woman would come on the TV screen before the news. On every chanel. There was no choice in the news. There was only one news broadcast, telling the populace of the most recent wonderful thing that had been achieved by their ruler Suharto, who embezzelled billions from his people.
The poverty in Indonesia was evident, the lack of healthcare, education, equality or opportunities. Indeed the Rupiah had crashed to the extent that my American travellers cheques trippled in value in the three days I had been there and the middle class were rioting. I didn't hear that those riots were quelled with AK47s until I got back to New Zealand and found out from a comedian during his routine. It seemed apt. This lack of news and the resulting governmental corruption, in my view, is exactly where America is headed, and if National gets into power again, they will import the user pays model for healthcare and education causing greater inequality and poverty than we have ever had before. The more we hand over power to our government, and allow them to dictate the narrative of the media, the more likely we are to have our own riots quelled with firearms. Then like Indonesia in the 90s, those who speak out will disappear and no one will be safe to speak. News will be propaganda and we will all be powerless.
I believe it's important to report the truth about Trump, because everything I've read about him, everything I've seen, all of his actions and words lead me to believe that this is exactly what he wants. He knows what he is doing and what he is doing is copying Putin, who rules in exactly this way. That is how unchecked power becomes absolute. We should know that its harder to get rid of than it is to prevent. But if you don't trust the media, you won't believe me.
Trump is the worst president ever to disgrace the office. I truly think he is dangerous and unstable and potentially might kill us all, and as I've previously reported, I'm not the only one. When the doomsday clock is moved closer to midnight, because people like Steven Hawking belived Trump is a threat to the world's surivial, that makes me sit up and take notice, whether it's the mainstream media reporting it or not.
So this week I haven't researched what he's done this week, I've scattered his actual words throughout this article in an attempt to let him speak for himself. If you want to know what someone is like, they will tell you. All you have to do is listen.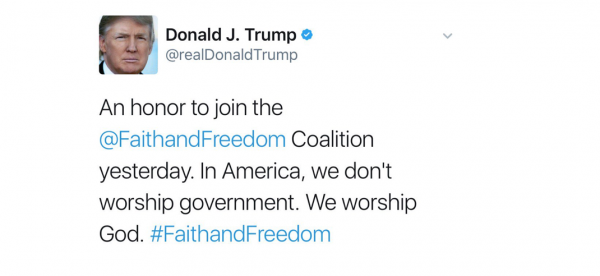 Andra Jenkin co-wrote Double-Edged Sword- The Simonne Butler Story, and contributed to New Zealand Anthology of Women's Comics 'Three Words.'