People ask why I'm not writing about Barack Obama, because he too dropped bombs and gave military support to Israel and did any number of dubious things that American presidents seem to do as a matter of course. In fact presidents who have dropped bombs include but are not limited to Washington, Lincoln, Regan, Truman, Nixon, Bush senior and Junior.
Why I don't speak to Bill Clinton's past record, he had charges of rape and groping and sexual harassment filed against him, so why do I have a problem now that Trump is doing these illegal misogynistic things?
The first reason should be obvious to all. Neither Clinton nor Obama are currently running the American government. Nor are Truman, Regan and Nixon for that matter, so I'm not criticising their actions on this blog either. They are not making decisions that impact America on the same scale or from the same position, and because of its impact on world politics, the rest of the world (that's us people) is impacted too, hopefully not by a nuclear bomb, but it's Trump, so crossed fingers everyone.
They are not nominating Supreme Court justices, or banning 7 countries from travelling because there might be terrorists in the midst of the regular travellers, while at the same time, giving a massive amount of arms to the one country that has imported more terrorists into America than any other.
Trump is.
Moreover, his behaviour is not the business as usual horrific stuff of usual American presidents. He really is much, much worse.

People are afraid to look at the news and afraid to look away in case another freedom is pickpocketed while their backs are turned. Americans joke about the revolution and resistance, but the laughter is too hysterical because they're all wondering about the size of each other's attics, or whether Trump will start detaining people indefinitely. Really, don't let him detain you. It might be at Gitmo.
It's anything can happen day in the Trump presidency and apparently torture is great, Muslims are bad, Mexican's are rapists, women can be grabbed by the pussy because they're nasty, he's being wiretapped and Nazi's make great advisors. For those who haven't been paying attention it's time to order your insignia and practise the goosestep.
Having a brash, narcissistic uncaring businessman with too many friends at Goldman Sachs to truly be a man of the people seems familiar to those of us who have seen American presidents before, but Trump's administration is Orwellian, Machiavellian, and Kafkaesque. It's all the dystopian nightmares we were warned about and it's being perpetrated by the generation that gave up hippies and love-ins and protesting the war. Like a terrible mirror reality where the irony is turned up too high.
When the world is more connected than ever before and we have more access to better information than any other time in history, squatting in the Whitehouse like an orange toad is an isolationist president who is so ignorant he doesn't know what the word ignorant means. Challenge the London Mayor to an IQ off as often as you like, it won't increase your knowledge of Islam you tiny handed buffoon.
A guy that likes to fire people for a living is running what was, up until he was elected, one of the most powerful nations on earth, and no one seems able to stop it. Some people don't seem to even notice its happening, they believe the administration's party line that news is fake and facts are alt. We should all just shut up and eat our boiled frog.
So why does a huge portion of American and indeed a chunk of the rest of us, think that this is just another American president doing ordinary stupid presidenty things? Let's contrast and compare a few presidential acts with the act of lunacy that is Trump's presidency.
Business as usual is that the seven countries names in the travel ban were already flagged by Obama's administration as countries of concern. Trump appears to have simply applied a blanket ban for everyone on travelling between the US and these countries where previously visa requirement was in place solely for people from there, not returning Americans.
If we are to believe that the reason Trump does not want even American born citizens to travel through Sudan, Iran, Iraq, Somalia, Syria, Yemen and Libya is that terrorists might get in, why would he provide billions of dollars' worth of arms to Saudi Arabia? The Yemeni civil war that the arms are for has sparked accusations of war crimes on both sides, and has allowed the expansion of al- Qaeda in Yemen. The arms will directly add to the problem of terrorism, and war crimes. That is not business as usual, that is a president acting as the governing arm of the military industrial complex.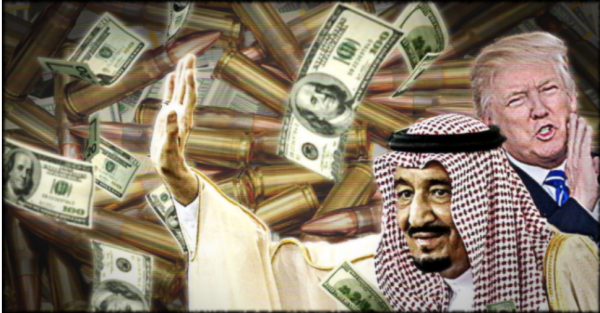 While Obama certainly supported the Saudi led coalition, he limited the sharing of intelligence, and blocked some high value weapons transfers, shity for sure, and business as usual. Trump not so much. Trump's worse is that his Saudi arms deal is for a record breaking $110 billion (that's just this time around, over the next decade he's talking $350 billion) to provide arms to a country that produced 15 of the 19 9/11 hijackers, doesn't like women to drive and beheaded hundreds of people per year. Crimes that require head loss include consensual gay sex, believing in the wrong religion, sorcery and witchcraft. Look away, no terrorism here.
Business as usual is the four or five lawsuits against a president taking office. True, some have been more serious that others with Bill Clinton charged with rape and both he and Nixon going through impeachment proceedings. This will, if the law is not an ass, happen to Trump too, on both counts.
His charges are of course worse, with the rape charges possibly including those for the rape of a child, and there are more of them, 50 plus lawsuits including ones for the travel ban. Then there's saying he won't fund sanctuary cities, Okaying the keystone pipeline and oil drilling in Alaska, the Mexican border wall, allowing tax-exempt religious organisations to take part in politics and violating the constitution by receiving payments from foreign governments. The counsel for the plaintiffs in that suit, Deepak Gupta said "What's unusual is the amount of legal problems being generated by the administration."
That the lawsuits are being upheld is also unusual. Many presidents have had charges filed against them. Lawfare has been used to describe a situation where organisations or people who simply wanted another candidate to win use the courts to fight unwinnable battles. Again, this is business as usual. Trump is losing his cases because it's not. It is abnormal for a president to behave the way he does, ignoring constitutional rights, American laws, and rules around the presidency, which is why the judges are siding with the plaintiffs and his reason for being impeached could be anything. Please, anyone, anything, now already!
Business as usual is for a president to commit state sponsored terrorism like with the Contra rebels in Nicaragua, the Piazza Fontana bombing in Italy and the Cuban exiles. Trump has already managed to sell so many arms to Saudi that al-Qaeda will spread through Yemen like wildfire, and green lighted an undercover operation that killed more children than it did terrorists, but when not organising for babies to be killed Trump's administration and the president himself simply make up terrorists acts for their own political ends.
Inventing a massacre in Bowling Green or a terrorist attack in Sweden barely scratches the surface of Trump and his admin's lies. Yes, a politician lying is so cliché it's a joke, but most of them don't lie about things that anyone with the internet can disprove by looking at an inauguration photo. This administration has been gas lighting the American public and indeed the world literally from the start.
The scientists are telling us that the president is lying. And they know. They're scientists. They've observed closely, done experiments, drawn up graphs, written articles, and those articles have been peer reviewed. Not anymore obviously, now the Whitehouse want to review scientific articles. Ironic considering even a mid-level employee can tell the Commander in Chief is unable to process information, unless he gets it from the TV, more specifically Fox news.
It is not normal for a president to get his news from only one place, let alone all of his briefings, updates and advice. His briefings now include the word 'Trump' as often as possible so he will read them. Really! That is the National security official's strategy to get the American president to read his own security briefings. Put his name in them because he's so into himself.
Most presidents have run the country from the Oval Office in the Whitehouse, Trump is running the country, badly, from Twitter where he thinks battling celebrities is just as important as major political issues. This is just not normal presidenting!
Business as usual is having some staffing problems, but name a president who has had over 1000 staff members sign a letter of dissent against him. It's usual for presidents to appoint qualified intelligent knowledgeable people to roles they are capable of achieving success in. Trump has a chief of staff who has said theirs were hired to destroy the portfolios they are in charge of, "If you look at these Cabinet nominees, they were selected for a reason, and that is deconstruction." That's a real quote from Steve Bannon.
Trump has fired the director of the FBI and the acting US Attorney General and everyone else involved in the investigation regarding his ties to Russia, (business as usual in Russia is to just kill everyone involved, so the Russian side of the ties have all dropped dead, but give Trump time, he's only learning from his comrade Vladamir Putin).
His relationship with Russia is the opposite of business as usual. The idea of the two nations getting along isn't the worst in the world; it's the idea of America becoming more like Russia, or Russian control of the US presidency that's the issue. Meddling in the 2016 election has had to be investigated. This is not normal.
Eisenhower was President in 1953 when the Doomsday Clock was moved the closest to midnight over nuclear testing done by America and the Soviet Union within 6 months of each other. With its movement in 2017 Donald Trump was directly credited for the dire warning because he thinks global warming is a Chinese conspiracy.
This is not normal people. Yes, we've had presidents who have denied evolution, and riled up the scientists (looking at you George Bush jr.), but 97% of scientists across the world believe in climate change, because of evidence. The whole planet is at stake, and Trump pulls out of the Paris Accord. Come on! Do not adjust to the new normal. This is not business as usual. Now is the time to panic.
DiChristopher, T. (May 23, 2017) "Hidden cost of Trump's $110 billion Saudi arms deal: support for 'endless quagmire' in Yemen." Retrieved from www.cnbc.com on June 5, 2017
Goodman, J. (January 30, 2017) "US travel ban: Why these 7 countries?" Retrieved from www.bbcnews.com on June 5, 2017
Holland, S., Mason, J. (May 17, 2017) "National security officials put Trump's name in their briefings as much as possible so he will keep reading." Retrieved from www.businessinsider.com on June 5, 2017
King, J. (June 18, 2017) "16 things that could get you executed in Saudi Arabia." Retrieved from www.vocativ.com on June 5, 2017
Stelter, B. (March 19, 2017)"Donald Trump: A Fox news president." Retrieved from www.money.cnn.com on June 5, 2017
Wheeler, L. (May 11, 2017)"Lawsuits piling up against Trump." Retrieved from www.thehill.com June 5, 2017
Andra Jenkin co-wrote Double-Edged Sword- The Simonne Butler Story, and contributed to New Zealand Anthology of Women's Comics 'Three Words.'