A hung parliament???
What a magnificent ending to an election that has shaken the foundations of British democracy to the core and has reignited the Left in a way no one in the mainstream punditry thought possible.
It told the world that when young people engage in the political process they can bring down giants.
WINNERS:
Corbyn: They wrote him off as a joke. They screamed he could never win. They attacked him every step of the way and they tried to undermine his leadership at every twist and turn, but Corbyn managed to pull off one of the greatest political comebacks in recent British Political history. He is the most popular Labour Party Leader of the last 40 years. His brilliance on the campaign trail mixed with a genuinely Left wing policy platform has done what almost every single political pundit promised he wouldn't, he robbed Theresa May of her victory. Fuck the haters, fuck every single one of them! Today is Corbyn's and he richly deserves his moment in the sun as the undisputed champion of the Left in Britain.

Labour: A Party that was polling 25 points down at the start of the campaign has now robbed Theresa May of her victory. The time to start eroding and undermining the Conservative Party is now and there has never been a better platform to launch a counter movement that will redefine the economic Left and challenge neoliberalism. There has never been a better day to join the Labour Party in the UK than now.

Young voters: With one of the highest voter turn outs in sometime, this election was reshaped by youth participation. It is a clear signal to the rest of the planet that when the Millennial and Generation Xers are convinced that they have been cheated by neoliberalism and that the free market offers them nothing other than debt and being reduced from a citizen to a consumer, they will find the fire in their belly and demand change. As Millennial wunderkind Andrew Dean points out…
The Left: Instead of waging identity politics wars, the Left in Britain managed to align behind an economically left policy broadchurch platform and it resonated with the working classes, students, pensioners, the middle classes and beneficiaries. Imagine if Bernie Sanders had been allowed to do that in America instead of the failure of Clinton. Imagine if we did that in NZ?

The Canary: One of the manifestations against the mainstream media bias against Corbyn was the creation of self funded activist media. The Canary was one such creation and throughout the election have stood strong with Corbyn's vision and they kept activists and supporters feeling connected despite the media assault on Labour.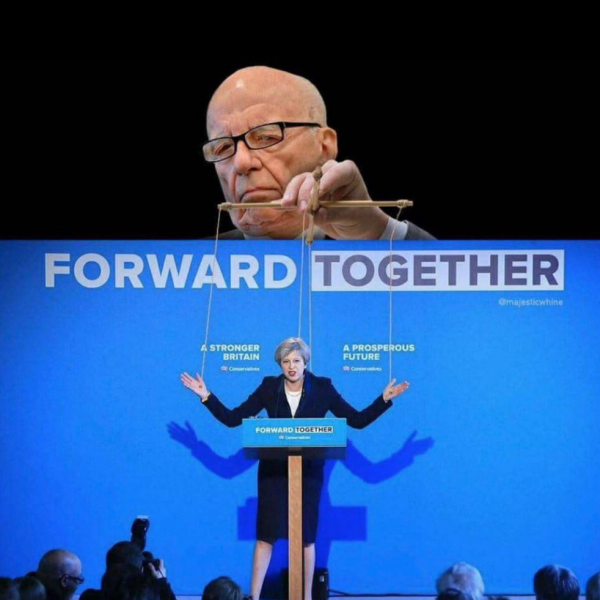 LOSERS:
Theresa May: She has failed. Utterly. The self interest of u-turning on her promise to see out the whole term was seen for what it was. Her terrible campaign and her decision to refuse point blank to engage with the electorate via debates left her damaged. She limps to form a Government with right wing Irish social conservatives and the entire rational for her going to the electorate in the first place is shredded as she attempts to negotiate Brexit.

Political Pundits: They all wrote Corbyn off. They all laughed at Labour's left wing manifesto. They mocked Labour supporters. They were all fucking wrong.

Right wing newspapers: These maggots that rot democracy were all proven wrong. Corbyn spoke beyond them via social media to a youth vote who refused to be written off on the scrapheap of history.

The Conservatives: They are a joke looking for a punchline.

The Guardian: With some noticeable exceptions, the so called left wing media in Britain all attacked Corbyn and wrote him off. Their middle class pretensions and left wing aesthetics didn't respect or like Corbyn. They agitated against Corbyn, consistently fed coup attempts and believed their own superiority and sophistry.

Centrist Labour: Those moderate scumbag Labourites who were privately plotting against him and were ready to launch leaderships challenges this week have to shelve their cancerous ego ridden ambitions to water Labour down and instead smile with shit eating grins their subservience.

NZ Labour and Green Party: When you consider the spineless 'we won't spook the bosses of neoliberal capitalism' surrender note Grant Roberston and James Shaw signed in order to look respectable to our Corporate Overlords, our political left is a million miles from Corbyn's policy dynamism and popularity. The warmed up cold grey gruel of Green and Labour policy in NZ compared to the 7 course Dégustation offered voters by Corbyn is obvious enough to force Labour and the Greens in NZ to buck up their ideas and actually start providing some radical policy rather than the safe crap they've been safely trying to bait us with so far.
Labour were 25 points behind when May broke her word and called for a snap election. She did this to increase her 17 seat majority to negotiate Brexit, she has ended up losing all her majority and needs a coalition with socially conservative Northern Irish politicians.
Somewhere Matthew Hooton, Ben Thomas and David Farrar are in a group hug sobbing.