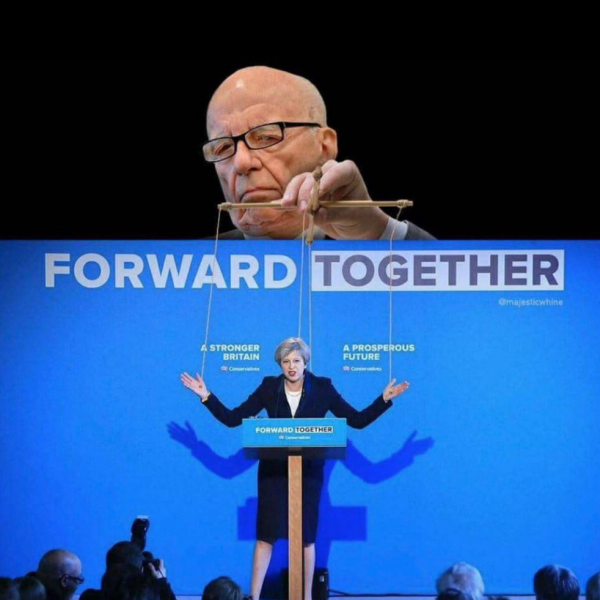 Unexpected electoral and referendum results have delivered the world Donald Trump, Brexit, Emmanuel Macron, and now, a victory in many terms, for Jeremy Corbyn, and his vision of British Labour and political options. The loss of Theresa May's clear Conservative majority has already rocked conventional assumptions, agendas and elites. The realm of the politically possible has been blasted open – because the electoral support for Corbyn doesn't just reflect a resurgence for British Labour, it has allowed a publicly popular discussion about a whole different political economy.
How inspiring and encouraging it is alone, that voters are using new campaign technologies to subvert traditional and conservative political systems to create prospects of system change. The mass mobilisation of voters through modern media channels and messaging increased turn out and Labour support.
Traditionally though major parties tend toward growing conservatism, a 'centre ground' that's increasingly actually shifting to the right. Especially since the Washington Consensus of the 1980s, political rhetoric has emphasised the TINA principle – There is No Alternative, to neo-liberal capitalist and financial solutions to economic 'problems'. Finally, with the rise of Jeremy Corbyn, there's a real leader, someone who isn't scared to offer a different solution, a real alternative.
Jeremy Corbyn has shown the courage of his convictions and been rewarded for them. Finally, here is an anti-establishment, anti-politician. Derided as 'unelectable', for his humility, his principles, his 'radicalism', by peers, the media, and the Government, he was predicted to be disastrous for the Labour Party. His moral defeat of Theresa May and the Conservatives is almost as good as a full electoral defeat. Some political analysts go so far as saying it was the election that was best Corbyn not win outright, for the political quagmire that is Brexit.
All the same, Corbyn has garnered the Labour Party the most electoral support since the previous peak of 2005 when a young Tony Blair swept to power. Promising progressive Third Way politics, Blairism turned out to be more of the same old conservative way – British imperialism, privatisation of state owned assets, stripping the welfare state, bailouts for the wealthy at the expense of the poor. The Labour brand seemed a misnomer, no longer a party of workers' rights or in touch with the common people. Now, British Labour is Europe's largest political party, with more than 500,000 members.
Bhaskar Sunkara, in 'Why Corbyn Won' in Jacobin magazine, adds that Corbyn persevered, through troughs in the polls and stabs in the back from his own party, to develop a 'real' alternative. That's what's so exciting, unlike the false 'left' of so many 'mature' western democracies, including our own, Corbyn's Labour Party vision authentically challenges capitalism's ownership and control. "Corbynism sees beyond the inherent limits of reforms under capitalism, discusses ideas that aim to expand the scope of democracy, seeks to expand the co-operative sector, to create community owned enterprises and restore state control of key sectors of the economy'. Corbyn's Labour 'sets the course for deeper socialist transformation in the future'.
In the Guardian, Owen Jones agrees, saying Corbyn's manifesto, 'offered hope and promise to genuinely reform Britain', to challenge (rather than indulge) vested interests, to eliminate injustices. He has had the courage to challenge entrenched military and defence narratives – unapologetically making the link between British imperialism and terror attacks at home. With that honesty, not without political risk (see accusations he is a 'terrorist sympathiser), he has tapped into a wider public sentiment against injustice, corporate greed, racism, militarism and war.
It was the substance of that vision, the detail behind the grand transformative hope, that probably got out the voters too. The promise to end tuition fees for students is being linked simply to the record turnout of young voters. More than a million aged 18-24 have registered to vote since the snap election was called on April 8. As if young people are just self-interested without capacity for making informed decisions on wider issues such as low wages, climate change, austerity or injustice. But policies such as an end to zero-hours contracts, a £10 minimum wage, more tax on higher income earners, and nationalisation of key public services such as railways and the energy market, take the Labour Party back to the values for which it is named.
Theresa May's austerity, and threats to reduce human rights protections to combat terrorism, reinforced the 'radicalism' of Corbyn's approach, even though the Conservative agenda is really the one that should be seen as deviant from moral norms. With Corbyn and his policy commitments, you got a sense that was more than just rhetoric. These were principles, that were worth sticking to, even if they raised ire of established elites, even if it alienated him from his party!
Corbyn puts his success down to this 'radical' vision for a fairer Britain. "People have said they've had enough of austerity politics, of public expenditure cuts, of underfunding health, schools, education …for not giving young people the chance they deserve'.
We've hoped that activated, motivated civil society could change the world, before. Remember the promise and hope of Obama, "Yes we can", and even relatively, of Blair? Capitalism still won't counter any challengers. Powerful elites in commerce, industry, the military and the media will be 'regrouping'. They've already started disowning losers (Theresa May, watch your back), and will no doubt continue their efforts to discredit 'Corbynism'.
The next few days and weeks will continue to be a fascinating new journey in uncharted modern politics, reshaping conventional political possibilities, discourse and relationships. This election may not have delivered clear cut change in government for Britain. But for the first time in decades, paradigm change is actually on the agenda, and posing a credible and popular alternative to the clear failings of the current system.