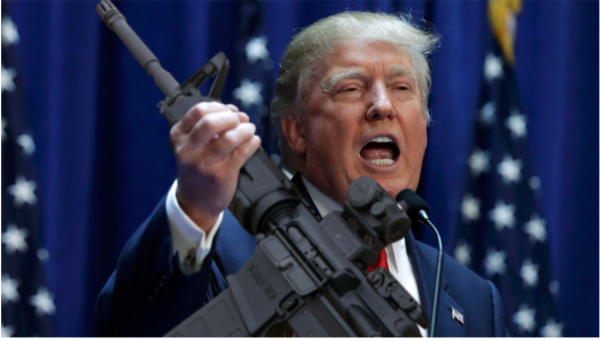 The current loop in liberal news media is that Trump is mere seconds away from being impeached for any number of the self inflicted mutilations the President has bewilderingly managed to find himself in daily.
I think removing Trump from office is a dangerous fantasy for a number of reasons.
The first is that it is highly unlikely to happen. You need to appreciate how difficult it is to actually remove a President from Office, it isn't a legal process, it is a political one…
In the US context, the framers of the Constitution set up the impeachment process to be a way Congress can remove the president from power.
First, the House of Representatives has the power to impeach the president. A simple majority is necessary for an article of impeachment to be approved (each article lays out a charge against the president).

Then the process moves to the Senate, where a trial will be held, with the chief justice of the Supreme Court presiding.

Finally, and crucially, it takes a two-thirds vote from the Senate to actually convict a president on any count. Conviction on any count would then remove the president from office and put the vice president in power.
…with the Republicans holding both Houses and the near impossibility of 67 votes in Senate, the simple political truth is that Trump won't be getting impeached anytime soon.
Trump took over the Republican Party by igniting an electorate of working class Nascar Dads, Wrestling fanatics and those left behind by free market globalisation. They have swamped the Republican Party and they will punish any Republican who is seen to be standing against Trump.
The second reason impeaching Trump is a dangerous fantasy is those very supporters. While we in our liberal media bubbles tell each other how awful Trump is and how stupid his supporters are, those supporters would go into fits of rage if Trump was removed by what they saw as a liberal media campaign.
Democracy only works when everyone agrees with the outcome, removing a President makes those who voted for Trump believe there is a conspiracy to invalidate their vote, that is incredibly dangerous territory to go into.
TDB Recommends NewzEngine.com
You do not want to give Deplorable's righteous grievance, that is a recipe for a violent civil uprising.
The third reason impeachment is a dangerous fantasy is that it once again lets the Democrats off the hook for selecting a deeply flawed candidate and doing sweet fuck all for the working poor they pretend to care about.
I despise and fear Trump, he is an arch manipulator of people's legitimate economic insecurities and while I certainly believe there are those like Bannon around him who have far reaching crazy plans, Trump himself is a one on one charming narcissist who is addicted to overblown praise and erratic attention seeking behaviour…
"theory of mind," a basic capacity humans develop around the age of 2 or 3 to recognize that other people are independent agents, distinct minds, with their own beliefs, desires, fears, etc. We learn to "read" behaviors as evidence of those internal states.

And because we are relentless pattern seekers, we are constantly developing theories of people, seeking to explain what they do through reference to their beliefs and plans.

This has badly misled us with Trump. Much of the dialogue around him, the journalism and analysis, even the statements of his own surrogates, amounts to a desperate attempt to construct a Theory of Trump, to explain what he does and says through some story about his long-term goals and beliefs.

We badly want to understand Trump, to grasp him. It might give us some sense of control, or at least an ability to predict what he will do next.

But what if there's nothing to understand? What if there's no there there? What if our attempts to explain Trump have failed not because we haven't hit on the right one, but because we are, theory-of-mind-wise, over interpreting the text?

In short, what if Trump is exactly as he appears: a hopeless narcissist with the attention span of a fruit fly, unable to maintain consistent beliefs or commitments from moment to moment, acting on base instinct, entirely situationally, to bolster his terrifyingly fragile ego.

We're not really prepared to deal with that.
…this clown will keep doing this shit because he can't help it. He's a gambler in a casino, an addict in a meth house, an alcoholic in a bar.
How do we cope and deal with such a flawed human being in the most powerful position on the planet? Long term the American Left desperately needs to learn how to reach out and bring the working poor over to their side and acknowledge that takes authenticity and genuineness, short term I have no idea, but attempting to impeach Trump must be the last option because the backlash amongst those who did vote for him could take America into a far darker place than where it is now.