Trump is removing all opposition to his insane policies, let slip he might have bugged the Whitehouse and is threatening to disallow media access and issue written responses instead.
The first investigator Trump fired after becoming president was Preet Baharara, former Attorney General for South District New York, who tweeted "I did not resign. Moments ago I was fired." Baharara was suspicious about the reason the latest Trump investigator, FBI Director James Comey was terminated.
This might be karma coming to bite Comey considering that he testified in a senate hearing that Hilary Clinton's aide forwarded thousands of classified emails, when in reality it was two, both of which had already been scrutinised by the FBI. He then reopened the investigation just days before the election, a move that almost certainly tainted the public perception of Hillary Clinton at a crucial time for her campaign.
This got high approval ratings for Trump at the time, who claimed the move 'brought back his reputation." But now the FBI Director is investigating Trump, so the way he handled the Clinton emails is cause to have him fired.
I wonder if Comey's kicking himself right now. Knowing that his actions helped skew perception of Clinton and get Trump elected. He didn't even get fired to his face. The man who built an entire show around firing people wasn't about to fire someone off camera. So the Director of the FBI found out he didn't have a job by watching the news, just like everyone else. He laughed, thinking it was a great joke. Nope. It seems like if ever someone should have the inside scoop, its man whose job it is to know things before the American public…wait…not anymore…nevermind. Maybe he wasn't brilliant at his job.
No one is buying that Comey was fired either for incompetence, or for the way he handled the non-issue of the Clinton emails. Trump fired James Comey because the FBI is investigating Trump over his ties with Russia and their influence over the American election. It's not confusing, or complex, it's a simple straightforward cover up only shocking because of how obvious and clumsy it is.
James Comey knows he was fired for investigating Trump. Kelly-Anne Conway knows James Comey was fired for investigating Trump despite saying it had "zero to do with that."
Credibility is hard to come by for Conway, remember, she is the woman who made up a massacre. But it's awkward for her flat our denial, because Trump just admitted he did indeed fire Comey over the Russia investigation.
Pence, who on Wednesday told Capitol Hill 7 times that Rosenstein (Deputy Attorney General), had recommended firing the FBI director, was embarrassed by his dictator, I mean leader soon after his lie. Because Trump was clear in his interview with NBC 'Regardless of the recommendation" Trump contradicted Pence, "I was going to fire Comey."
This speaks of a chaotic and disjointed Whitehouse administration, clueless about what the party line even is. A capricious leader, unaware of the ramifications of his actions or his words, who routinely let's slip information denied by his staff, who then look like fools in the face of that denial. Trump has no remorse or perhaps even awareness of what he's done, and certainly has no loyalty to those in the admin who lied for him, throwing them under the bus at the first opportunity.
But that isn't the only spin Trump is putting on the decision to fire the man investigating him, stating in an interview with NBC's Lester Holt, that he said to himself, "You know, this Russia thing with Trump and Russia is a made-up story, it's an excuse by the Democrats for having lost an election that they should've won."
Senate Minority Leader Chuck Schumer won the award for what used to be called stating the obvious, is in reality simply the truth, but under Trump's presidential rule is now considered political dissent and suicide. "If Rosenstein does not appoint an independent special prosecutor, every American will rightly suspect that the decision to fire Comey was part of a coverup."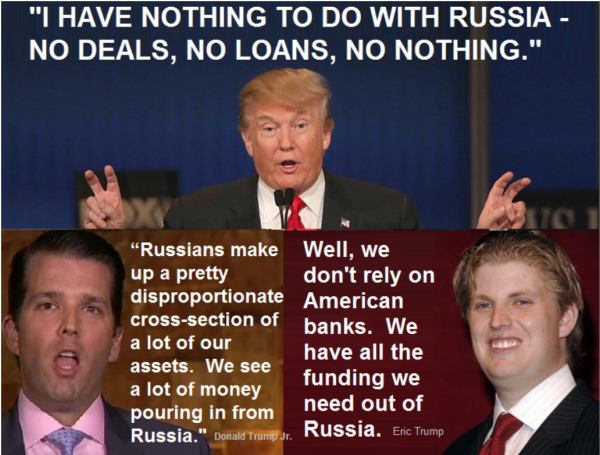 The list of those fired who knew anything of note about investigations into Trump's Russian connections stands at 3. Preet Bharara, Sally Yates, former acting attorney General and now James Comey. Less than the amount of those on the Russian side who died suddenly of heart attacks, head injuries, assassination, or natural causes (at 55 years old), I know of 7 so far. But give it time. Once Trump gets the hang of being a despot he'll get over the firing stage and start up the firing squad.
This is the phase of totalitarianism where the dictator weeds out opposition and finds out who is willing to follow him into the abyss. Who will tow the party hard line and who has a limit on what they will tolerate when it comes to corruption. The next phase looks a little harsher for Americans. This is the bit where you fall into line or fall over dead. This phase is notorious for its incarcerations, disappearances and deaths, deaths, deaths.
I really wish I was kidding. I really wish I was some crazy conspiracy theorist who was rabidly against all government or some such nonsense. Unfortunately I'm just going off the evidence of past behaviour, and determining what we can expect to see in the future. Death, its pretty much death.
But it's not just me drawing parallels between Trump and tyrannical leaders. At the moment the name being bandied about is that of Nixon, and that's no accident. Nixon's former Whitehouse Counsel, John Dean has weighed in.
When a CNN reporter said to Mr. Dean "You're saying that this is straight up a cover up by the Whitehouse." He replied.
"Indeed it is," he went on to say "When a Whitehouse leans on an FBI they're in a cover up mode." And he would know, he went to jail for his part in the Watergate scandal and cover up. But the parallels did not end there.
You read that tweet correctly. Trump implies that there might be 'tapes' of conversations to between himself and the former FBI Director. While I am dead keen on listening to that audio, it does highlight an interesting situation in the Whitehouse. That it's bugged. By the President. That's right. If there was ever a comparison to be made with Nixon, it's now, because it appears the President has bugged the Director of the FBI. Please let that be illegal, and if not, why not?
As usual Sean Spicer is left flailing in the wake of a tweet that shocked the world. He wouldn't deny that the President had tapped meetings in the Whitehouse, refusing to answer questions on the subject. Perhaps Spicer has finally grasped the depths to which Trump will sink, and that the best defence against his dark arts is to say nothing. He certainly can't say anything good.
But Trump's answer to questions he doesn't like is to make them go away.
Because we all know how media shy Donald Trump is. This is dictator 101, disallow access by the media. Spicer was left to deal with reporters collectively very interested in this development. He couldn't assure the media that they will have continued access to their president. Because as Trump told his pet Fox "We don't have press conferences." We? Spicer must be thinking. Trump replied to the reporter. "Or unless I have them every two weeks and I do 'em myself, we just don't have them. I think it's a good idea."
Jacobs, B. (May 12, 2017) "Sean Spicer refused to deny that Trump is taping Whitehouse visitors." Retrieved from www.theguardian.com May 13, 2017.
Jacobs, B., Borger, J., (May 12, 2017). "Trump threatens ex-FBI head Comey with possible 'tapes' of conversations." Retrieved from www.theguardian.com May 13, 2017.
Lind, D. (May 11, 2017) "Read James Comey's farewell letter to the FBI" Retrieved from www.vox.com May 13, 2017.
McBride, J. (May 10, 2017). "List of people so far Trump has fired as president." Retrieved from www.heavy.com May 13, 2017.
Murphy, B. (May 9, 2017) "Appoint special prosecutor, top senator says, or Americans will suspect Trump 'coverup'. Retrieved from www.mcclatchydc.com May 13, 2017.
Prokop, A. (May 13, 2017) "Trump has now admitted he fired Comey because of the Russia investigation." Retrieved from www.vox.com May 13, 2017.
Andra Jenkin co-wrote Double-Edged Sword- The Simonne Butler Story, and contributed to New Zealand Anthology of Women's Comics 'Three Words.'