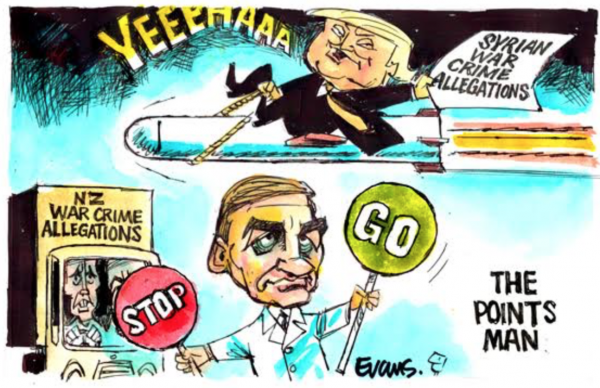 Are you kidding me?
Are we really this simple to allow Bill English to trash the ethical beliefs of Sonny Bill Williams to distract from questions about war crimes committed by his Government?
Yes, apparently we are, rather than investigate the lies of the NZDF and this PM in covering up those lies, here is what will dominate the bloody news cycle for the rest of the week, Sonny Bill Williams stand against banking…
Rugby: Prime Minister Bill English slams SBW sponsor snub

Prime Minister BIll English has weighed in on Sonny Bill Williams' decision to cover up a bank sponsor's logo during a game, saying it's hard to understand why one player would act differently to the rest.

Williams put himself back in the news by taping over the BNZ logo on his Blues jersey in his Super Rugby comeback on Saturday night.

It's been seen as a religious stand by Williams, a Muslim, who was playing his first match in the 15-man game since the 2015 World Cup final, after recovering from a ruptured Achilles tendon suffered at the Rio Olympics sevens.

Asked about it this morning, English reluctantly weighed in.

"It is hard to understand that one guy has to behave differently than the rest," he told Newshub. "I don't understand all these professional contracts, but if you're in the team, you're in the team.

"You wear the team jersey … but they'll sort it out."
…the fact that the Prime Minister of NZ can't possibly comprehend another human being having an ethical position different to his should be focus of this story.
TDB Recommends NewzEngine.com
A leader who can shrug and go along with a missile strike on a sovereign nation with bugger all evidence lecturing others about their ethical stands while hiding war crime allegations is about as much hypocrisy as I can tolerate in one statement.