Britain's surveillance agency, the GCHQ has denied wiretapping for Obama with their spokesman saying the allegations are nonsense.
President Trump (did you cringe?) is sticking to his nonsense, claiming Obama wiretapped him in his golden shower, sorry, tower. Once he's made something up, he believes it. Dirty mouthpiece Sean Spicer says "He stands by it," and of the Senate Intelligence Committee report, claims "they're not findings". What does he think they are? Lostings? As in the president has lost his mind.
The GCHQ is telling us to just ignore the claims the president is making. "They are utterly ridiculous and should be ignored." This is problematic, because it puts me in the uncomfortable position of completely agreeing with a spy agency.
I'm not the only one, (skim over this bit, it's a list of important people who know the wiretapping never happened and have said so) former President Barack Obama, James Clapper, who was the Director of National Intelligence, the director of the FBI, James Comey, ex-CIA Director John Brennan, Devin Nunes, the chairman of House intelligence committee, John McMain, House speaker Paul Ryan, and the former Whitehouse Chief of staff Denis McDonough all agree, the wiretapping that Donald Trump alleges, never happened.
So why not just ignore a flaming looney that makes up silly stories about a former president. There is some part of all of us that just wants to roll our eyes and move on. We know he's lying, we know this mad stuff isn't true, so why get so upset about it?
Because he's the freaking president of the United States that's why! He should be held to account for the things that he says and does, and just because he's operating at the capability level of a reality TV star, and not an actual president, doesn't mean that that isn't where the bar actually is. He is the president, and the job he's doing as president is the one we are measuring, and Donald isn't measuring up. I for one want to keep those feet to the flames. And the dead ferret on his head can burn too.
So no, I don't think these stupid lying false allegations should be completely ignored. I think the president should be sued for slander at the very least. In my opinion its treason, but I'll take slander.
Meanwhile in the most important world events that Trump makes sure he stays abreast of, the news about stars, the president has had his poor sore feelings hurt by Snoop Dogg. Despite smoking more weed than most college fraternities, unlike the American President, Snoop Dogg does know when he's keeping it real.
The rapper parodied President Trump in a music video.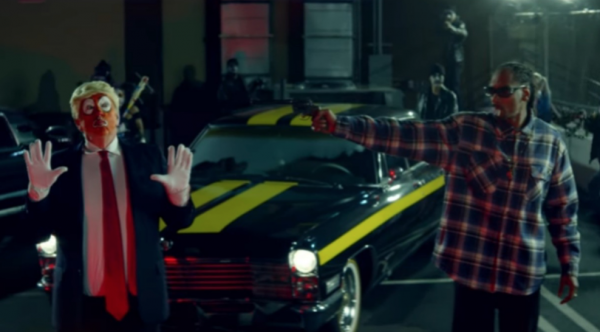 Unable to tell the difference between himself and the actor, Trump got his knickers in a knot, thinking he might get shot.
He didn't aim or fire a gun at you Mr. President. He aimed and fired a prop at an actor dressed as a shiny orange clown in a bad toupee but we can see why you got confused. If that actor were to run for president next time around we will all vote for him over you. It seems Donald Trump just can't tell the difference between what happens in real life and what happens on television.
Michael Cohen, the president's personal lawyer said "Snoop owes the President an apology." In possibly the most ironic quote to come out of the Trump presidency so far, Cohen said of Snoop's video that "He has to learn that they need to respect the office of the President."
I keep thinking that maybe Cohen was talking about the Whitehouse administration, but apparently he felt Snoop's parody was less respectful of the office than the following words and deeds the Trump administration meant seriously, any one of which brings the office into disrepute, but which together are so supremely idiotic, that we've blocked out most of them already.
Real things that Trump and his administration have really done in real reality, REALLY!
Instituted a ban on people entering the United States from 7 countries, despite no- one from these countries having killed anyone on American soil
Fired Sally Yates, Deputy Attorney General when she said her staff should not enforce the travel ban as it was illegal.
Greenlit the Dakota Access and Keystone pipelines (one of which he's an investor in, the other he may still have holdings in).
 Reinstated the anti-abortion global "gag rule," This will of course increase unsafe abortions worldwide.
Put a freeze on federal hires
Escalated tensions with China
Escalated tensions with Iraq
Told the President of Mexico he would send U.S. troops to deal with the "bad hombres" down there.
Saying America should steal oil
Began repealing the Affordable Care Act with nothing to replace it
Putting gag orders on government agencies, scientists, anyone who might read, your mother, people who think, everyone in his own government
Said he could grab women by the pussy
Filled the swamp with more wall street swamp monsters
Assigned Steve Bannon to the National Security Council
Appointed people to cabinet who would dismantle the institutions they head
Described a woman wanting to express breast milk for her baby as "disgusting."
Promised to build a wall along the Mexican American boarder that Mexico would pay for
Actually started building a wall along the Mexican American boarder, than Mexico is never going to pay for
Mocked a disabled reporter
Said "I've said if Ivanka weren't my daughter, perhaps I'd be dating her."
Gave Senator Lindsey Graham's personal phone number to the entire world.
Said Senator John McCain wasn't a war hero because he got captured
Threatened Chicago with martial law
Wouldn't shut up about Hilary's emails (though she was cleared 6 times) while Bannon, Kellyanne Conway, Sean Spicer and Jared Kushner all use a private system for their email accounts.
Said "You know, it really doesn't matter what the media write as long as you've got a young, and beautiful, piece of ass."
This is not even all of the things. There are literally hundreds, maybe thousands of things. These are just some of the insane, stupid horrible things that bring the presidency itself into disrepute.
Then there's the made up things. The things that this president and his administration just make up on the fly because who has time to find out the truth when you're busy presidenting already? The areas in which he or his administration made up stuff and stuck to the pretend version in the face of actual evidence include, but are not limited to
The number of people who turned up to his inaugural address. (Obama's was bigger).
Said Obama wiretapped his tower.
Sean Spicer claims a five year old handcuffed at Dulles Airport could have posed a security threat
Trump says the ban was going "nicely" despite massive protests
Denying climate change and removing all references to it from the Whitehouse website
Said there was a terrorist act in Sweden that never occurred
Kellyanne Conway made up a massacre in Bowling Green that never happened
Claims autism is caused by vaccines
Deciding some pretty extreme stuff about Mexico, with no evidence by saying "When Mexico sends its people, they're not sending the best. They're not sending you, they're sending people that have lots of problems and they're bringing those problems with us. They're bringing drugs. They're bringing crime. They're rapists…
Saying "Any negative polls are fake news, just like the CNN, ABC, NBC polls in the election."
Said Mexico would pay for a wall along its border with America
Saying the media were an opposition party to the government
Said that Barack Obama's birth certificate was a fraud
Calling Judge James Robart a "So called judge." No Donald, he's a real judge, got the degree and everything.
No it won't Donald. It's a legal order.
Denied Russia had meddled in the American election on his behalf
Said there had been election fraud on the part of the Democrats
Claiming a raid in Yemen that took the lives of a US commando and at least 15 civilians including children was a success.
This was the tweet Trump sent out the morning after navy SEAL Ryan Owen's death.
Because when a man you ordered to shoot a bunch of people in a foreign country dies, you've got to send somebody to buy a newspaper.
"My IQ is one of the highest — and you all know it! Please don't feel so stupid or insecure; it's not your fault." (Clearly delusional)
Said "All of the women on The Apprentice flirted with me – consciously or unconsciously. That's to be expected." (Even more delusional than the last thing)
Said "Number one, I have great respect for women. I was the one that really broke the glass ceiling on behalf of women, more than anybody in the construction industry." (there is not enough eye-rolling available to cover this amount of delusional)
The hardest thing about writing about Trump is fact checking. Sometimes there are none. Sometimes what he says seems so insanely stupid that you spend hours determining whether the words were a comedian's parody, a troll's insult, or the actual words of a man who has access to nuclear codes. Sometimes it feels like all three. I am not kidding. I cannot tell if any of the things she says are true or not without getting it verified from at least three sources. Are we all being collectively punked? I still cannot believe that this man is really president.
But there is one thing I agree with President Trump on right now.
"One of the key problems today is that politics is such a disgrace. Good people don't go into government."
Here's the usual list of references. "54 Crazy Things Trump did Last Week" was a particular eye-opener.
Craw, V., (March 16, 2017) "President Trump lashes rapper Snoop Dogg over controversial video." Retrieved from www.news.com.au March 17, 2017.
Holloway, K.,(January 28, 2017)"9 terrible things President Trump has done in just a week" retrieved from www.salon.com March 17, 2017
Kopan, T., (August 31, 2016) "What Donald Trump has said about Mexico and vise versa." Retrieved from www.cnn.com March 17, 2017
Platon, A., (March 16, 2017) "Here's Every Artist Who Has Defended Snoop Dogg's Trump-Referencing 'Lavender' Video." Retrieved from www.billboard.com March 17, 2017.
Reed, B (July 24, 2015) "The 5 most awesomely stupid things Trump has done in just the last 5 weeks". Retrieved from bgr.com March 17, 2017
Sollenberger, R., (February 7, 2017) "54 Crazy things Trump did last week." Retrieved from www.pastemagazine.com March 17, 2017
Staff Reporter (March 3, 2017) "Senate intelligence panel rejects Trump wiretap claim". Retrieved from www.bbc.com March 17, 2017
Staff Reporter (March 3, 2017) "Britain's GCHQ agency denies wiretapping Donald Trump". Retrieved from www.bbc.com March 17, 2017
Staff reporter (March 16, 2017) "Yes the President of the United States really has said this." Retrieved from www.marieclaire.com March 17, 2017
Andra Jenkin co-wrote Double-Edged Sword- The Simonne Butler Story, and contributed to New Zealand Anthology of Women's Comics 'Three Words.'