Hahahahahahahahahahah – hungry children and lots more homeless – hahahahahahahahahah 
The numbers are devastating and an indictment on what National calls its welfare reforms.
• seemingly entrenched rates of child poverty and child abuse
• the burgeoning incarceration rates of prisoners, along with high recidivism rates
• an alarming lack of safe, affordable housing that has resulted in a level of homelessness not seen in New Zealand in the lifetime of most Kiwis.
Where National claim they have had successes, there are only more questions.
Most of the 'reductions' are because Government agencies have played around with how they count these problems…
The number of confirmed cases of child abuse or neglect has fallen by almost 22% over the past ve years to 16,394 (almost the same as the year before). This recent decline is due to Child, Youth and Family changing its practices and de nitions. There is no evidence that recorded violent offences against children have fallen over this period however.
…and declines in youth prosecutions has more to do with Police desperately turning a blind eye to anything that is going to clog up the courts and place even more people into our groaning prison system.
TDB Recommends NewzEngine.com
As for the 50 000 children National have thrown off welfare, no one knows where they are or what they are now doing. Bill English trumpets dumping 25% of sole parents off welfare without knowing where they are now as a triumph. All National have perfected are neoliberal welfare agencies who delight in cutting off benefits for any reason they can.
This isn't victory, it's merely hiding the problem, that's the reality.
212,000 New Zealand children (20% of under 17-year-olds) live in income poverty. That's not winning, that's losing, terribly.
The Monster of our prison empire fed by a corrupt mainstream media and tough on crime Politicians is a disgrace.
The proportion of convictions resulting in a prison term increased from 9.6% in 2010/11 to 11.3% in 2014/15, and to 12.1% in 2015/16.
In inflation-adjusted terms, the average cost of keeping a prisoner in prison has risen from $86,700 in 2010/11, to $91,000 in 2014/15, and in 2015/16 to $92,800.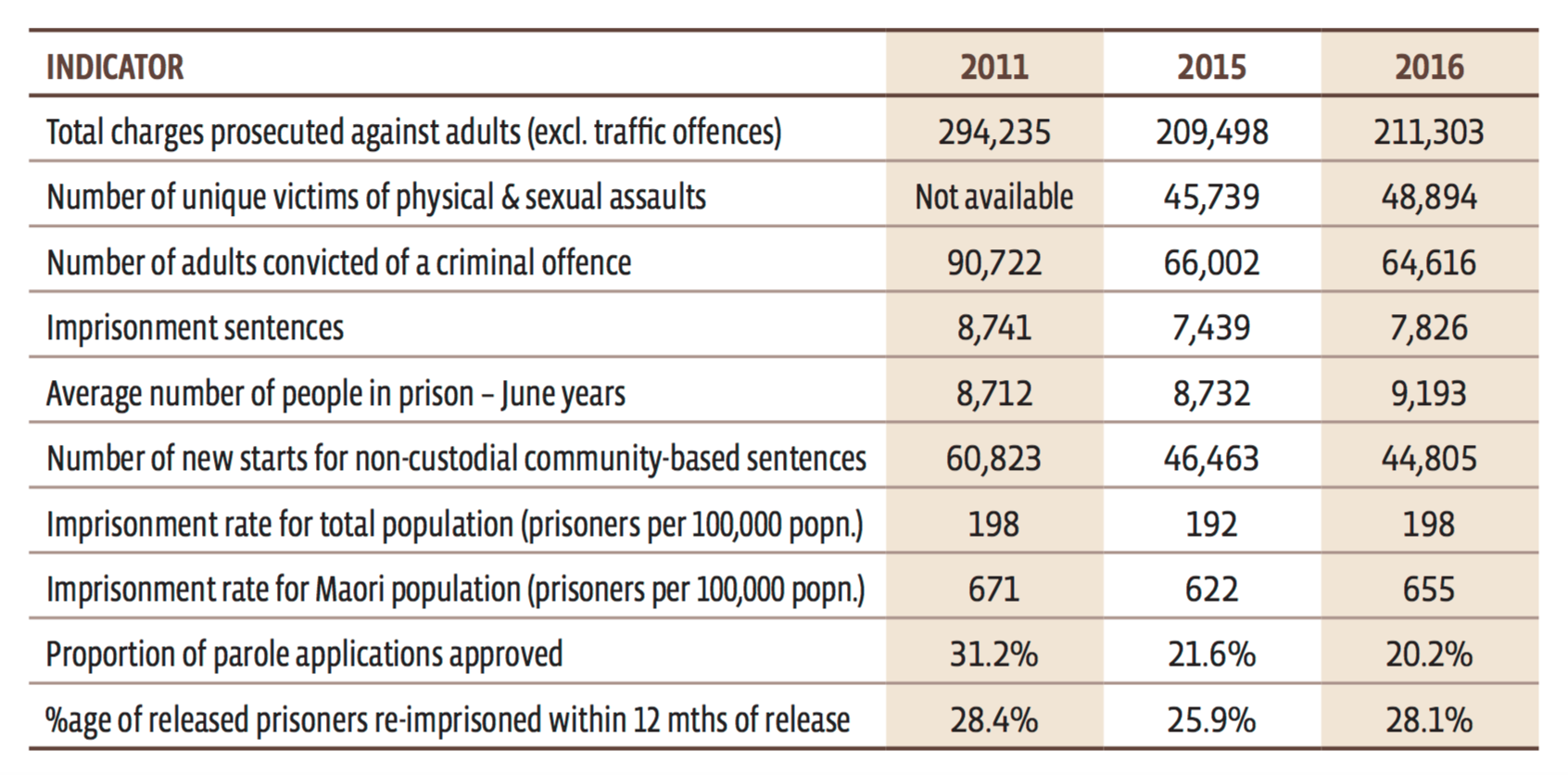 Income growth is going now where.
Despite strong job growth, unemployment fell by just 1,000 people during 2016.
Wages and salaries for employees rose by 1.8% during 2016, but by almost 10% in in ation-adjusted terms over the past ve years.
The number of people receiving working-age bene ts declined by just over 4,000 to 297,000, while the number of people being paid a retirement pension rose by 26,000.
As for housing, it's a disaster.
Almost 10,000 consents for new dwellings were issued in Auckland during 2015/16— the highest in 11 years. At the same time, the region's population grew by 45,000 people, further adding to its housing shortage, which is estimated at more than 18,000 houses over the past ve years.
Rents continue to rise faster than wages and salaries. In December 2016, it took 12.9 hours of pay at the average wage to afford the average rent—0.5 hours of pay more than a year earlier.
Average household debt rose 6.7% during 2015/16 to $144,400, while total household debt reached a record-equalling 96% of GDP.
After 9 years of National, most have gone no where and the wealthy have benefitted.
Will it change?
Only if the property market pops.
National needs the property bubble, it keeps pushing up values and makes property owning NZers feel like they are multi-millionaires. Middle class NZ have been taken hook line and sinker with this and are happy to allow mass surveillance, 220 000 kids in poverty, 41 000 homeless and unethical political behaviour to ensure they can still get a gold credit card from their bank.
Property owners don't care about those who have lost out, the millennials just want the same property speculation rights as boomers and the rest are left to sleep in cars.
This only changes when the market pops.