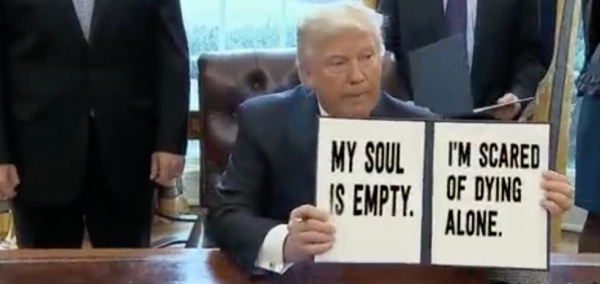 This orange Nazi's blitzkrieg of far right policy can be  barely kept up with.
His assault on women by limiting abortion, his detention of Muslims, his building of that fucking wall and his attacks on the environment and science. The bewildering anger and fury he is manipulating for political ends is truly frightening.
Now it looks like Trump is coming after the LGBTQ community.
An executive order from President Donald Trump opening up discrimination against the LGBTQ community on the basis of religious belief is expected sometime this week, possibly as soon as today.

Several sources spoke with LGBTQ Nation on the condition of anonymity who have told us that the order will allow for discrimination in a number of areas, including employment, social services, business, and adoption.

From what we've heard, the executive order could be far-reaching, and could include: making taxpayer funds available for discrimination against LGBTQ people in social services; allow federally funded adoption agencies to discriminate against LGBTQ parents; eliminate non-discrimination protections in order to make it possible to fire federal employers and contractors based on their sexual orientation or gender identity; and allow federal employees to refuse to serve people based on the belief that marriage should be between a man and a woman, and that gender is an immutable characteristic set at birth, which would impact a broad range of federal benefits.

The order is expected to come in the packaging of so-called "religious freedom," which argues that someone's religious beliefs should be enough to prevent them from having to provide goods and services to members of the LGBTQ community if doing so would conflict with said beliefs.
…every day that passes, Trump's authoritarian regime and power grows.
America is in terrible danger and anyone who still thinks Trump is some type of saviour because he's not Hillary Clinton need to have a long hard look at their values.