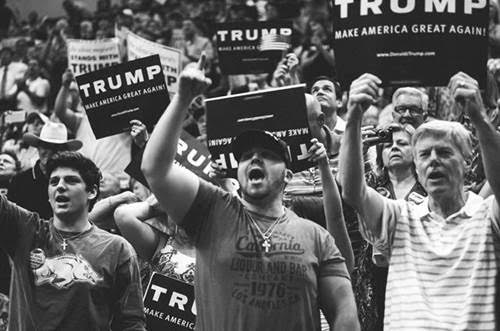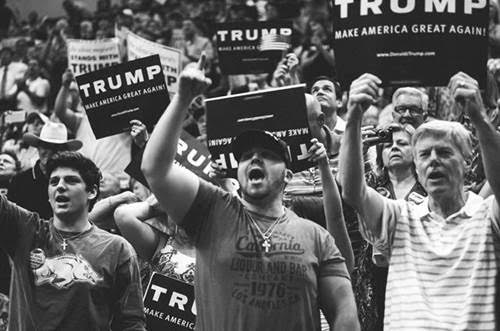 LAST FRIDAY, on the Seattle campus of the University of Washington, a Trump supporter shot a Trump opponent. The (non-fatal) shooting took place during a violent protest against the presence of Milo Yiannopoulos – the tech editor of Breitbart News. Violence erupted after Yiannopoulos's opponents formed a picket-line and physically obstructed the Alt-Right commentator's followers from entering the auditorium where he was speaking.
In a nation where "the right to bear arms" is constitutionally protected, it can only be a matter of time before such clashes escalate into a ferocious firefight – and fatalities.
What happens then is all-too-easy to predict. President Trump will denounce his political opponents as enemies of free speech and democracy. Federal, state and local law enforcement agencies will crack down hard on anti-Trump agitation. More ominously, the President's most vociferous supporters will militarise themselves into special protection squads. Presented to the American public as "self-defence" organisations, the actual purpose of these goon squads will be to intimidate and/or terrorise progressive individuals and groups into silence.
Thus will President Trump pay homage to his mentor Vladimir Putin – whose use of "patriotic" organisations (often comprising a hard core of former soldiers and secret policemen) to shut down his political opponents is well documented. The appearance on American streets of an aggressive political militia will be the strongest proof yet that the United States has fallen under the sway of a fascist regime.
TDB Recommends NewzEngine.com
The arrival of these political thugs will force Trump's opponents to make a choice. Either: fall quietly into line with the new realities of American political life. Or: put your own personal safety (not-to-mention the safety of your friends and family) at risk by continuing to speak out against the policies of the Trump Administration.
This choice will likely be an urgent one for members of the journalistic profession. If the Putin comparison holds true, it will not be long before at least one reporter, columnist or blogger pays the ultimate price for exposing the sins of Trump and his supporters.
If fearless journalism leads directly to murder, as is currently the case in the Russian Federation, America's editors will feel torn between the duty-of-care they owe to their employees, and their democratic duty to defend freedom of expression. Their decision-making will, almost certainly, be simplified by their publishers, America's huge media corporations, making it clear that the shareholders' dividends (and the CEO's bonuses!) are not to be jeopardised by Quixotic editors sanctioning crusades to rescue the First Amendment.
With the consequences of opposition clearly evident to the by-now-thoroughly-cowed news media, Trump's people will invite the Fox News Network to assume the role played by the state-owned broadcasters of the Russian Federation. Fox will receive the Administration-approved editorial line on matters political and cultural, and all the other mainstream media organisations will be expected to follow its lead.
The quiescence of the American working-class during any such period of political co-ordination will likely be secured by the Trump Administration's skilful co-optation of the American trade unions. Already, Trump has received praise from the leader of the US trade union movement, AFL-CIO President, Richard Trumka, for nixing the Trans-Pacific Partnership.
Trumka hailed the President's actions as "just the first in a series of necessary policy changes required to build a fair and just global economy."
Further union backing is to be anticipated as Trump ramps up his "American jobs for American workers" infrastructure programme. Few union leaders – and especially not the leaders of the steelworkers, auto and construction unions – will be willing to kill Trump's golden, job-creating goose by standing in solidarity with the environmentalist and Native American opponents of the controversial Keystone XL and Dakota Access oil pipelines – both of which were restarted today (25/1/17) by Executive Order.
As anyone familiar with the last 50 years of American political history will attest, any eruption of American fascism was certain to feature an angry, white, working-class complexion. Ever since 1968, when all those furious blue-collar "Hard-Hats" marched off their New York construction sites to beat up defenceless anti-war student protesters, a cross-class alliance of White Christian Americans exposed itself as the most likely vector of American fascism. Nixon recognised it. Reagan primed it. Trump has set it in motion.