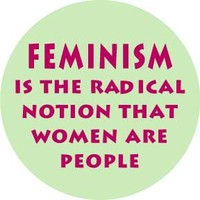 I wish I had recorded the long conversation I had this morning with an old acquaintance in the performance industry who was following my thread on face-book about feminism, and felt moved to give me a call.  He is a comedian.
He seemed to be making a concerted effort to be congenial, and he tells me that he has a degree in politics and that he gets a lot of flak from people who attack him when he talks about issues like this.  He wants to talk about the need to start again, – to refresh and for me to not be an angry left extremist.
The first time I met this person, he understood that I was a poet.  It was in the bar Bodega in the 90's once.  "I'll tell you a poem he said, and you tell me a joke".  
"Alright", I said swigging on a beer, "fair deal".  
TDB Recommends NewzEngine.com
So he put his hand on the underneath part of my inner thigh and held it there, and looked at me and said: "Now".  
Without flinching, I leaned closer to his ear and said:   "Gag".
He removed his hand and we never really got matey after that.   For many of my relationships with guys, sadly that is as good as it's going to get.  Because the impetus to forge a relationship of any kind in the first instance had to subjugate a power of some kind that was outside of my intention.  In plain speak, because he felt that I might not like him, he thought he'd do something invasive, thus confirming that I wouldn't like him.   I am always open though to bettering communication with our tane, and I have always had loads of excellent men friends who are astute communicators and feminists, and have political nouse.  But there are always those ones who put up the divide. That all operates on a spectrum.

Cut to twenty years later, and this person has rung me for a phone conversation.  He is part of a flurry of men friends and acquaintances who are contacting me online and on the phone, to talk about feminism.   Because I said I am a feminist.  On facebook. Because I mocked Paula Bennet for sometimes being a feminist, and Bill English for saying he didn't really know what that means.  Most of the men and women contacting me are saying that they are also feminists.  
That's basically the gist of it, and this guy on the phone seems to be congenial but his words do not follow a very thorough logic.  "Extreme lefties are nutcases" He spills over, "They're mentally ill" "They just want to attack attack attack without listening.  I think what has happened, is that Trump has allowed men to finally feel empowered enough to actually talk about this kind of thing.  You know I think that if I was in America, I would have voted for Trump, weird aye?" and  "I would prefer a word like humanism.  To Feminism.  Because it's not divisive…"  and so he went on.  
"Women want equality? -they've got it. They've already got it."

The most important response to this is that, well, we are feminists in a universal sense.  Within feminism there are factions, and differing ideologies, but we are still feminists under a simple term with a definition. There might be a greater level of fiscal equality in some parts of society, but not in others.  There may be a great progress in some facets of life in this country, but not in another country.  The ignorance or rather resilience against learning in this regard is astounding.  We have horrifying abuse stats let alone fiscal inequality.  I have seen a young Polynesian girl in Queen street giving prices to a prospective client aged about 13, I've seen that myself.  I have seen women broken by expectations that they should be able to cope on a benefit and manage a court case while working full time and try to win their infant child back that has been taken from them on false grounds.  YES I HEAR YOU MENS RIGHTS GROUPS.  There are stories of abuse of men as well, but at the moment we are talking about women, and the point I am making is that as women we are experiencing it beyond and inside the stats. I have intervened in assault, rape and helped women who are suffering financial entrapment.  This is not because I have some kind of women-in-trouble magnet, this is the truth of the women I know, unless they come from quite cloistered backgrounds.  My flatmate was attacked last year, another friend is escaping a violent marriage, this just touches the surface, and these are just the recent ones that have touched on my life unexpectedly.
"I'm a stats man" he says.  
Yes the stats.  Yes you can collect data and reform it and manipulate it, and like politics there is not one simple gradient by which you can measure the abuse stats of men against women, it fluxes and shifts according to data by which you measure it.  But instead there is a gender gradient for different contexts, and there are many threads to the political gradients also in different contexts.  Also feminism applies to enabling minority groups and enforcing rational egalitarian politics around infrastructure so the stats are rather 'us and them' for want of a better term to describe it.  
Extremism can apply to fiscal matters; education; the workplace; the military, so you can exist with a whole bunch of different left to right wing positions on a gradient you see? Same for gender.  It's about the context and the issues that are in question.
Quantifiable data, all rotates around abuse.  Abuse is also existent in unquantifiable forms.  Waging a battle about whether men are abused or not is a very real interest, but it's not feminism.  Feminism does not negate the interests of men who are abused and hurt by women or men or the state.
When we say we are feminist, we are thinking of others not only ourselves.  We are thinking of men, women, children abusers and abused.  We are thinking of human-trafficking, murder and solo parenting, sexual abuse and structural abuse, and wealth inequality and warfare and we are fully aware that in having all these discussions that there is something dreadfully wrong with this picture.  
Abuse is not selective, but it relates to power structures, and power structures relate to gender discrepancies.  We are all in this together, and we are trying to change the world for the better.  So we must be always looking to learn more around complexities of language.  I believe that we must dedicate ourselves to learning, and as adults to protecting learning.  Children need to learn to work consistently with a critical approach.  They need to learn to reason.  I personally believe that teaching about prejudice belongs in year 5 and 6 education.  It's not about taking sides.  It's about reasoned inquiry.
The word feminism is fine.  There is nothing wrong with it.  There's no reason for anyone to try to sway language and change the word because they think feminism hasn't worked.  The arrogance of simply deciding that the word should be put out of use is astounding!  

Yes, feminism may carry quite different connotations to different people. Feminists may disagree with each other and they may even vehemently deny others the title, like 'Democrats' or 'Christians' or 'Journalists', these umbrella terms will always hold factions within.  It doesn't mean that we should get rid of the word democracy, because it's "not working"!
The language that another face-book friend has used in response to my status update gives a perfect insight to the mentality of some people who are layering and associating feminism with other fear related meanings, (albeit usually hidden, or suppressed). The meaning of the word feminism is to do with equal rights. That women should be paid the same, respected the same, and afforded the same other rights as men under the same circumstances. 
I quote my friend here, who seems to think feminism represents an "evil" threat that "demonizes good men" and the espousing of feminism akin to "forc(ing) someone else to be on your platform" which is "a form of rape" believing that you are "a gender" and "not a soul" and please note my friend otherwise agrees with me that we need to move forward progressively without division.  
Unbelievably this language is suggestive of some of the religious devilish accusations cast against witches hunted and burned in the 17th century. That the simple mention of the word feminist should trigger these accusations and hysterical descriptions is astonishing and a little alarming to me.
We are not in the 17th century. The sirens and succubae are in the art gallery and history books, and women are not trying to hurt men by declaring feminism.  They really are not.  So we must attend to that simple thing…  where is the division coming from. Where?  Who?  Are we in agreeance that we should operate by focusing on context and issues, with less division? well yes.  If we have a social conscience, yes.

At first I was suspicious of Bill English throwing this word out to the dogs to let them have a really good divisive worry about it.  But now that I am recognizing a contemporary milieu in which men are feeling loudly able to talk about their feelings (possibly thanks to Trump as was suggested), I think I would like to congratulate Bill English for being honest.  For bravely giving a very honest answer. (It's not to do with finances after all).   And it turns out that many people like him did not, (at least a couple of days ago) actually know what feminism means.  It turns out that the prime minister and his deputy may be representing thousands upon thousands of New Zealanders who also didn't know what it meant, and were too afraid to ask a dictionary.  Like Professor Lupin's Boggart that becomes your deepest fear when it is released from its box, English may have thought Feminism was an apparition in hob nail boots and flourishing a bill of rights with a ballpoint and unpresidented glee.  Now however, with love, and a great desire to foster better and less fractious communication between all genders and all political parties and all countries and cultures and especially in time for Christmas between all the members of my own family, we can all know what feminism is, by eliminating all that it is not, and just looking at its definition:  
The advocacy of women's rights on the ground of the equality of the sexes.
Sure, you should still have lots of conversations about what to do about it, and how best to further a humanist interest in advancing personal learning international diplomacy and in navigating the media, but as all the men who are so quick to contact me all strongly point out, they want to be advocate to women's wellbeing and don't want to be divisive and aggressive, and they don't want to hold an extremist view without a substantial rational philosophy, and to just attack attack attack…
So I think I can conclude that we're all in agreeance.  Of course I would love to hear some of our very public people saying so.   

Happy Christmas.