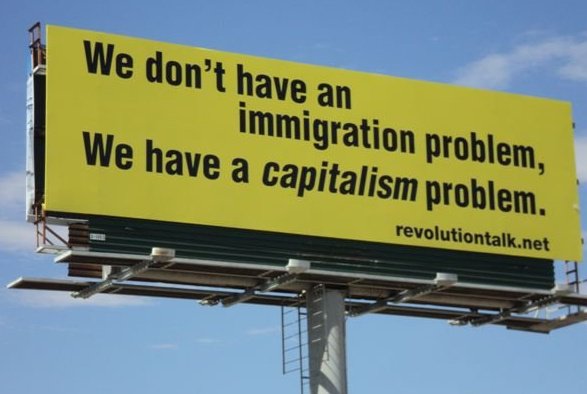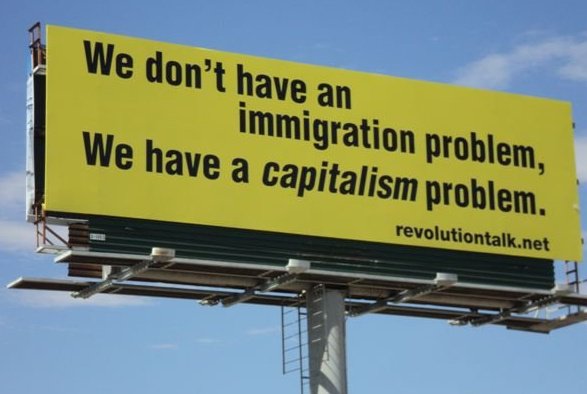 Elite liberal opinion on Twitter in NZ (mostly from Wellington and the Wellington Twitter clique) snarls at any suggestion whatsoever that we need to urgently dismantle National's horror immigration policy.
That snarling and claims of xenophobia need to be seen for what it is – idealogical wankery.
The same snide elite liberal opinions didn't see Brexit coming or Trump because elite cosmopolitan identity politics demands the left and progressive movement see high levels of immigration as a natural extension of our collectivist values.
It's bullshit sophistry of course fostered by those with an education and ability to trade those skills in a global market place. When you hear elite twitter scream 'racist' at any suggestion we need to shut down NZs dangerous levels of  immigration,  what you are really hearing is, 'don't threaten my personal ability to go overseas and demand large fees with my easily transferable skill set'.
It's identity politics as an Instagram passport.
The Left and Progressive movement must wake the fuck up to what National's neoliberal free market immigration policy has actually done in 8 years and Bernard Hickey's must read column today helps add numbers to the urgency of that change…
70,282
This was the amount of net migration to New Zealand in the year to the end of October, which is the latest data we have. It was yet another record high and represents population growth from net migration of over 1.5 per cent in a year.

That is three times faster than the migration rate into Britain, which helped lead to Brexit, and is almost twice as fast as the migration rate into Australia, which helped prompt the revival of Pauline Hanson.

Net migration over the last three years totalled 180,443, including 184,568 who came here on temporary work visas or as international students.

An Auckland University report published this week detailed widespread abuse of migrants by employers who paid them less than the minimum wage, overworked them and refused to pay holiday and sick pay. Many such workers are hoping to get permanent residency, which requires the co-operation of their employers.

The Reserve Bank has noted the surprisingly high number of working-age temporary migrants has suppressed wage inflation in the past three years.

Auckland has borne the brunt of this unprecedented population growth. The combination of net migration and more births than deaths has increased the number of residents and motorists by almost 3 per cent a year for the past three years.

All it takes now is a rain storm to gridlock the city and the housing shortage is now over 40,000 and growing at a rate of 5000 a year. Employers are struggling to find workers who can afford to live in Auckland, and the Government is spending thousands of dollars a week to accommodate people in motels.
…let's unpack this. So we have record immigration at levels unheard of in the rest of the developed world and we are allowing migrant slave labour and exploited workers to push down labour costs for NZ workers while creating mass stress upon our infrastructure and housing.
TDB Recommends NewzEngine.com
How the Christ has this been allowed to occur over the last 8 years of a National Party Government? Well, Hickey highlights the horror of the self interest in National's property bubble…
$1 trillion
That will be the total value of New Zealand's houses by the end of 2016 if prices keep going up in December at the rate of the previous 11 months.

The value of New Zealand's homes has risen by more than $400 billion, or two thirds, over the past eight years. Those homes are not bigger or fancier or warmer or drier or have better views, but interest rates are substantially lower and over that time we failed to build enough houses to match population growth.

Also over that time, New Zealand's home ownership rate has fallen to close to 60 per cent and many young Auckland first-home buyers have had to abandon their dreams and deal with rents rising faster than incomes.

Yet voters also rejected Opposition proposals at the past two elections for a Capital Gains Tax. Labour has given up trying to campaign for any changes that would see house prices fall.

Less than half of young renters voted at the last election, and more than 90 per cent of property owners over the age of 50 voted. Politicians know this and have calculated that more voters want higher house prices, which means they can afford to ignore the renters.
…National have brilliantly managed to bribe the property speculating middle class boomers  to keep voting National so their untaxed capital gains wealth illusion continues to grow.
Demanding that we urgently shut down immigration and student visa scams until our infrastructure can be built up to cope with the landlside of desperate people trying to get into our country isn't 'anti-immigrant', or 'racist' or 'xenophobic' – it makes perfect rational sense if our progressive values are to hold any political muscle at the ballot box. How else do we  break boomer property investing self interest that keeps them financially locked into voting National thanks to the Government's purposely designed property bubble?
Progressives and the Left have allowed identity politics to erode solidarity for the same perverse individualism that neoliberalism feeds. The irony is that it is our poorest workers who bear the brunt of this intellectual vanity, they are the ones who are forced to compete with migrants for jobs, houses, social services and infrastructure. We see the impact of this in Brexit and Trump's win.
It is time that the quality of life of our poorest workers in our society became more important than cosmopolitan elitism and the Left need to find the courage to make a stand against free market globalisation even if that means getting decried as xenophobic racists by the Twitter Wellington clique.
Our movement's values and compassion can be channeled into lifting NZs appallingly low refugee quotas and insuring they have the resources to enable them to assimilate and function with autonomy in our society. We don't live up to the obligations of our movement by shouting 'racist' at any attempt to shut the floodgates of immigration that are causing economic damage and exploitation.