New stats out show that we are the youth suicide capital of the world, this on top of our national suicide rate which is also one of the worst in the developed world.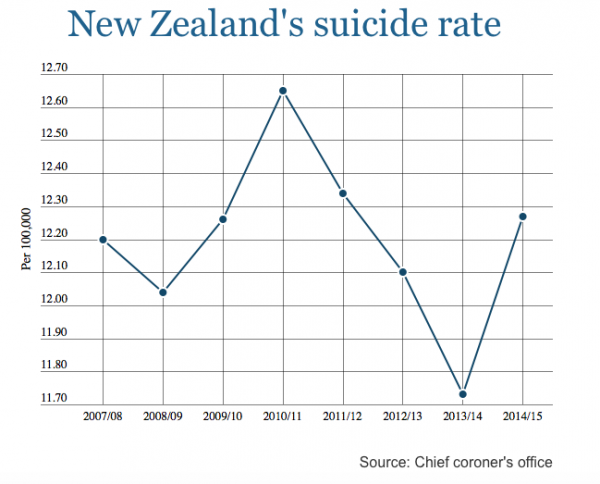 So where's the public outrage?
Where's the reaction?
TDB Recommends NewzEngine.com
Where's the clustering of experts at 6pm on the news?
There isn't any and we all know why right?
It's because we don't want top hear the answers. The grim reality is that the 30+year old social experiment in neoliberalism has failed us terribly.
We don't want to hear that an increasingly individualised user pays consumer culture has a hollowness and disconnection with whanau. We don't want to hear that toxic masculinity damages men as violently as it damages women. We don't want to hear that our lack of social cohesion and under funded social infrastructure is part of a group responsibility.
We want the neoliberal myth that the individual is responsible for all. If you are poor, you choose to be poor. If you are vulnerable, you choose to be vulnerable. If you succeed and are rich, you choose that success and wealth.
Neoliberalism has to be built upon the myth of the individual succeeding in a market place with no hegemonies or biased play fields. This allows neoliberalism to ignore having to solve any of those 'individual choices'.
You saw it last week with Judith Collins when she claimed poverty was a parental issue. This far right spite was perfectly articulated by Stuff columnist, Martyn Van Beynen, with this nasty bit of hate speech. Despite all the evidence that points to Government policy being the biggest decider in poverty, we love the lies because they don't make us feel like we have an obligation to our fellow New Zealanders.
Last week the Headlines were dominated by the AA warning drivers that we have almost reached last years road toll in October. That's just over 200 deaths. Our suicide rate is over 500.
No headlines for that.
We refuse to tackle suicide because the answers demand too much from us in a user pays culture where selfishness and narcissism have become common currency.
The Guardian pointed out how we have been cut up and isolated for the sake of neoliberalism, any progressive Government coming into power must consider rebuilding civil society if we are genuine about making real change to these grey and grim shakey Isles.
Social media has its own way of making this worse, a culture of abusive trolling and shame calling only adds to isolation and depression. Even a tool that should bind us has become a way to hurt.
Economic Darwinism is not a solution.
A nation that kills itself  with the passion ours does is a damaged culture demanding immediate recognition and action now. The denial is beneath us and those who tragically take their own lives.
Imagine if we took that $1.8billion 'surplus' and reinvested it into Suicide prevention?