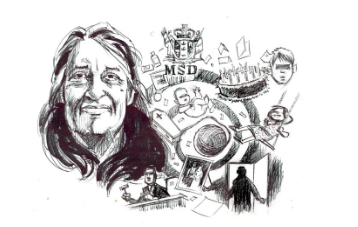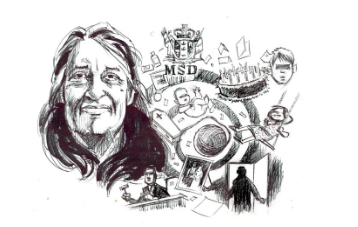 On a bleak day last August I sat in the High Court where Kathryn (see Kathryn's story) sought the right from Justice Faire to have her case heard in the Court of Appeal.
The previous High Court hearing had denied her justice.  MSD have been determined to hound her for the past 16 years for the repayment of a debt arising from a crime she denies committing and for which she was sentenced to 15months jail, of which she served 6 months with devastating impact on her children. Her youngest child was only 5.
What was the crime you ask?  She was dobbed in by a vindictive ex 'partner' for getting income support in the mid-1990s as a sole parent when he alleged she was with him. She has always denied it was a relationship in the nature of marriage. Rather than plead guilty and show remorse, as others are advised to do to get a lesser sentence, she has steadfastly maintained her innocence.  His dobbing in was his revenge for her bringing a case against him when she found he had been molesting her children.  
MSD still claims she owes $115,000. Since she came out of jail  Kathryn has refused to pay the $20 a week demanded by MSD out of her meagre invalid's benefit and the case has been back and forth in the courts for 15 years at a total financial cost of well over what she owes.  The human cost to her and her family is incalculable.
I looked round the tiny court room that day in the High Court.  There were a few CPAG supporters, Judge Faire, two officials from WINZ in black, 2 legal reps from Crown Law and the indefatigable Frances Joychild QC who has been vigorously and ably defending Kathryn largely pro bono. She does it because this case has enormous ramifications for other debt ridden beneficiaries, mostly women with children.
Kathryn herself was too sick to be there. At stake was her right to have her case heard in a higher court, not the substance of her actual case against the reparations, nor the original conviction.
At one surreal moment, Justice Faire pondered whether the reparation could be reduced to $10 a week. That, he mused out loud, would mean it would take her about 20 years to repay in full.  Fortunately one of the Crown lawyers was sufficiently awake to say "Sorry your Honour. Don't you have the decimal point in the wrong place?  It would actually take 200 years!"
TDB Recommends NewzEngine.com
Kathryn's health is very poor. Even repaying $5000 over ten years is a cruel ask.  Ironically the costs of the hearing alone would probably be around $5000.  
Justice Faire was the one who made the previous High Court decision to send her back to the Social Security Review Authority for them to determine repayments. Now he was judge and jury as to whether she could have his decision reviewed in a higher court. So how did Justice Faire sum it all up?  Guess what, turkeys don't vote for Christmas:
It is clear that [Kathryn] has a significant private interest in the decision; it involves a debt of over $100,000. What is not clear is whether there is a general or public interest which warrants the case being heard by the Court of Appeal. I consider there is not.
Fair dos Judge Faire!
Now Frances Joychild will have to take the case to ask for the right to go to the Court of Appeal, to the Court of Appeal in Wellington on the 28th November.
It is all very weird in a world where a rugby player can do a real crime with real victims and not even get a conviction because it would hurt his career. Women without means can have their lives ruined because they must be made examples of as warning to others, while the plight of their children can be totally ignored.   Fairly disgraceful.