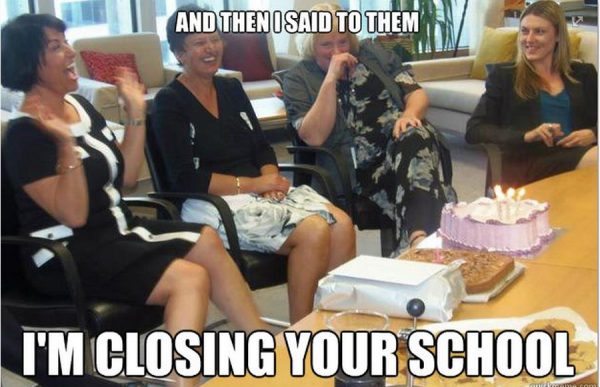 There was the lie in parliament swearing on the bible that she consulted with a Christchurch special needs group about the proposed change to targeted funding.
That, even for her, was unusually reckless.
The signs of increasing growing desperation about the so-called 'big shake-up' – but that is only a small part of the miasma over which Hekia is responsible.
She knows, except for some academic and principal cronies, she won't be missed, and that she will go down in education as the worst minister of education ever, unparalleled in never allowing a fact go by without seriously interfering with it.
Deep down she knows history will condemn her, the most chilling condemnation, in particular, will be her betrayal of Maori children with her pernicious 18% rhetoric; and the most horrendous, in general, creating education mayhem with her leadership style; locked as she is into an inability, because of her personality, to introduce education change, even in the rare circumstance where it meant good, without revelling in the power of imposition and thereby destroying possibility of that good.
With all this I said 'Hah!' get ready for the profile spin, she will be fearful for her job.
And on 27 September there it was in the NZ Herald; what a strange foundling of an article it was by Nicholas Jones. He had obviously been called in by Hekia's media team and handed the bundle.
TDB Recommends NewzEngine.com
There was a potted history of the girl from Ruatoria being marvellous scattered throughout the article, along with bits and pieces of the so-called shake-up and some comment from education spokespeople.
It had the structure of a squashed jellyfish
So there it was, ostensibly about the big shake-up but really about Parata trying to come across as the Ruatoria girl next door: we get loads of family references, for instance, crossing the Waiapu on horseback to go to the rugby, her secondary school principal father, and a lot of attention to All Blacks (even an actual tweet sending best wishes to the World Cup squad), then a reference to Waikato university days and 'helping to get the Hamilton game called off' (sorry Hekia I was there, and all the other weeks before, noticed Donna but not you). This attempt at making her a real person slithers about for three long pages.
The article in its formlessness and idiosyncrasy unprecedented surely  in newspaper history.
Something is up and that indicates Hekia is in danger of coming down.
For Hekia to use this populist, down-home stuff to distract from the way she has ripped the heart out of New Zealand schools, especially primary schools, and to further her plans for more rough surgery (better called the 'big shakedown'), demonstrates she senses a problem of tenure, and she knows it.
She knew there was a Herald article in the offing demonstrating that NCEA is an education fraud of her construction. And she knew that the article wasn't even going to get to the real point of the NCEA shambles – that of manipulation within the manipulation described, and it being symptomatic of whole-of-system failure.
For all that million dollar smile and oleaginous demeanour what a cold-hearted minister of education she has been. In her pursuit of putting down teachers and public education she can't help herself from, in the end, hurting children, especially vulnerable children. I have mentioned Maori children above (oh yes let them eat cake);  now, once again, children with special needs. She once notoriously hinted that special needs children are a result of poor teaching and teachers should just get on with it; and here we have the miserly funded targeted provision, but even more, if bulk funding came in, it would be special needs children that would suffer most.
She knows but doesn't care.
And there are other things in the offing aren't there Hekia? you know what I mean. And I don't mean the mess that is clusters and the questions Treasury is asking about them.
"Kelvin Smythe was a primary school teacher, teachers college lecturer, and senior inspector of schools. He has been battling the neoliberal agenda in New Zealand education since 1989."