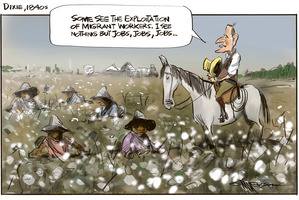 For the 23 months through to June 2016, each month saw annual numbers of permanent and long-term (PLT) migrants increase. The June annual net gain figure of 69,100 was also a new record. This involved a record 125,100 PLT arrivals less 56,000 PLT departures.
Reasons for the most recent increases include the following:
The economy appeared to be stalling in 2013 and again in early 2015 after an initial period of recovery following the 2008 financial crash and subsequent recession. A positive migrant inflow of labour and cash could mask the economic slowdown that was occurring.
Foreign labour was deemed important for the rebuild of Christchurch following the 2010 and 2011 earthquakes.
An aggressive recruitment of overseas students was agreed on in October 2013, which included liberalising the right to work while here saw numbers increase 25 per cent to over 100,000 in a few years.
Tourist numbers have been boosted by making it easier for Chinese and others to travel here. The June 2016 year saw a record 3.31 million visitor arrivals, with Chinese numbers up 83,600 to 396,900. Additional labour would be needed to service this sector.
Employers in certain industries (tourism, hospitality, farming, horticulture) were complaining that they couldn't attract enough staff (at the wages they were offering). In some industries that Unite Union represents staff, such as tourist hotels and fast food, the bosses confessed that 30 to

40 per cent of their staff were on temporary visas.
Some industries including hospitality, dairy farming and aged care have come to be permanently dependent on workers on temporary visas.
The government has massively increased the number of student and temporary work visa holders. Initially there was also a tightening of the numbers being given permanent residence, especially in the skilled migrant category from around 30,000 a year to 20,000. Overall numbers are increasing again and 52,000 residences were approved in 2015/16 – close to the 2001/02 record. The skilled migrant category however is still 6000 below the 2001/02 peak.
The government has removed a range of categories that were able to be used to get a residency visa including that of "restaurant manager". We had members of Unite who had spent tens of thousands of dollars on dodgy courses and worked for companies like McDonald's and Restaurant Brands to get promoted to a manager's role, only to be told that it was all a waste of time and money.
No free market for labour
Employers always argue that they need to have the complete freedom to import labour at will. At the moment, tourism operators are screaming that they need more temporary workers and the government should allow more in. In an article in the New Zealand Herald on November 10, 2014 headlined "Foreign worker limits 'choking tourism'" industry bosses complained that New Zealand workers didn't want to go and work in the regions. The general manager of Goldridge Resort, Penny Clark, "said the 'ideal' of having Kiwis filling housekeeping or hospitality roles didn't fit reality."
Of course there is a simple answer to the problem of a labour shortage in places like Queenstown – pay better wages to attract the staff. When the market doesn't respond to the price being offered – raise the price. It never seems to occur to the business operators that paying the minimum wage for work that can be very heavy and skilled like housekeeping and hospitality, located in parts of the country that are extremely expensive to live like Queenstown, just doesn't add up.
TDB Recommends NewzEngine.com
It used to be a standard condition of employment in hotels like those in Queenstown that board and accommodation was provided. In those circumstances, there was no problem attracting labour. Those conditions were eliminated along with set hours, overtime rates and much else during the dark days of the Employment Contracts Act in the 1990s, and they have never returned. It is no wonder the employers now rely on temporary migrant labour that they feel they can use and abuse.
The real beneficiaries of this system of indentured labour are often the biggest companies in New Zealand. We know that all the hotel chains rely on temporary labour. SkyCity uses them extensively as do all the big fast food chains.
It is also the entire dairy farm sector which claims it can't survive without recruiting labour from the Philippines – even when dairy prices were at
record levels. The dairy farm owners through their associations are strong advocates of letting the free market work when it is to their  advantage. But when it came to having to pay higher market prices to attract labour to work on their farms in Southland, they got the government to allow them to recruit in the Philippines instead.
Filipino dairy workers
Hospitality industry
MBIE is consulting on whether to continue to include "Chefs" in the category of "Essential Skills" that allow employers to bring staff in from overseas on temporary work visas for up to five years.
Andrew Little got into trouble recently for questioning whether this was a category of labour that was genuinely in short supply. He was made to appear as if he was against migrant workers coming to New Zealand.
Chefs have been one of the largest groups receiving these essential skills visas. There were 7000 visas issued in the last two years alone. In the 2013 census there were only 16,218 people employed as chefs in New Zealand so the annual intake is about 20% of the total!
One of the reasons used to justify bringing in labour from overseas is the alleged urgent skills' shortage. If there was such a shortage it would be reflected in rising wages for the industry or occupations concerned.
With this fact in mind I thought it useful to look at the wages being paid to chefs. The Restaurant Association of New Zealand used to produce an annual report but this was discontinued in 2013. The data I have goes back to 2007.
If we compare the rates being paid chefs in 2007 and 2013 we see that there was a real wage decline for every category over those years. The rates paid in the surveys of April 2007 and April 2013. I then adjust the 2007 rate by the 16% inflation that occurred over those years and find the rate should have been significantly higher just to match price increases. Real wages had declined. The minimum wage increased 22% over the same period.
Occasionally, Unite gets consulted by MBIE over whether a company's application for the right to bring in labour from overseas should be approved. In November 2014, we got one about the SkyCity Casino. It seems they wanted to bring in about 40 chefs of various sorts. I assume SkyCity, too, are claiming they can't find people in New Zealand to do this work. Fourteen of the positions were commis chefs, a junior position that SkyCity was paying $15.69 an hour for. That was $1.24 an hour above the minimum wage.
I thought it would be useful to look at the "market rate" for this position. The law of markets says that if something is in short supply (including labour) then the price will rise.
The Restaurant Association of New Zealand annual survey on wage rates had the commis chef rate increasing only one cent an hour between 2009 and 2013. The 2013 rate of $15.80 was also above that being offered at the end of 2014 by SkyCity. It seems that the industry is not pressured by shortages of labour to offer higher wages.
The hotel and hospitality sector was turned into a minimum wage industry not by importing migrants but by destroying unions in that sector in the 1990s under the Employment Contracts Act. It is a fact, however, that the industry would not have been able to keep it at minimum wage when unemployment began to drop again in the late 1990s and early 2000s had it not been able to use temporary migrants.
So if you hear anyone from the tourism, hotel and hospitality sector complain about the lack of skilled staff, they need to be told to start training staff and paying wages that will make that job worth doing.
Big companies also use migrant labour to reduce the wages of management staff in New Zealand. In the fast food industry, wages for managers have declined by at least a third in real terms over the last couple of decades. Migrant labour has been used extensively to achieve this result. Management visas were good enough for permanent residence in the past. Running a McDonald's, KFC, or BK store is a complex undertaking. There are usually between 50 to 100 staff and the outlets often operate 24/7. The average wage for a manager today is around $40,000 a year. Twenty years ago, the average was over $60,000 in today's dollars.
Some fast food companies have recruited directly from overseas for managers in the past. Information obtained by the Green Party in 2012 showed Burger King was given approval to employ 641 non-resident workers between 2007 and 2012, including 146 on "essential skills" work visas. They claimed at the time that they no longer recruited from overseas. BK have around 2000 staff.  
One positive side benefit to the withdrawal of the pathway to residency for a restaurant manager that the fast food industry had been offering is that more of these workers now have nothing to lose by joining the union. The companies had used the carrot of possible future promotion to keep people in line and stop them joining the union, but with the carrot gone, our job at Unite has been made easier.
One thing trade unionists must never do is give up on any group of workers. At Unite, we know from experience that as soon as migrant workers are confident we can protect them, they can and will become Union members and activists. With protection, migrant workers will find their voice and help lead the fight against exploitation of themselves and others.
These companies now have a genuine crisis on their hands. The truth is they have been paying well below market rates for management staff because the workers were focused on future residency, not their current wage. It will be very hard for the companies to get anyone who is New Zealand-born or has permanent residence to run a 24-7 store with up to a hundred staff for a salary of only $40,000. Unite has evidence that companies are already being forced to adjust salaries upwards. One major company has already changed their remuneration model in a way that delivers increases worth thousands of dollars a year to their staff – the first substantial increase in years.
Unite Union is trying to organise the managers in the fast food industry as well. At Restaurant Brands, we are in negotiations over a collective agreement for managers. We actually have a higher union membership density among managers than we do for the overall workforce at KFC because there is a lower turnover among them compared to the non-managerial staff. And most managers who received promotions from crew to the manager role remain members of the union because they trust us to do the right thing. We take that as a significant vote of confidence in a job well done.