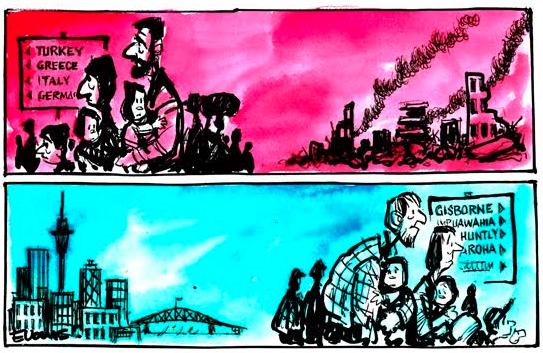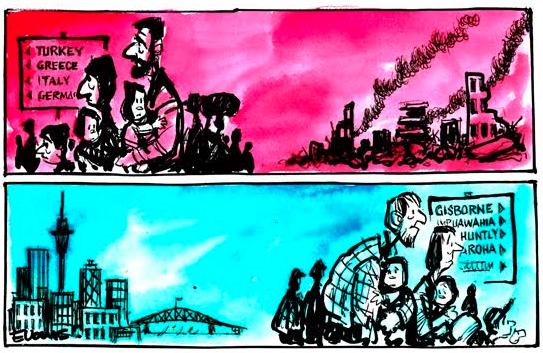 Why is it such a struggle for New Zealand to provide a safe haven to refugees in need yet we have to fight to clean up our tax haven laws? These two issues offer an insight into the values (or lack thereof) of John Key's Government.
Yesterday National finally acknowledged there are problems with our tax laws that need fixing. After years denying there was a problem. It took the release of the Panama Papers to reveal our tax loopholes looked, smelt and tasted like a tax haven – a sunny place to shady people. It was a surprise to many Kiwis who assumed our tax rules were written to promote fairness and transparency so people paid their share of tax. The revelations weren't a surprise for the Government though who had been advised by the IRD in 2013 and 2014 our rules weren't up to standard but some effective lobbying by the Government's friends saw reform swept under the carpet. The Government was quite happy to see lawyers from the big end of town clip the ticket on foreign trusts anonymously hiding their money in New Zealand. National was happy to turn a blind eye and let dodgy entities use us as a tax haven when it benefitted their corporate lobbyist friends and pushed and pushed against constructive proposals to clean up our rules. Today, after the Shewan report they finally cracked, and agreed change was needed.
Benjamin Franklin once said only death and taxes are certain, but why did John Key defend an unethical tax system until it was futile and hesitate to act when refuges were dying as long as possible?
Meanwhile, in the midst of one the worst modern refugee crises National coldly stuck to the woefully small 750 refugees a year quota. Thousands were dying in the waters of the Mediterranean, and millions were displaced. Each of these people had a name and a story but John Key refused to raise our pitiful quota. Kiwis are noted for their hospitality and reaching out a helping hand to those in need and our multi-cultural modern nation reflects our historical openness. Our values clashed against the reality however that saw New Zealand's refugee quota languishing at around 90th in the world. It took rallies, petitions, and people offering to put up refuges in their homes and too manty heart-breaking stories but eventually the quota was raised…by 250 a year.
On both issues Kiwi values ultimately prevailed but in spite of, not because of Government leadership. In both cases it took concerted action over months and a bit of luck in terms of the Panama Papers leak for the Government to actually do the right thing. The Government was willing to open its doors and say 'Kia ora mate' to foreign trusts but put up the 'closed' sign to refugees until the pressure finally forced them.
TDB Recommends NewzEngine.com
To me it says two things. Firstly this Government lacks an ethical compass. But any number of previous scandals and terrible decisions could have demonstrated this, Secondly and more importantly despite the ethical vacuum, our New Zealand values still eventually prevailed. We know everyone deserves a fair go, from the terrified refugee to the person who works hard for their family and pays their taxes. We won't stand by and refuse to help the most vulnerable just as we won't aid and assist the most powerful to get away with breaking laws and avoiding taxes.
You shouldn't have to fight your elected representatives for the right thing to be eventually done. Skip that step and change the Government.