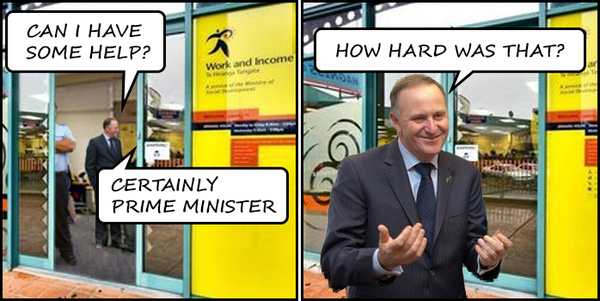 And the ramifications of a corrupt Government intent on abusing power and creating a property bubble so their speculator voters prosper while the poor suffer just keep coming…
New Zealand slips to 10th on Social Progress Index

New Zealand has dropped from first to 10th most "socially progressive" nation in a new global index – dragged down by our soaring house prices and bulging waistlines.

This country came first out of 133 countries on the "Social Progress Index" in 2014 but dropped to fifth last year and 10th-equal with Iceland this year. Australia improved its ranking from 10th to fourth.
…if you voted National, this is on you now. This inequality and poverty is on you. This Government who don't give a damn is on you. This Government who are more focused on smearing people actually working on the housing crisis than deal with the housing crisis is on you.
I appreciate the right like to scream it's the individuals fault for being poor, but this Government have done nothing but foster policy that punishes the poor, not give them opportunity. This is on the National Government and those who support it.
What a selfish ugly little country we have become.
TDB Recommends NewzEngine.com