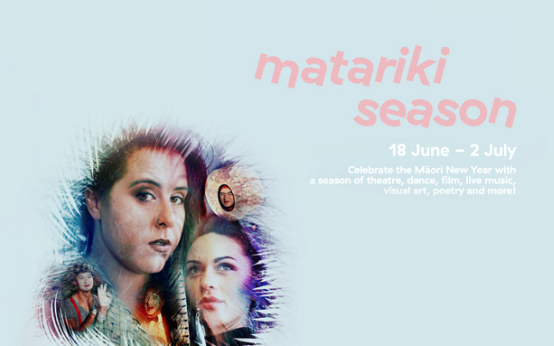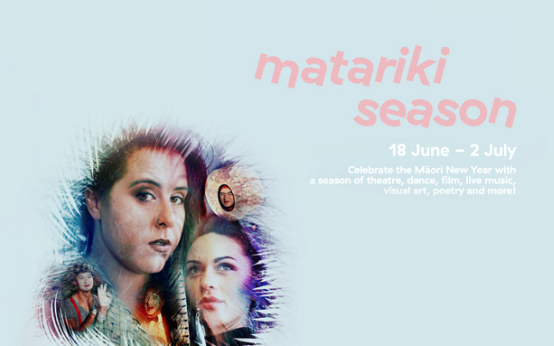 Reviewed by Genevieve McClean
Just lovely. Take the family.  
Kotirotiro!  On entering the space, a wee girl was sitting in the audience, on a pillow at the front, with her feet tucked to the side, and her back long, clearly brimming with pride and excitement, watching Tekahureremoa playing guitar as the space fills and the show begins.  
When I think of how people coped with those particularly long nights, before insulated housing, light bulbs, thermal-undies, xbox and tv, it's these themes that naturally come up: the very business of coming together, storytelling, taking care of each other, and learning.  Raranga, Whakaari, Ako, Kotahitanga, whakawhanaungatanga, the carefully managed mahi to teach and embrace a diverse audience that I always admire, is strong here with nga Hine.  
For newcomers this show is a gateway into Tikanga Maori and for many of us who didn't get to a marae until a couple of hundred years after that, there is plenty of learning to be had, however, for those who recognize it, here is carried a true essence of that coming together in the context of the land and the weather in an essentially New Zealand way.  For all of us. In local theatre we speak differently to each-other in performance and this is the art of local theatre. There's something from your lifetime, whether it's a town hall, a school hall, a living room made into a stage, or in the wharenui, there's something you'll recognize here that is actually the origin of all theatre, and it's more than just storytelling around a fire.
Lady Hustle (Tekahureremoa Taumata) "can I do a plug"??   (Awesome, As unpredictable in her voice as she is in her performance), unites the show with her music.  (She is doing a gig on the 24th).
TDB Recommends NewzEngine.com
I don't have a way to match other faces and names unfortunately, but all the women: Michelle-Irene, Alejandra, Skyla, and Amiria dance and act varied roles, illustrating a strong message across forms: the support of women of different ages for each other.  It's full of love, and it's an important and timeless message, and they're gorgeous but it's when the ensemble sings together, that they hit their stride, with roof lifting power and certainty.  
The real stories find their way out of the holistic and divine, the call for a sister to "come home", the demand of a young woman that her beauty be respected hits a theatrical high, and Aunty who needs a cup of tea promptly.     Yes there's an old school variety show style developing here, and it reaches back in time, (I'm feeling the 20's). Whanau getting together and putting it out there in a way that's so down to earth that the down to earthiness of it becomes a stand out feature. The effect of that is a warmth of welcome that is transporting.  
Komako and Whetu Silver have brought together a show for Matariki that teaches in a beautiful and homely way.  (Suitable for all ages with some faint but resonant coming of age themes, and all levels of Reo Maori too).
The concepts of weaving together, strengthening and activating to Mana o te Wahine in the statement are all honoured as the major strands in this mahi in development.  You can also tautoko by donating to their ongoing work here   "this is just the beginning"  
Hine plays until the 25th at Basement theatre as part of the Matariki Season.  It's a hub of things happening and there are shows up until the 2nd of July as well as other events, workshops and artwork on display.